Miss Southport 2013 is looking for you!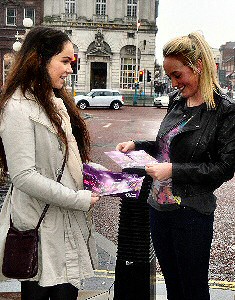 THE hunt is on for Miss Southport 2013 and it could be you!!! Well if you fit the criterion that is very strict. Anyway we joined up with the talent hunters in Southport over the weekend to track down potential contestants for the event that will be held this year at a well known Southport hotel, but more on that in next week's issue. This is far more than a beauty pageant or modelling competition, the organisers of Miss Southport are looking for an ambassador for the area. The contest Miss England heats and the main event have at times coursed some upset with a select few, as entrants must not be married or have been married, plus they cannot have had children. For the few who take offence, this contest is more than a beauty show and offers far more to an applicant than many other talent shows or similar events, plus it is not just about looks. In 2009 for example a British soldier decorated for bravery in Iraq, known to her British Army colleagues as Combat Barbie, Lcpl Katrina Hodge became Miss England, at the age of 22! After doing Miss World, as Miss England, she returned to active service! Many of the models who have won have gone on to do well in many areas connected with modelling and in the fashion or entertainment industry. The main competition, Miss Southport, is a direct entry heat into the Miss England competition, amongst other prizes. In Miss England, she will have a chance to go onto Miss World where the main prize is $100,000! Plus the aim of the contestants is to raise as much money as possible for Charity through contestant fundraising and activities along the way. For many who enter this is a chance to gain self confidence and do something that they have never done before. Many contestants make new friends and contacts along the way. This year the event will also have a new addition. After many requests they are running the very first contest for girls aged 13 to 16, as well as the traditional 17 to 24 age group category. Sadly only a select number of girls appearing on the catwalk at the Final in the junior event, but still worth entering if you think you have what it takes. Remember though, be you if you enter and as we keep saying, it is not just about your looks! The Miss World motto is "Beauty with a Purpose" and this is something all entering, no matter the age, should fully subscribe to. So if you want to enter... remember that the winner could be an existing model, beauty pageant contestant or a complete newcomer. Many Miss England heat winners have won their heats with no prior experience. It could be you! Applications are now being taken for the 2013 competition, simply click on here for more information.
| | | |
| --- | --- | --- |
| | Click on to read on! | Click on to read on! |
...HAPPY BIRTHDAY...

Vicky Crosby happy birthday from the team!
Jenny Smith - Happy Birthday!

If you have someone you want to say happy birthday to, for free, then use the email address below to send us the names you want us say happy birthday to, and/or a photograph. Email us today!