Launch Of The Liverpool International Jazz Festival
Written by Chris and Colin
Photographs below by Alan Smith.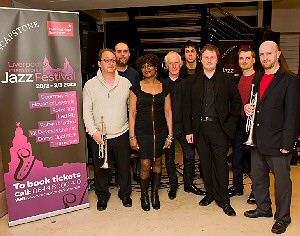 WE sent 2 jazz enthusiasts to the launch of the first Liverpool International Jazz Festival and from what they reported to us, the festival that starts on 28 February 2013 and runs to 3 March 2013 is looking like it will be a truly instrumental success. The festival will have some of the finest names on the national and international jazz scene. As if that was not enough, some of the programs over the 4 days are absolutely free! Also, no festival in Liverpool would be complete without the very best of the local talent, so the Liverpool International Jazz Festival will be hosting some events with native performers. Plus, the event will be hosting workshops to add to the line up. The event has a Dr Who connection, with its closing concert, by the jazz legend Coutney Pine... but you will have to do some research to find out if you do not go to the closing performance! The launch was hosted at the Capston Theatre on 17 Shaw Street, in Liverpool's City Centre, on Friday, 8 February 2013. Along with nibbles and drinks, guests were entertained by a concert from jazz singer and pianist Joe Stilgoe, along with home grown luminaries, Rachael Wood Perri and Neil Quartet, along with members of Martin Smith's The Weave, plus Tom Seals Seals supporting the night's activities. This is what our team who attended said:- "Tom Seals performed an opening set, prior to Joe Stilgoe's main event, and showed he has a formidable piano technique, and he provided a good selection of well known tunes. I felt, however, that a bit more light and shade in his vocals would bring a greater contrast to his act. Joe Stilgoe, excellently supported the bass and the drums, gave a wonderful selection of his own compositions and versions of well known standards, keeping the whole session very alive and interesting, and the audience thoroughly enjoyed it throughout. The only adverse criticism I have at all is that the sound engineer over amplified the music. Had the dynamic level been not so high, I would have enjoyed the evening even more..."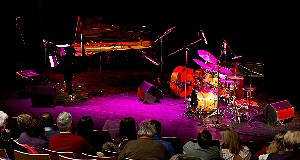 We look forward to the main event.
For more information about this band new jazz festival why not go and look at this website:- thecapstonetheatre.com or go to the festival's Facebook Page?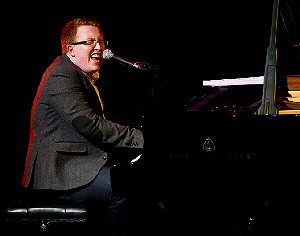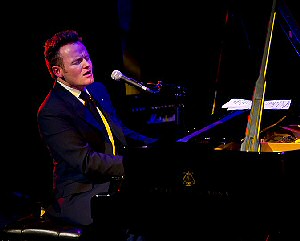 Photographs below by Colin.