Government deliberately pushing disabled people to the back of the queue
LOCAL Labour MEP Brian Simpson, Chair of the European Parliament's Transport Committee and Maria Eagle MP, Labours Shadow Transport Secretary have attacked the UK government's decision to shelve mandatory disability awareness training for bus and coach drivers until 2018.

Mr Simpson said:- "Disabled people and people with reduced mobility have a fundamental right to equal access to public transport, which is why the European Union has introduced laws to ensure bus and coach drivers are trained to assist disabled passengers. Unfortunately, the Government has decided to put off introducing this training until 2018."

Speaking on the issue Maria Eagle MP, Labours Shadow Transport Secretary said:- "With this move the Government is deliberately leaving disabled people behind, pushing their rights to the back of the queue for no more reason it seems than the profit margins of bus companies. This is a huge backward step for access and equality for disabled people less than a year after we celebrated the UK hosting the Paralympics. It's neither fair nor right and both the Tories and the Liberal Democrats should hang their heads that yet again they are failing disabled people."

Research by the RNIB into the experiences of blind and partially sighted bus users has found an urgent need for mandatory training of bus and coach drivers.

The RNIB has described the Government's decision as:- "a major setback for disabled people that does not uphold the London 2012 Paralympic legacy. By missing this golden opportunity to make disability training essential for drivers, the government is leaving Britain's disabled people behind on the buses."

Mr Simpson added:- "EU law now includes specific rights for disabled passengers. For instance, disabled people taking long distance coach journeys are entitled to free assistance, and if this is unavailable they have the right to ask for a friend or carer to accompany them at no extra cost. But the Government's decision means five more years of disabled passengers being left behind by buses that don't stop, or dealing with buses moving off before they have had the opportunity to sit down."

In a joint letter to the Transport Minister last year, Mr Simpson and Labour's Shadow Secretary for Transport Maria Eagle MP urged the Government to take action on disability awareness training and pointed out that the Government's position was at odds with the UK's commitment to the UN Convention on the rights of persons with disabilities.

"Once again, we're getting conflicting Tory messages that simply don't add up and an austerity agenda that hits the most vulnerable in society. The coalition is cutting disability benefits and insisting that many people receiving support are actually fit to work. But at the same time the Government is failing to remove the barriers to transport that many disabled people face.
The UK should be doing everything it can to defend disabled passenger rights. Instead the Government is leading a race to the bottom and leaving disabled passengers behind, whilst the rest of Europe moves forward." said Mr Simpson.

World's top illusionists, Guy Barrett, at Pleasureland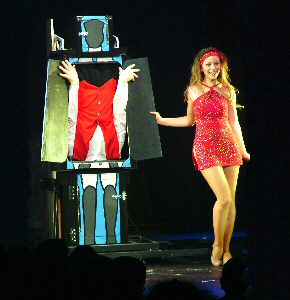 ONE of the world's top illusionists, Guy Barrett, and award-winning magician Russ Brown are to bring their acclaimed shows to a FREE show at Pleasureland's family show-bar (inside the Casablanca complex) at Easter. Last year the park was the most visited attraction on Southport's tourism website Visit Southport and this year it's pulling out all the stops for the new season. Topping the bill of treats is a favourite among Barrett's unfathomable signature illusions, which sees a woman passed through the whirling blades of a giant fan. It's no surprise his performances are so popular, he comes from showbiz 'royalty' with a father who was ring master at Blackpool Tower's circus and a mother who was a professional ice skater. Pleasureland's Easter 'pop up' family shows featuring magic, illusions and UV puppetry, are free and designed for audiences to drop in to enjoy as part of the park's Bank Holiday experience. The park has redesigned its Casablanca indoor family entertainment centre adding a massive stage for family fun. Guy and Russell will be in action on stage every afternoon, with rolling entertainment from 12 noon to 5pm, during the Easter break for two weeks from Easter Saturday, 30 March 2013, for 8 days through to the following Sunday (April 7th). The park opens its doors for the 2013 season on March 23. ILLUSIONIST GUY BARRETT Guy Barrett comes from a show business family background. He developed an interest in magic at a very young age and began performing in cabaret and theatre at nine years old. In 1990 Guy fulfilled his dream and started working with large scale illusions, and over the years has received many of the profession's top awards including the British Ring Shield from the International Brotherhood of Magicians. In July 2012 Guy won third prize in the Illusion Category in the FISM world championships of magic, which attracted 100s of competitors from all over the world, and has regularly toured all over Europe and the Middle East. Working in theatre, television, theme parks and at corporate events, he designs illusions for other magicians and advises and directs shows. Guy first met Russ at school where they became fast friends with a shared passion for magic and illusion. RUSSELL BROWN Russell's interest in magic began as a child when he got his first magic set. His family were forced to 'pick a card', 'watch closely' and 'say the magic word' many, many times but as he got older and started to win awards with his magic, they realised it wasn't just a passing phase. Russ' unique style involving lots of audience participation, loud music and crazy gags has captivated kids (and their parents) from around the globe. He was the resident children's entertainer at the world famous Blackpool Tower for over 10 years before leaving to take up residency in his own venue at Blackpool Pleasure Beach. Russ' latest venture is into the world of the 'Black-light Puppet Show' and he has created and performed two shows. 'The Haunted House Spooktacular' and 'A Space Idiocy' have been seen by thousands and won acclaim from audiences and professionals alike. Having won many awards, including the Leisure Parcs Entertainer Of The Year and in 2009 received the coveted Ken Dodd Comedy Award.