NHS Chief Executive visits the Royal Liverpool University Hospital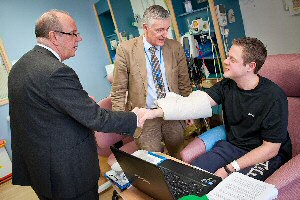 THE chief executive of the NHS and the national NHS Commissioning Board, Sir David Nicholson, KCB, CBE paid a visit to the Royal to learn about the Trust's latest research, a new stroke initiative and future plans for the new hospital and Liverpool BioCampus. Sir David visited the Emergency Department (ED) and the Acute Medical Unit, meeting staff and learning more about how we look after patients in the busiest ED in Merseyside, learned more about our status as a major trauma centre and how we manage patients to ensure they receive the right treatment at the right time.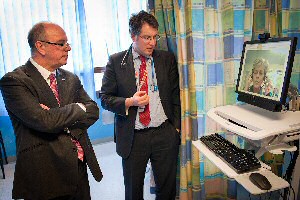 Sir David visited the Stroke Unit at the Royal, to learn more about a brand-new stroke telemedicine initiative, which will help increase the numbers of patients given a life-saving clot busting drug called thrombolysis. The Stroke Service at the Royal has been rated as one of the best performing in England in recent audits by the Royal College of Physicians.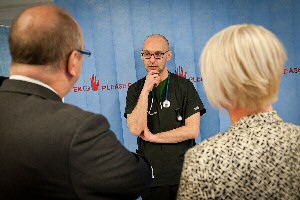 Sir David also toured the Clinical Research Facility to talk to staff and patients about the latest research to advance the care of patients and spoke to staff about increasing the amount of research and drug trials taking place at the Trust; potentially helping to save lives and generate income for the NHS.

Sir David said:- "It is always a privilege to see at first hand, examples of how hospitals are improving the quality of care they provide to patients. The Royal Liverpool University Hospital is striving forward with new plans and initiatives around research and development, which can only benefit patients. It was a pleasure to meet staff on the front-line and to speak to patients; who are at the heart of all we do in the NHS; and hear about their positive experiences. Its future plans will help to provide even greater achievements in the field of life sciences."

Aidan Kehoe, chief executive, said:- "We were delighted to welcome Sir David to the Royal and show him some of the achievements of our staff and our plans for the future. We have a great future ahead with the new Royal and the Liverpool BioCampus, which are absolutely crucial for the further regeneration of Liverpool."

BIRKENHEAD GRADUATE VOLUNTEERS ON WORLD'S LARGEST CHARITY HOSPITAL SHIP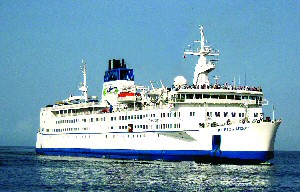 BIRKENHEAD local and Biological Sciences graduate Lizzie Clegg (21) has recently returned from volunteering onboard the world's largest hospital ship, the Africa Mercy, in Guinea. Lizzie's dedication to the patients and volunteering onboard the Africa Mercy is particularly significant during Student Volunteering Week that started on 11 February and runs until 16 February 2013.

Managed by the National Union of Students, Student Volunteering Week gives organisations like Mercy Ships the opportunity to thank young volunteers like Lizzie, as well as encourage students to sign up and help make a difference. Run by international charity Mercy Ships, the Africa Mercy offers free medical care and humanitarian aid to some of the world's poorest people and is currently on a 10 month outreach in Guinea. Although Guinea's mineral wealth makes it potentially one of Africa's richest countries, its people are among the poorest in West Africa.

Lizzie has been onboard the Africa Mercy for over three months and has been volunteering in the ship's galley cooking for around 400 people every day, as well as assisting the eye team in her spare time. Lizzie said:- "I want to be a doctor and as the applications are so competitive it is really important to have some experience working with patients. I wanted to do something where I could actually help people. Mercy Ships provided a perfect opportunity to do that. I worked in the galley feeding the other volunteers and then, on my days off, helped with the patients. I had so many amazing experiences on board. I really enjoyed going to the Hope Centre and playing with the children. The Hope Centre is a Mercy Ships funded project where they support local hospitals. This year part of the programme was to upgrade a wing of the Ignace Deen Hospital in Conakry which means the hospital will be left with upgraded facilities when the ship leaves in the summer. People who need a longer recovery period than the ship can provide can stay at the hospital. The kids are so beautiful, when we drive up they come running up to play, which is extraordinary as most of them have both legs in casts from their feet to their thighs! I also really loved working with the eye team. It's so rewarding to see people's lives literally transformed in front of your eyes. People who have been unable to see for years have their sight restored. They are so happy it makes everything worthwhile! Mercy Ships really is an amazing organisation. It works with local communities, governments and NGOs helping to build sustainable development such as the Hope Centre; the money invested will be put to use by the hospital when Mercy Ships leaves. Each person is loved and cared for as an individual. It is so powerful and has reinforced my decision to study medicine."

Judy Polkinhorn, Executive Director of Mercy Ships UK, said:- "Volunteers are the lifeline of the charity and without them we simply would not exist. We are extremely grateful to people around the UK, like Lizzie, who continue to support us."

The Africa Mercy is staffed by up to 400 volunteers from 40 nations that give up their time to help others. Volunteers range from surgeons and nurses, to cooks and engineers. The Africa Mercy was converted from a Danish rail ferry into a state-of-the-art hospital ship, with 6 operating theatres, X-ray facilities and CT scanner, a pharmacy and a laboratory. There is capacity for 78 in-patients with four wards and a small intensive care unit, as well as accommodation for 450 volunteers. Founded in 1978, Mercy Ships has worked in more than 70 countries providing services valued at more than £630million, helping in excess of two million people.