RAIL PASSENGER SATISFACTION DIPS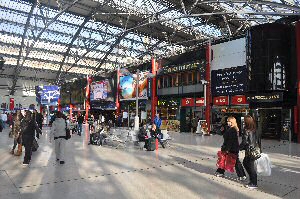 ON 19 June 2013 the Passenger Focus chief executive, Anthony Smith, said:- "Passengers faced variable performance in the early part of 2013. There continues to be a wide gap between the better and weaker performing services; satisfaction with individual operators ranges from 76% to 95%. Value for money by route is even more striking with satisfaction levels ranging from 17% to 76%. Passengers are now the main overall funder of Great Britain's railway, so it is vital that their key needs are met. Given that performance is the key factor that underpins most passengers' general view of the railway, train companies and Network Rail must keep striving to get more trains on time." The rail National Passenger Survey (NPS) is 1 of the largest published customer satisfaction surveys of rail passengers in the world. We speak to around 60,000 passengers to produce twice-yearly ratings for overall satisfaction and satisfaction with more than 30 factors including punctuality, staffing and cleanliness. For the 1st time, Passenger Focus have also produced at-a-glance guides to the Great Britain, Scotland and Wales headline results and recent trends that can be seen via downloading the main report from the Passenger Focus website.
PARKING ISSUES IN FORMBY AND AINSDALE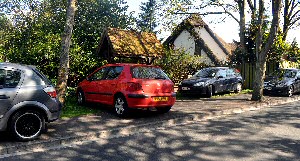 MERSEYSIDE Police are asking people to consider using public transport when visiting the beaches around Formby and Ainsdale during the summer. This follows several incidents of careless and dangerous parking in the area during the recent sunny weather. On the weekend of 8 June and 9 June 2013, police received a variety of reports from residents about the issue, particularly around Formby. Both the National Trust and Sefton Council car parks in the area had become full early in the day and many visitors then resorted to parking in residential roads. Officers working with National Trust rangers had to advise many people to move their cars as their parking was posing a risk to pedestrians and other drivers. Some of the cars were also parked across residents drives, making it impossible for them to get their own cars out. Inspector Nigel Stewart said:- "We know how people like to enjoy the beaches of Formby and Ainsdale in the good weather and we encourage that. But parking is limited in both areas and it really is worth people considering coming by train to avoid the risk of parking fines or fixed penalty notices. We ask all drivers to respect residents in the area and make sure that, if they must bring the car, they park in a safe and legal place." To see our coverage of this issue please click on here and here.
Liverpool Gets Crafty at the Summer Arts Market
THE historic St George's Hall throws open its doors for the first ever Summer Arts Market on Saturday, 27 July and Sunday the 28 July 2013. A 2 day celebration of arts and crafts, the public will be invited to browse and buy work as well as trying their hand at a range of arts workshops throughout the weekend. Offering a unique alternative to the high street, the Summer Arts Market plays host to a wide variety of artists, designers and makers selling creations including original screen prints, paintings, jewellery, tableware, beauty products, decorations, accessories, textiles, photography, knitwear. For the 1st time the art market will offer a range of ticketed arts workshops over the weekend led by professional creative's from dot-art, OUTPOST Studio, Craft Creative, Liverpool Happy Hookers Crochet Group and The Button Boutique. Visitors will also be able to explore the astonishing surroundings of St George's Hall, which is a Grade I listed heritage site. And with free arts activities for children, there is something for all ages. Booking workshops can be done online or by calling:- 0871 220 0260. All workshops include free entry into the Summer Arts Market on the day of your activity.

New car park for The Royal Liverpool University Hospital takes shape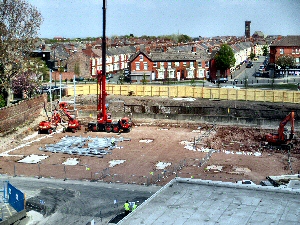 AN £8m multi-storey car park for The Royal Liverpool University Hospital in Merseyside has progressed past the initial phases.

The contractors, IHP, a joint venture between VINCI Construction UK and Sir Robert McAlpine, have begun erecting a steel frame for the 700 car park space facility.

Once completed, the extra parking space provided will accommodate a new £335m hospital which will sit next to the current hospital, on the same site, and will be completed in 2017.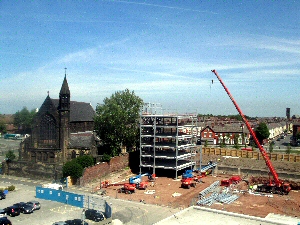 Mark Thomas, Regional Director, VINCI Construction UK, Building Division – North West, said:- "It is great to see the project take shape and to be part of a scheme which will redefine modern healthcare delivery. Once completed, the spacious car park, which is designed to be well-lit and easy to get around, will complement the new hospital."
LAW FIRM LAUNCHES NHS DEBATE THROUGH SOCIAL CAMPAIGN

ONE of the UK's leading medical negligence and serious injury law firms, Fletchers Solicitors, has unveiled a new social media campaign which debates whether it is ethical to sue the NHS and private health services. The campaign is asking the general public for their thoughts on taking legal action against the health service through a poll conducted on the solicitors' Facebook page. Results from the survey will then be published via the law firm's social media channels. Fletchers Solicitors, which handles 1 in 25 of the UK's medical negligence cases, seeks to shine a spotlight on poor care within the NHS and private health services, in order to force change and improve standards for patients.

Ed Fletcher, CEO at Fletchers Solicitors, explained:- "The NHS is a fantastic service. Having severed my spine in a motorbike accident over ten years ago, I've benefitted so much from the services healthcare professionals provide. That's why it breaks my heart to see first-hand the kind of lapses and failings in care that we've seen highlighted in the news recently. We believe that suing for medical negligence is necessary to highlight the significant problems in the health service and make sure that malpractice doesn't happen again. However, it is always interesting to find out other people's views and the campaign will help to achieve this. My hope though is that with proper focus and attention to detail, we can do our bit to help standards improve and make the NHS great again."

The debate forms parts of a wider national campaign tailored specifically to highlight the firm's strength in supporting people suffering medical negligence and severe personal injury. For more information on the campaign, please visit Facebook. Do you agree? Let us know your views by emailing our newsroom via:- news24@southportreporter.com.