Make sure your child is safe at home
MORE than 6,500 children received treatment at A&E units at Liverpool hospitals for accidents in their homes during the last year (2012). Now the City Council's Healthy Homes team is holding a Roadshow; as part of Child Safety Week; to provide advice and information about what the most common hazards are for children in the home and how to prevent them. The Roadshow will be in Clayton Square on 28 June and 29 June 2013. Staff, who have received training from RoSPA, will be on hand to offer tips and help parents become more aware of potential dangers in their home. They will be handing out leaflets on a range of issues from what might poison children to the safety of toys.

Among the messages which will be given out are:-
► Keep hot drinks out of young children's reach.
► Use the rings at the back of the cooker and turn pan handles out of reach.
► Replace your chip pan with an electric deep fat fryer.
► Use safety gates to keep small children out of the kitchen.
► Keep all cleaning products in a high shelf or a locked cupboard.
► Keep tablets and medication out of reach.
► Teach children to sit down when they are eating, to avoid choking.
Councillor Jane Corbett, cabinet member for children's services, said:- "The figures show that most accidents to children happen in their home and this week will focus attention on what can be done to limit hazards and increase safety. While, obviously, the most important thing is to prevent children coming to harm, we can also reduce the burden on hospitals and cut down the number of visits to GPs by following some simple safety advice."
Merseyside's Only Video Gaming Center Opens In Southport
ON Saturday 6 July we are pleased to announce the opening of a pc and console gaming Center. Southport Frag House, situated at 11 Hill Street, Southport is the only public gaming Center in the Merseyside area. Run by local gamer, Mark Bates, Southport Frag House offers video gaming to suit all ages on PC, Xbox 360 and Playstation 3. All PC's and consoles will be connected to the internet and all the PC's will be networked together for LAN style gaming sessions. With PC's running the Steam Cybercafe program, the Center will have access to over 300 games to play on PC, with such well known titles as Counter Strike Source, Half Life 2, Team Fortress 2, Left 4 Dead plus other non Steam games such as Minecraft, Call Of Duty, Medal Of Honor and Unreal Tournament III. On opening weekend 6 July and 7 July 2013, we will be offering gaming for just £1.75per hour instead of the normal rate of £3.50 per hour. Why not bring your son or daughter down, leave them at the Southport Frag House whilst you go shopping? Southport Frag House offers fun in a safe and secure environment. On Xbox 360 or Playstation 3 we can offer a wide range of games, including Gran Turismo 5, Gears Of War Series, Halo Series, Heavy Rain, Project Gotham Racing 4, Little Big Planet, Resistance 1 and 2, MAG and more. Opening weekend only why not pop in and have a split screen session with your friends for only £2.50per hour between the four of you?

Birthday Parties At The Southport Frag House
What about a Birthday Party with a difference? We can offer a special event tailor made for your Birthday Party. We can accommodate up to twenty five guests, provide the catering for your party, balloons, birthday cake, the works in fact, just pop in and have a chat to discuss your requirements.

Work Events and Parties
Similar to Birthday Parties, we can provide a work/corporate event. What could be better than getting together with work colleagues and management, killing each other on a video game like Call Of Duty, and help building a better stronger team in the workplace. We can arrange catering for the day or evening and make it a truly memorable occasion for all. Southport Frag House opens Saturday, 6 July 2013, and we would love to see you there. We are just 2 minutes walk from Lord Street, in between Lord Street and Hoghton Street and will be open until 8pm, 6 days a week.

UKIP slammed by Labour Euro MP on 'irresponsible' tobacco claims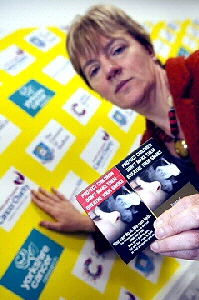 LINDA McAvan, Euro MP for Yorkshire and the Humber has hit back at UKIP deputy leader Paul Nuttall for his suggestion that EU regulation of Tobacco is like regulating what time we go to bed. Nuttall, the outspoken UKIP MEP for the North West made a number of claims in relation to the EU's new draft tobacco laws which have been developed in the hope of making smoking less attractive to young people. He told the press that attempts to make packaging less attractive would actually increase consumption and of plans to ban menthol cigarettes, Nuttall said:- "If people want to smoke menthol cigarettes, let them. What will the EU do next? Regulate what time we go to bed?"

Linda McAvan is leading on tobacco regulation for MEPs across Europe and has called Nuttall's comments incredibly short-sighted and irresponsible. Linda said;- "In my constituency alone, 13,710 children aged between 11-15 are regular smokers and the devastating reality is that around half of regular smokers will die from a smoking related disease. There are 1.2 million smokers in the North West. If UKIP want to use every opportunity to make outlandish claims about the EU then that's their prerogative, but myself and colleagues in Europe are not prepared to let this number of young and preventable deaths go unchallenged. Tobacco should look like tobacco and taste like tobacco, not like sweets. If the taste isn't pleasant to young smokers then we would hope to see less and less young people regularly smoking."

Jean King, Cancer Research UK's director of tobacco control, said:- "We wholeheartedly back the move to remove flavouring from cigarettes. Making them taste like mint, chocolate, vanilla and cherry is designed to improve the taste of smoking and make it easier to inhale the toxic and carcinogenic tobacco fumes, particularly for young people just starting to smoke. Reducing the appeal of tobacco will help to reduce the number of young people who are drawn into this lethal addiction."

Menthol cigarettes, which have already been banned in Brazil, were identified as a risk when scientists discovered that menthol acted as a local anaesthetic, which reduced coughing due to inhalation of irritating smoke, and allowed smokers to inhale more deeply (and more frequently) increasing the risks associated with smoking. "Given the evidence, menthol in cigarettes is not as trivial as Mr. Nuttall is trying to suggest with his flippant comments." Linda added.

The Tobacco Products Directive will be voted on by MEPs in September, before being approved by governments later in the year.
Parking and 20mph a hot topic this summer!
WELL the weather might not have been fantastically hot, but the few days of good sun have caused quite a heated debate lately in the Sefton area. Over the last few weeks we have been running a few reports about poor parking of visitors attending the seaside and we would love to hear from you, our readers about this issue, whether you are one of the motorists visiting or a local resident. We have this week confirmed that at this point, that some of those mandatory restrictions have been ruled out at this stage. To see our full interview with Formby's Labour Councillor Nina Killen about this seasonal issue, do not forget to log on next week! If you have read anything related affecting you on Merseyside, please do email us with your views and ideas to:- news24@southportreporter.com. Remember that the local media is your voice, so please feel free to use us to get your voice heard! To see our coverage about this issue, that we have run over the last few weeks, please visit these 3 links:- 1; 2; 3.