Calling time, first to venues in 2014 to close in Southport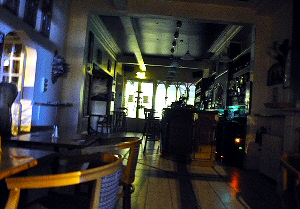 THE first night licensed premises of 2014 to close in Southport are the George Hotel and Reuters. The George Hotel, Southport, on 7 January 2014, posted on its Facebook Page that:- "Just to put some rumours to bed, Yes ,the George closed. No, we have not 'done a runner'. It was hard decision to make, but it was the only one. The rising costs of running the business, made it no longer viable. I would like to thank all our staff for the service they have done us, our customers and the pub in the 4 and a half years we have been here, we could not have asked for a better, loyal, trustworthy and hard working staff. If there are any employers reading this, inbox me for contact numbers if you have any bar/kitchen positions available. To our customers, thank you for all the support you have given us over the years, without your custom we would never have survived as long as we have without it. We have made a lot of friends and met a lot of great people in the time we been here, thank you all..."

Rueters had placed in its window and on it's door this week a notice saying:- "Dear Valued customers, Due to constantly rising costs it has become unfeasible to continue traiding at Rueters. We would like to thank all our sustomers and friends for their support and look foward to seeing you in the future. Many thanks and goodbye from everyone at Rueters."

Already, many more people are beginning to aim the blame at the Supermarkets, who can sell drinks far cheaper than most Pubs and Clubs can. Also others are pointing out that Brewery's and Landlords are often charging daft money. Others blame the smoking ban pushing up prices and for the decrease in people going out. Whatever the issues faced by venues the consequence is that Pubs and clubs will continue to close, even if they revise their pricing structure, unless they can get help. "If licensed premises and off licences were the only ones who could sell alcohol, I think we would see far less alcohol related problems. Sadly, the last Government and this Government are hell bent on giving Supermarkets the ability to undercut us and then wonder why we have an alcohol problem. When you turn on the news and you hear alcohol related in the item, you nearly always hear a politician saying it is Pubs and Clubs who are to blame. They also forget that most are struggling and many more have closed or are calling in receivers, so how do they get it is our fault. I think many more venues will be closing this year. It is also seen more far more profitable to sell the land or convert a venue to housing than it is to provide entertainment for locals. Losing venues like pubs and clubs means that areas are losing their identities and attractions for tourists to visit. If you stay overnight in a Town you want to go out. How can you if all the venues have closed down? Then we have issues about local Councils putting extra blocks in the way, just to raise cash through people trying to set up in business. I do not want my name quoted as I fear the repercussions for saying this... So what I really want to say I can't. That is how bad the situation is getting!" said one local Licensee.

This news comes as CAMRA, the Campaign for Real Ale, on 6 January 2014 launched their national "Pubs and the Economy" campaign which aims to promote the benefits of pubs to the British economy and encourage more people to use their local during January, which can often be a quiet period for the industry. The UK wide campaign will feature various pub owners and staff, including The Derby Arms in Rainford, The Caledonia in Liverpool and the Freshfield, also in Merseyside. CAMRA selected pubs from around the UK after being inundated with responses following an email and Facebook request for photos and stories of pub staff.
Billy Evans, Licensee at The Derby Arms in St Helens, was chosen to feature and had this to say on the difficulties facing pubs:- "When we took over in June [2013] there was one part time member of staff, now we have five and would like to employ more, but the current economic climate doesn't allow. So we work all hours to try to keep our heads above water."
Student Amie Morris has worked in The Caledonia in Liverpool since she was 18 and relies on her job to support her University studies:- "I joined the pub industry as a part time member of staff when I moved to Liverpool for University, it seemed a perfect way to meet different people and to gain a better understanding of the City I moved to. It is also a great job for flexibility and raising a little extra cash to support my studies."
The pub industry employs over half a million people and the pubs and beer industry adds £19 billion a year to the UK economy, but the lack of trade in the month after the festive season could prove to be the nail in the coffin for struggling pubs up and down the UK; with 26 pubs a week currently closing nationwide. "Pubs play an important part in the UK economy and need to be protected and supported. The 'Pubs and the Economy' campaign does not only call on people to use their locals in January, but also highlights the importance of the pub industry overall and encourages people to support CAMRA's call for a freeze in Beer Duty in the 2014 budget. This support could play an important role in saving many British pubs."
Mike Benner, CAMRA Chief Executive. CAMRA is calling on the Government to freeze beer duty in the 2014 Budget following the unprecedented 1p cut in 2013 and scrapping of the much hated beer duty escalator; which added 2% above inflation to beer tax year on year. To back CAMRA's call for a freeze in Beer Duty in the 2014 Budget, people should contact their local MP and ask for their support. "Alongside contacting their MP and asking for a freeze in Beer Duty, the best way people can help the pub industry is to use their local pub during January. Many of us only visit pubs over Christmas but if we want British pubs, which are such an important part of our economy and way of life, to survive then we need to support our local all year round."
CAMRA has issued free promotional packs to around 7,000 pubs across Britain to help raise the awareness of this important campaign. Included in the packs are posters featuring real pub staff and landlords from around the UK.
To find out more about Pubs and the Economy month visit:- communitypubscampaign.org.uk.
What are your views about the closures of venues in Southport and across Merseyside in recent months? Who or what do you think is to blame? Do you think we need pubs and clubs?
Please do let us know your views by emailing our newsroom via:- news24@southportreporter.com.

UK manufacturers to top EU growth league in 2014 – EEF / Aldermore Executive Survey
GOOD News is predicted for Britain's manufacturers, who are expecting an improved outlook in 2014 which should lead to growth in exports to emerging markets and a turnaround in investment, according to a major survey of senior executives published in the first week of January, by EEF, the manufacturers' organisation and Aldermore Bank.

The survey of 200 senior executives paints a more positive outlook than the very muted picture of 12 months ago, with growth
expected in all markets and across all sectors and sizes of companies. The relentless pursuit of growth opportunities in new markets, sectors and technologies looks set to be more focused for firms in 2014, but they are far from certain that risks to growth won't return this year.

The survey shows that the efforts necessary to remain competitive and grow in an uncertain world will continue in the year ahead. Topping the list of strategies for manufacturers in the year ahead are actions to improve productivity, greater supply chain collaboration, strong communication with employees and increased overseas marketing efforts. All of which will support growth plans and help to mitigate any emerging risks.

These actions will be coupled with much-needed investment in new capaCity in the UK. Two fifths of companies said they plan to invest moderately in the UK, with a further fifth saying their investment would be significant. Overseas, one third of large firms plan to invest compared to a fifth of SMEs.

Flexibility and a focus on growth tee industry up for a strong 2014 performance, with our forecasts indicating output expansion of 2.7%. As ever, if the investment pick up is further delayed there will be consequences for both supply chain capaCity and growth across the wider economy; a downside scenario that policy makers must not lose sight of in the year ahead.

Commenting, Darrell Matthews, North West Region Director of EEF, the manufacturers' organisation, said:- "Manufacturers are telling us they expect to make a greater contribution to growth, investment and jobs this year. Innovation, energy and diversifying into new supply chain remain key opportunities, but the UK and the eurozone are also looking better. However, global uncertainty and rising energy costs pose significant risks and, the challenge for industry and government this year will be to get industry's investment plans over the line."

Mark Stephens, Deputy CEO and Group Commercial Director at Aldermore, said:- "This report from EEF is both welcome and timely. 2013 has seen a growing sense of cautious optimism emerging amidst signs of a slowly improving economy. This is particularly good news for smaller firms, and vital within the manufacturing sector. At Aldermore we work closely with manufacturing clients across the Country and are seeing first hand what the findings of this report suggests. Clients are certainly more positive about the future of their businesses than this time 12 months ago, with a determination to capitalise on an improving UK market and to secure more business in new export markets."

According to the survey 70% of companies expect the UK economy to improve in the next year (2015), with a similar number (62%) expecting manufacturing prospects to improve. This is mirrored in the outlook for the global economy where 57% of companies expect an improvement. However, the perception of global risk is highlighted by the fact just 3% of companies expect this improvement to be significant.

This improvement is being driven both at home and abroad with two thirds of companies expecting their domestic sales to increase and, 55% of companies expecting their exports to increase, with almost 10% expecting this to be significant.

The Middle East has seen the largest increase in prospects with over half of companies involved there (40% in 2013). Regarding the eurozone, the balance of companies expecting growth rather than contraction has improved from -5% to +28%. Asia continues to offer UK firms robust prospects with the largest proportion across all markets, 12%, expecting significant growth.

The extent of the importance of emerging markets is underlined by the fact increased demand from these areas has returned with two fifths of companies viewing this as the best source of growth. Companies in the transport sectors were most positive about emerging market demand reflecting the prospects for goods such as luxury vehicles and civil aircraft where the UK is well placed.

However, despite this positive picture, the impact of the prolonged downturn on manufacturers is highlighted by the fact three quarters believing 'economic uncertainty is the new norm'. A range of specific risks were also identified with rising input costs being the largest (61%) of whom a third said it was their most significant. This reflects the impact of rising energy costs in particular although pay pressures, a factor not seen for many years, were also identified as a risk by a quarter of companies.

Almost the same number reported 'insufficient supply chain capaCity' as a risk, reflecting the hollowing out of the UK supply base and the need to build it back again, a key factor in encouraging inward investment in sectors such as automotive and
aerospace. However, half of companies said they planned to work more closely with their suppliers in order to address this risk.
Fined for fly-tipping asbestos!
A woman who fly-tipped asbestos tiles near to junior football teams' changing rooms has been fined. Elahe Zakavi, aged 46, of Isleham Close Allerton, was found guilty at Liverpool Magistrates' Court of fly-tipping asbestos.
The court heard that at approximately 10pm on 30 January 2013, Zakavi was seen taking bin bags from the back of her Honda 4x4 hatchback, with the help of an unidentified man, and dumping them over the railings near to the changing rooms used by the local junior football clubs on Jericho Lane. The bags were found to contain asbestos tiles. Zakavi denied that she had dumped asbestos, but said that the bags had been full of cardboard. She said she had mistaken the changing rooms for the waste reception Centre for which she had obtained directions from the Council's website and had not noticed that its opening time in January was 8am to 5pm.

District Judge Wendy Lloyd fined Zakavi £200 and awarded costs of £500 with compensation for the specialist clean-up required to safely dispose of the asbestos of £712.80

Councillor Steve Munby, Cabinet Member for living environment and localism, said:- "This was a particularly nasty case of fly-tipping. Asbestos is a dangerous material and to dump it near changing rooms used by children is appalling. Asbestos is not accepted at the waste reception Centre at Jericho Lane and there is a cost to its disposal. This case sends a clear message that Liverpool City Council will not tolerate fly-tipping and will take action against anyone caught."