CCTV APPEAL - INCIDENTS ON BUSES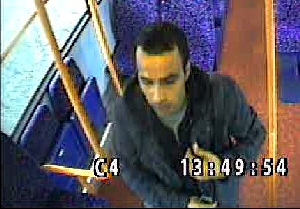 MERSEYSIDE Police have released CCTV stills of a man officers would like to speak to as he may have information in relation to 2 incidents that have occurred on public transport in the Merseyside area recently.
The 1st incident occurred on Friday, 20 September 2013. At about 6.10pm, a 27 year old woman got onto a bus at James Street, Liverpool City Centre to Huyton. During the journey a man sat next to the woman and touched her on the leg inappropriately. The offender then attempted to block the woman from leaving her seat but she later alighted from the bus and called police.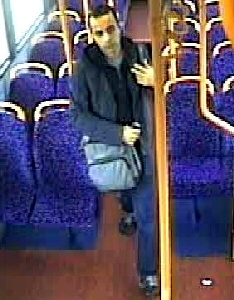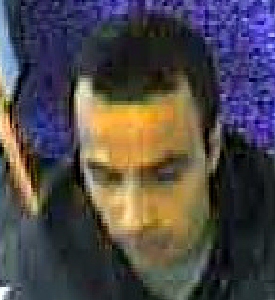 The 2nd incident occurred on Friday, 27 December. At about 1.10pm a 21 year old woman got onto a bus at Queens Square, Liverpool City Centre to Southport. During the journey a man sat next to the woman and touched her inappropriately on the leg. When the woman alighted from the bus the man again grabbed her and the woman later called police.

Both women were left shaken following their ordeal, but were uninjured. In both instances the man is described as being Asian, aged between 20 and 30, of a slim build with stubble on his face. He was wearing a black waterproof jacket. Officers believe the 2 incidents are linked. Detectives believe the man pictured may be able to help them with their enquiries and would urge him or anyone who recognises him to get in touch.

Detective Inspector Andy Black, said:- "These must have been distressing incidents for both women involved. No one should be subjected to such behaviour and our officers are actively seeking the man responsible. I would urge anyone with information to contact Sefton CID on:- 0151 777 3055 or Crimestoppers, anonymously, on:- 0800 555 111."

Overnight wear and tear repairs for M60 in south Manchester
ON the 8 January 2014, the Highways Agency has announced that wear and tear repairs, worth £190,000, will be taking place along the M60 in South Manchester later this month; providing safer and smoother journeys for drivers.

The work includes:-

► Renewing road markings along both the clockwise and anti-clockwise carriageways between Junction 5 at Princess Parkway and Junction 8 at Carrington.

► Tackling potholes and renewing road markings along both the clockwise and anti-clockwise carriageways between junction 10 at Trafford Boulevard and junction 11 at Barton.

► Resurfacing the entry slip road for the clockwise carriageway at junction J9 at Trafford Park.

► Resurfacing the exit slip road from the clockwise carriageway junction 11 at Barton.

The project will start on Thursday, 23 January 2013, and should be completed by the middle of March.

To minimise inconvenience to motorway users all the work; which involves some lane and slip road closures with short and clearly-signed diversions in place; will be done overnight when traffic is lightest.

The work will also require a full closure of either the clockwise or anti-clockwise carriageway for the Junction 10 to Junction 11 works. Clearly signed diversions from these junctions; as well as alternative diversions from Junctions ahead of these; will be in place.

The overnight work will be done along one section of the motorway over a few nights at a time and between 10pm and 5am each night except on Saturday and Sunday mornings when the finish time will be 7am.

The work has also been planned around known events; such as major football matches; in Manchester City Centre. Work maybe postponed or the start to an evening's work delayed to allow event goers a smooth journey away from the City Centre. Other events such as concerts or Champions League fixtures which have yet to be confirmed may also trigger these arrangements.

Highways Agency project sponsor Jakub Malaj said:- "These are routine projects to tackle wear and tear along parts of the M60 around South Manchester and we have worked hard to time the work so it causes as little inconvenience to drivers as possible. The resurfacing and road marking work will ensure drivers can continue to enjoy safe, smooth and reliable journeys."