Worst series of winter storms in 20 years!

MERSEYSIDE has so far weathered quite well in what has been billed as:- "The worst series of winter storms in 20 years". As a nation we are vulnerable to storm damage as the floods of 1947, 1987, 2000, 2001, and 2002 and recent floods and storms clearly shows, so it should be no surprise to us when bad weather happens. Over the week of 2013 and the start of 2014, many parts of the UK have been battered almost consistently by high winds and rain. Many areas have also been flooded, particularly in Southern England, thanks to combination of unusually high tides in coastal areas and the severe storms that have come in from the Atlantic. The long term damage of the severe weather that has hit the Merseyside Coastline has yet to be assessed fully, but so far observations by locals have shown that areas like Formby have seen around 2 to 3 years of erosion take place in just a few days alone. This is quite worrying and weather experts have said the extent of the damage caused by the storms lashing Britain in recent weeks will have major impact on insurance premiums in 2014. The latest flooding crisis has once again also highlighted environmental, social, political and financial issues in protecting against weather related events like this, as well as the direct physical damage caused.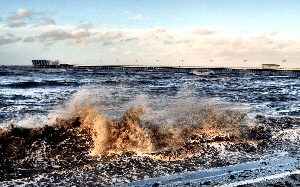 On the 3 January 2014, the Country Land and Business Association, better known as the CLA according to the CLA, which represents 6,500 farmers and landowners throughout the region alleged that the agency has placed too much emphasis on the Environment Agency website as the primary tool of communication with those most at risk. CLA North Director of Policy and Public Affairs Douglas Chalmers said:- "The Environment Agency has been attempting to communicate via the media but when asked how people can access the latest information and advice, the standard response seems to be to check online. That is fine, if you have a good, reliable internet connection, but many of our members either cannot access broadband nor do they have any computer access. And as flooding is often associated with power cuts, what is the population to do then? The Government says it accepts that some of our more remote communities are not yet connected to a useable broadband service yet many of its agencies seem to think that communicating mainly by their website is acceptable." The CLA are now is calling for the Government to reconsider its "digital by default" agenda until more of the region's rural population is able to access reliable, affordable and faster internet connections. Mr Chalmers added:- "Being required to fill in forms via an agent if you have no broadband is bad enough but, in the current situation, lives and properties may be at risk. The Government cannot make electronic communication its default method until everyone has an equal opportunity to access the internet. The UK Government is too reliant on e-communication at this point in time!"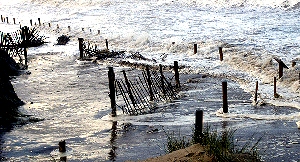 One of the biggest issues being raised in the media is that of the proposed 10% cut in Environment Agency jobs. On 2 January 2014 a Department for Environment, Food and Rural Affairs (Defra) spokesman said:- "We're currently spending over £2.3 billion on tackling the risk of flooding and coastal erosion. Together with contributions from other partners, this is more money than ever before. We'll also be making record levels of capital investment and will be spending over £400 million by 2020/21. In addition we have provided the Environment Agency with an above inflation increase of £5 million on their floods maintenance work in 2015/16. Departments and agencies across government have to make choices about their budgets and the Environment Agency is making their own choices about how best to use their resources."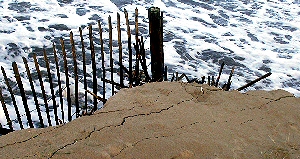 Justin Bowden, GMB National Officer rebutting this, said:- "Since November 2013, the UK has been battered by storms and EA staffs are working flat out to protect citizens across the nation. Government is correct to say about investment in capital monies to build new flood defences, but what is carefully avoided is the massive cuts being made to revenue budgets Revenue monies is what is used for maintaining existing defences which is just as important as building new ones. If we don't, it's like having a new car and never getting it serviced; it will soon fail. For one area in the EA the proposed revenue budget is down to 10% of last year's budget; a 90% cut. This will mean a lack of maintenance not only to flood defence assets which control flood waters, but little maintenance to the rivers themselves which are the main conveyors of flood water. These cuts to revenue budgets have led to the stark proposals of cutting manpower as the zero option to the cuts. The manpower that visits trash grilles to keep them clear to ensure free flows, the manpower that will lift out trees that block the river, the manpower that fills sandbags, and acts as the liaison to the public that are directly affected by flood waters The Agency wants more staff to go onto standby and work in Incident Room but cutting numbers is a contradiction to this. Currently staffs in Incident Rooms are flailing and staffs from other areas are being asked to cross subsidize, but with this movement of staff it leaves their own area susceptible to any heavy rainfall and flooding. At present, the agency is struggling to cope with the flooding at present and this is prior to the cuts!"

So have you been affected by the storms and what do you think the enduring consequences are for the UK? Do you think that the Environment Agency has done a good job of issuing alerts this time? Also will the proposed 10% cuts to the Environment Agency have a detrimental effect on the lives of millions of people in England? Please do email us your thoughts on this issue to:- news24@southportreporter.com.

The photographs on here of the high tides taken over the last week in Crosby, Formby and in Southport.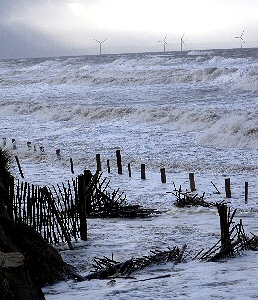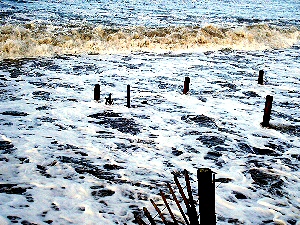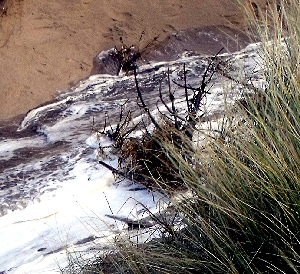 We hope you liked the photos, but please, don't copy them.
Please help us to keep our copyright intact and to keep this site online.
Click on here now.

On an oddly related note, also over 7 January to 9 January 2014, more than 300 scientists are meeting at the Royal Geographical Society (with IBG) in London to discuss how climates and environments have changed over the last 2.6 million years, as well as how they might change in the future.
The meets are focusing on the Quaternary period, which began 2.6 million years ago and is ongoing. The Quaternary period is also known as the 'Ice Age'; defined as a relatively cooler period in the Earth's history; that we are now living through.
This year's meeting marks the 50th anniversary of the QRA and is themed:- 'Revolutions in Quaternary science'.
Reviewing scientific progress so far, delegates are discussing:- Causes of climate change; Measuring and modelling climates; Sea level change; Human origins and genetics; Human impacts on environments and climates and past ecosystems!
Professor Dan Charman, who chairs the meeting, says:- "The UK is at the forefront of this area of science. We have come a long way over the past 50 years and can contribute much to environmental challenges in the future."
Dr Catherine Souch, RGS-IBG Head of Research and Higher Education, added:- "We are delighted to have hosted this event and celebrated the achievements of Quaternary science and this area of geography."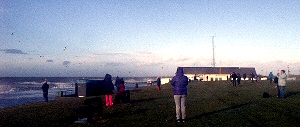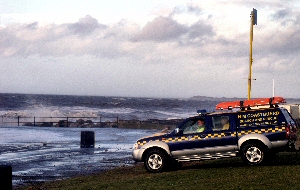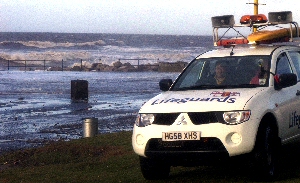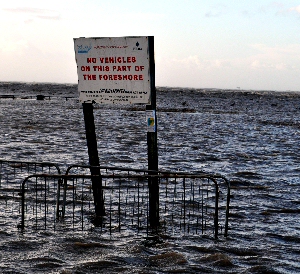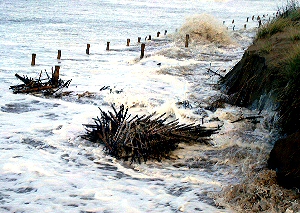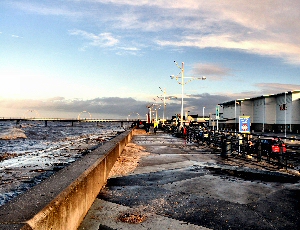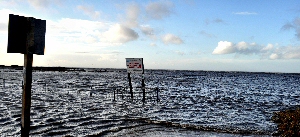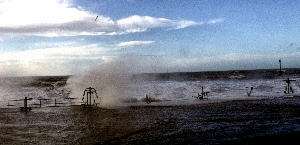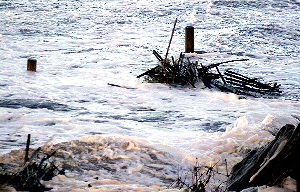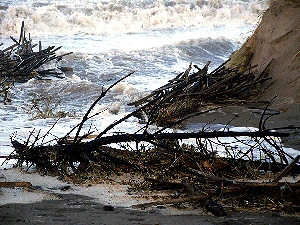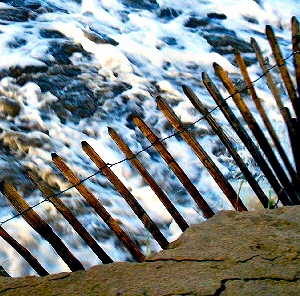 PAGE 1 OF 3