Macmillan Cancer Services gets £500 boost in memory of Liverpool bus inspector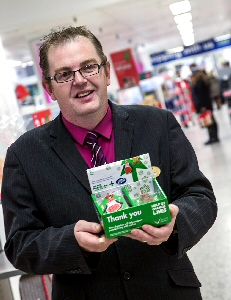 MORE than £500 has been raised for a cancer support charity in memory of a Merseytravel bus inspector from Liverpool, who died from the disease.
Lee Bishop-Hunter handed over the cash to Macmillan Cancer Support Services following the fund-raising event at the Boots store in St Helens where he is manager, in memory of his dad Joe. His colleagues at the store in Church Square Shopping Centre donned fancy dress and organised a raffle for Macmillan Cancer Services to raise the £500, as part of a regional fund-raising target of £15,000. For Lee, the charity is close to his heart as both his dad and his aunt died as a result of cancer.

"I understand how supportive Macmillan is to those who have cancer, and their families as well. Unfortunately for my dad Joe, we weren't able to get very involved with Macmillan nurses, as it was only three months between when he was diagnosed with cancer of the kidneys and when he died, as it spread rapidly through his body. He was only 64, and hadn't long retired from his job as an inspector on the buses, with Merseytravel. That was 3 years ago, and then 18 months ago my auntie, my mum's sister, was diagnosed with cancer of the lungs and she died after it spread through her body. Staff at Macmillan were very supportive then, though it was a difficult time for all of us." added Lee, manager of Boots in Church Square Shopping Centre Manager, St Helens." said Lee, who also lives in Liverpool.

Church Square Shopping Centre Manager Steven Brogan said:- "I'm a big supporter of Macmillan with the care and support it offers those who are undergoing cancer treatment, along with their families. The work Boots staff have been doing to raise money for the charity is admirable; this was a fun way to raise money for Macmillan; visitors to Church Square Shopping Centre are always generous for such appeals."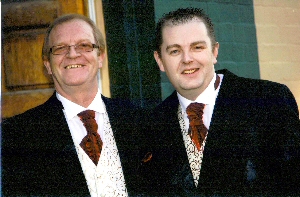 The fund-raising event was one of several that were held at the Boots store last year, said Lee. "At Boots we do feel that's important to give something back to the community; we take our corporate social responsibility role very seriously. For example, here at Boots at Church Square Shopping Centre, along with 15 other stores in the region, we have raised £6,750 for Macmillan in the last 6 months, and we've raised £2,400 for Children in Need. We have a pharmacist who is specially trained by Macmillan in helping cancer patients with their medication, and in 2014 we will be rolling out a new make-over service. This will help offer advice on how cancer treatments; especially chemo and radiotherapy; affect patients' skin, nails and hair, especially if they become sensitive to their usual make-up or skincare, or want advice on what to do when they lose their eyebrows or eye lashes."

Church Square Shopping Centre is open daily and home to a range of big name stores - such as River Island, BHS, Boots and Superdrug; along with independent retailers plus the busy St Mary's Market. More details on what's happening at the Centre at:- churchsquaresthelens.co.uk.

Call for more support for people with diabetes to stop smoking
THE charity Diabetes UK has called for more support for people with diabetes to stop smoking, as a new survey has revealed that significant numbers of smokers with the condition are not being offered support and advice about giving up.

The charity's annual survey about the healthcare people with diabetes are getting has found that just 45% of smokers were offered support and advice on giving up over the previous 12 months. This is despite the fact that every person with diabetes is supposed to have their smoking status recorded at their annual review and if they are smokers then this should be the start of the process of supporting them to give up.

While the number of smokers who completed the survey is not sufficiently large; just 166 of the 1,643 participants said they smoked; to be confident this is an accurate reflection, it does support anecdotal evidence that significant numbers of smokers are not getting the support they need to stop.
Diabetes UK is concerned by this because smoking is especially harmful for people with diabetes. This is because the condition puts them at increased risk of heart disease, stroke and other circulatory problems, and so if they smoke then the increase to their risk of these conditions is even greater. 1 in 6 people with diabetes are smokers and the charity wants more to be done to help reduce this.

It is calling for all GPs to make sure they use the annual recording of people's smoking status as an opportunity to have a conversation to offer advice and support about stopping. It is also urging people with diabetes who smoke to start the New Year by making a resolution to give up.

Barbara Young, Chief Executive of Diabetes UK, said:- "Smoking dramatically increases risk of a number of conditions, including cancer and heart disease, and so is extremely dangerous whether you have diabetes or not. But because diabetes puts a strain on the circulatory system and smoking adds to that strain, smoking is even worse for you if you have the condition. Given this, it is important that healthcare professionals make sure the annual conversation they have with people with diabetes about smoking as part of their care planning review is the start of a process of supporting smokers to give up. Providing information about, and access to, the different ways to help people give up smoking is an important part of improving support for people with diabetes. Also, structured education programmes help people understand what they need to manage their condition as well as providing effective motivation to support people to give up smoking but far too few people go on them. Supporting people to give up smoking is one of the many potential benefits and GPs have an important role in encouraging people to attend. We want to raise awareness of how harmful smoking is when you mix it with diabetes and get the message across to people with diabetes who smoke that giving up could be the best thing they ever do for their health. Making it their New Year's Resolution to give up could mean they see many more New Year's Days than would otherwise be the case."

Getting advice and support if you are a smoker is one of Diabetes UK's 15 Healthcare Essentials, which set out the healthcare that every person with diabetes is entitled to. These include the nine annual checks that the National Institute for Health and Care Excellence recommends everyone with diabetes should get. They are available to download at:- diabetes.org.uk/15-essentials. For support giving up smoking, call Smokefree, an NHS stop smoking service, on:- 0800 169 0 169; call QUIT, the charity aiming for a smoke-free UK, on:- 0800 00 22 00; or talk to your GP.
MERSEYSIDE TRAMWAY & LIGHT RAILWAY SOCIETY EVENT NOTICE
THE Merseyside Branch of the Tramway and Light Railway Society are holding an event on Monday, 20 January 2014, at The
Greenbank Sports Academy, Greenbank Lane, Liverpool, L17 1AG, from 7.35pm. The event will have a talk by Ian Longworth, Director of Public Transport, Isle of Man. He is well known tramway and transport enthusiast and he has had a lifetime involvement in transport operation both professionally (buses and coaches) and as an active amateur supporting tramcar restoration. This talk will give us an insight into the many and varied aspects of his job operating a heritage railway system in the modern world. "To those of us interested in trams and trains and buses generally, it should prove to be an interesting and entertaining evening and an occasion not to be missed." said the branch Chairman. Tea, Coffee and biscuits will be served during the interval. £2 per head.