Work to start on new Holly Lodge Girls' College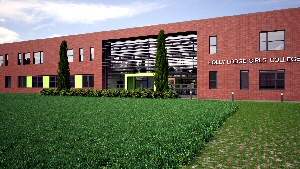 MAYOR Joe Anderson is to kick start construction of the new £7 million Holly Lodge Girls' College in West Derby on Friday 10
January. The scheme will see a new main teaching block comprising new humanities classrooms, new arts, music and drama spaces including an activity hall, and a new 6th Form with a central atrium and café area. It is part of the Liverpool Schools Investment Programme, devised as a rescue package following the scrapping of Wave 6 of Liverpool's Building Schools
for the Future (BSF) project, and 1 of the Mayor's key pledges.

The funding; a combination of City Council and Government money; was negotiated as part of Liverpool's City Deal, and will see at least 12 schools receive investment.

The aim at Holly Lodge is to significantly reduce the number of school buildings, some of which are over 100 years old and unsuited to delivering a modern curriculum.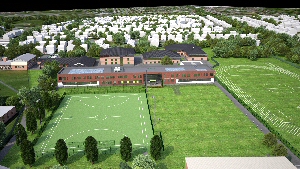 Mayor Anderson will take part in a turf cutting ceremony at 10am with pupils, staff, local MP Stephen Twigg and Cabinet member for education, Councillor Jane Corbett.

Mayor of Liverpool Joe Anderson said:- "I pledged to rebuild a dozen schools to help transform the experience for tens of thousands of present and future school pupils, and this is the 4th scheme that we are starting work on. This investment in Holly Lodge Girls' College is much needed to make sure pupils get the most out of their learning."

The scheme includes a small extension to the existing sports hall with new administrative offices and a new look reception. There will also be a new half-sized floodlit artificial grass pitch which will be made available to the local community.

Headteacher Julia Tinsley said:- "We absolutely love our site, but time has caught up with it and it is a sad fact that the age and layout is just not suitable for today's teaching. The new school will address this and enhance the beautiful campus on which the school is built, maintaining the unique character of Holly Lodge. We are thrilled and delighted that the girls and staff will be given the accommodation and ICT facilities they deserve. It will also be a much more environmentally friendly school which will cost us less to heat, maintain and repair."

The new building is arranged in proximity to the 5 buildings which are being retained, which will greatly reduce lost teaching time as a result of pupils having to walk long distances between lessons
It is proposed that around a 3rd of the existing site at the front nearest Queens Drive will be sold when the work is completed.

Kier Construction have been appointed to carry out the work, and a target has been set for 95% of it to be subcontracted to firms in the Liverpool and in Merseyside.
Hundreds of apprenticeships are also being created through the schools investment programme.

Gary Wintersgill, MD of Speke based Kier Construction - Northern, commented:- "As a local contractor celebrating 100 years of operations in Liverpool this year the whole Kier team is delighted to be involved in building new schools for the City's young people. Around 85% of the cost of the Holly Lodge project budget will be spent locally using local firms like Hawkspear and HE Simm, providing both sustainable employment and training opportunities across the City Region (Merseyside)."

The new building is scheduled to open in February 2015.

Bridging Finance helps set student accommodation in motion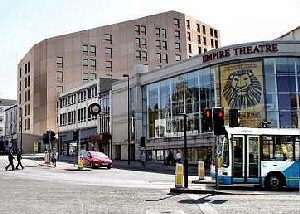 A former cinema in Liverpool City Centre is set for a new lease of life as a new luxury student accommodation thanks to Pinnacle Student Developments Limited and property funding specialist Bridging Finance Limited.

The site was originally occupied by the iconic Paramount Theatre, before it was taken over by Odeon Cinema in 1942. The ground has been used as a temporary car park since the cinema was demolished in 2010.

Pinnacle Student Developments spotted the potential of the land given its fantastic City Centre location, opposite Liverpool Lime Street Station and within a ten minute walk of 3 University Campuses. To realise its plans, the developer turned to short term lender Bridging Finance to complete the purchase of the site.

Andrew Dixon at Pinnacle Student Developments said:- "The City Centre location of the development is excellent, so we wanted to purchase the land before other investors swooped in. Having successfully worked with Bridging Finance in the past we approached them for quick and flexible funding. Thanks to its prompt and efficient processes we've been able to secure the land and start construction on the site."

Chris Baguley, managing director of Bridging Finance Limited, said:- "This was a highly sought after City Centre site, prime for redevelopment so we worked hard to ensure we were able to provide fast access to finance so Pinnacle could purchase the land and start the reel rolling. Many traditional high street banks have stricter lending rules and it can be a timely process, short term funding is perfect for any property professional that needs to act quickly."

Pinnacle's Paramount student development will be a fresh, contemporary piece of architecture, rejuvenating a prominent site
in Liverpool City Centre. Plans for The Paramount include 477 units over 10 floors. It will offer a variety of 430 en-suite student bedrooms and 47 studio study rooms complete with kitchen.

Bridging Finance Limited supplies bridging loans from £30,000 to in excess of £2 million. It works with the professional sector and their clients to offer flexible 12 month terms with no minimum period.

For more information on Pinnacle Student Developments Limited visit and the Paramount development:- pinnaclemcglobal.com.
Come Dine with Me Couples Wants you!!!
THE Channel 4's hit show Come Dine with Me is coming to Merseyside with a new twist, and they are looking for couples to take part in the series!! "Do you and your other half host the best dinner parties in Town? It could be your partner, housemate, sibling, wife or son - whoever adds the winning ingredient to your perfect dining experience! The hugely successful series Come Dine With Me is back. This time it will be following 3 couples as they combine their hosting skills in an attempt to prepare the best meal, be the best cooks and hold the best all-round dinner party for each other. At the end of the competition the winners walk away with £1000 cash! We are currently looking for contestants for this new series and we think that your staff and clientele may be interested in taking part in the show." said Sian Lloyd from ITV. If you are interested in taking part call:- 0871 200 3939 now!
VIKINGS TO HOST CRUSADERS IN FRIENDLY!!!
WIDNES Vikings will host North Wales Crusaders at the Select Security Stadium on Sunday, 19 January 2014, for the Club's 1st
pre-season friendly of the New Year. The friendly is a product of the partnership between the Vikings and the newly promoted Crusaders. The fixture, which kicks off at 3pm, is classified as a home game for the Welsh Club. Admission is via cash on the gate; £10 adults and £5 concessions. The Crusaders will only be opening the South Stand for this fixture.