Future music star to perform at Central Library
HOTLY tipped young musician, Nick Mulvey will be playing a special gig in Liverpool next month. On Sunday, 9 March 2014, Nick Mulvey will play the only library venue as part of his official tour. In collaboration with the hugely successful Get it Loud in Libraries (GiLiL) initiative, Nick will bring Liverpool's Central library to life with his unique latin and folk sound. Currently riding high in the BBC's top 15 to watch in 2014, and tipped to end up in the top five, Nick will be performing a number of songs including his new single Cucurucu which will be released on 3 March 2014, and will be followed by his debut album due later in Spring.

Liverpool City Council's Assistant Mayor and cabinet member for culture and tourism, Councillor Wendy Simon, said:- "The launch of the Get it Loud in Libraries in November was a great success and really opened up the idea of doing something more in our wonderful space. It is great to see Central Library being used for such diverse events that inspire and engage young people. It is fitting that Liverpool, a City synonymous with music, is giving new musicians a platform to showcase their talents. I hope this will encourage young and old to come along to the Library and enjoy the music we have on offer, this is for one night only and is definitely not to be missed."

The GiLiL project connects young people with libraries with no bars and or accompanying license restrictions it allows all ages a chance to see great bands playing live in a real gig environment at an age where they would normally be restricted to big-venue pop concerts and the occasional festival. It creates audiences for libraries and exposes more people to public libraries generally. Fans often visit the library from all over the country and from abroad to experience a gig in a library with their favourite acts and so Loud in Libraries supports local cultural tourism as well as everything else. Events are delivered as part of a programme of developing youth audiences and future live activity will encourage young people to develop their creative and music industry skills in a supportive mentoring environment whilst also exposing them to the most exciting new music talent. The programme stages intimate gigs in public libraries all across the North West. Tickets are £7 and can be bought at online. Doors open at 7.30pm.
Road traffic collision on Cambridge Road, Southport, kills 86 year old
A road traffic collision in Southport, on Sunday, 23 February 2014, has claimed the life of a local man, Mr. Bulteel, known as "Tony", who was aged 66. Officers from Merseyside Police's MSOC Collision Investigation Team, are continuing to investigate the full circumstances surrounding the incident. Sergeant Jason Higham said that:- "We still need to speak to people who witnessed the collision, which happened at around 4.50pm on Cambridge Road. In particular, we believe a car, which was behind the black Kia Picanto just before it collided with the lamppost, stopped at the scene. A woman who was driving the car is thought to have got out and spoken to people, but she left the area before officers arrived. This woman may have vital information about the collision which could help with our investigation and I would appeal to her to get in touch with us. I would also urge anyone else with information about the incident to pick up the phone and speak to one of our officers." Anyone with information can call the Matrix Serious Organised Crime Roads Policing Unit on:- 0151 777 5747.

Sutch a giant job for local firm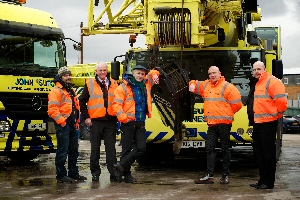 LIVERPOOL'S giant summer extravaganza has attracted an 'uplifting' local sponsor. John Sutch Cranes has become an official partner in Memories of August 1914, which will see the Little Girl Giant and her pet Xolo return as part of the UK's flagship cultural event marking the centenary of the outbreak of World War One.

The crane company were massively proud of the central role they played in 2012's giant spectacular Sea Odyssey when their cranes manoeuvred the giants around the City. They have come on-board again in a project which will highlight their technical expertise in an original way once more.

Liverpool born John Sutch who owns the organisation, said:- "We know from our involvement in 2012 that a successful performance relies on meticulous planning, communication and scheduling, backed up by a lot of imagination. Our modern fleet of cranes with their technological advancements and the highly skilled operatives means we can achieve everything the creative directors at Royal De Luxe ask for, and with our impeccable health and safety record, it makes us a valuable event partner."

At this stage of discussions, plans are in place to use around 7 cranes, up to 12 operatives and 2 project managers. Many of the drivers were involved in 2012 so understand the scale of July's theatrical extravaganza.

John added:- "We are honoured to be part of the national commemorations of the start of the Great War, and with our growing regional and national presence, it is fitting that it marks the finale of the International Festival for Business. It's going to be fantastic to be at the heart of this hugely important event which will bring national and international attention to our City."

Assistant Mayor and cabinet member for culture and tourism, Councillor Wendy Simon, said:- "Since we announced our giant spectacular last month we've been inundated with requests from businesses, community groups and individuals who want to be part of this historic event in some way. We're delighted with the response and it's wonderful to be able to work with local organisations in bringing this event to the streets of Liverpool. John Sutch Cranes have a real can-do attitude which is exactly what we need when faced with the ambitiously creative demands of Royal De Luxe! They were an integral part of the success in 2012 as having these technical experts on-board means we can fulfil the scope of the project and wow people once again with the movements of our giant special guests. We hope this is the first of many partnerships we announce as we work towards creating one of the most unforgettable, moving and awe-inspiring street theatre events to take place in the UK this year."