RARE RUNIC STONE FROM THE 9THC GOES ON DISPLAY AT PYRAMIDS SHOPPING CENTRE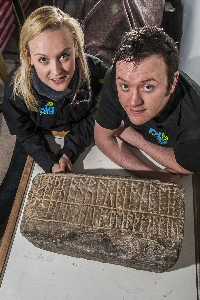 A RARE ancient runic stone which experts believe is the Wirral's most important historical treasure is on display in a shop window. The Overchurch runic stone, which dates back to the 9th century, is on display to the public for the first time in a decade thanks to the Pyramids Shopping Centre in Birkenhead. It is all part of a 6 week living museum being hosted by Pyramids Shopping Centre entitled Wirral Through The Ages, running until Sunday, 30 March 2014. Shoppers will be treated to one of the most exciting and comprehensive physical histories ever presented of the Wirral and entry is free. It has all been created with the help of Big Heritage, an award winning heritage social enterprise, who are also based in Wirral. Also on display are some of the 5,242 artefacts dug up with the help of 328 local community volunteers who took part in Big Heritage's "Discovering Bromborough' archaeological dig last summer. Part of the Pyramids museum will also feature 3 changing exhibits. One is the re-creation of a Roman barracks showing a gladiator being operated on, the second a Viking house and for the final 2 weeks, a World War I trench. Dean Paton, founder of Big Heritage and Archaeologist, said:- "Wirral has such a rich heritage, but for me, no other single find is as important as the Overchurch Stone. We're so pleased to be able to give people from the Wirral a chance to enjoy it." Big Heritage project manager and sculpture specialist Joanne Kirton explained more about the rare stone. She said:- "About a quarter of the Overchurch runic stone survives, probably the slab was about 1.2 metres by about 60cm wide. It could have lain on the floor or on top of a sarcophagus but it was probably a monumental grave slab. A lot of these stone were found in the Viking period but the Overchurch stone comes from the earlier Anglo-Saxon time period, and is one of only three in Cheshire (of which the Wirral used to be a part of) from this period which means it is incredibly rare." A replica of the stone; also on display at:- 'The Pyramids'; has been created by Liverpool 3-D design company Strange Case Collective.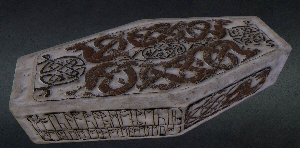 Derek Millar, Commercial Director for Pyramids Shopping Centre, said:- "We have been working with Big Heritage to create our very own shopping centre museum and our shoppers can be sure they will find some very special historical treasures from the Wirral on show. The runic stone is just one of an exciting array of historical artefacts of great importance to Wirral's history. Our position as the Wirral's main shopping centre makes us the ideal location to showcase it."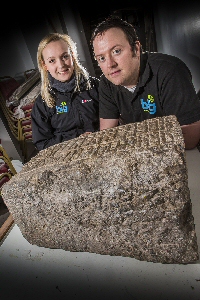 Dean Paton, founder of Big Heritage, says the stone originally lay in the grounds of Overchurch Church (near Upton) and was re-used after its demolition to create nearby Upton Church. When this too was demolished the runic stone was discovered with its inscription still visible; translated as "The people erected a memorial... Pray for Æthelmund." Since the Wirral was in Cheshire at the time, the find was deposited in the Grosvenor Museum in Chester. Although Æthelmund's identity is unknown, he could have been a magistrate, priest or wealthy local landowner, Joanne said what made the stone particularly interesting is that this runic stone was raised as a result of a group of local people rather than a single individual. The Overchurch runic stone and its replica are securely encased within the Pyramids shop window, as are other exhibits including Iron Age pottery from Irby (used for Cheshire salt), a Neolithic axe head from Barnston and the post-Roman St Menas flask found at Meols, which probably held Holy water. To find out more about the Pyramids museum click here.
CCTV images released after man subjected to homophobic abuse on train – Sandhillls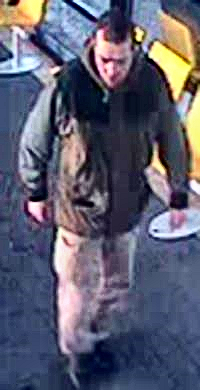 ON 21 February 2014, the British Transport Police (BTP) issued an appeale for information after a man was alleged to have been subjected to homophobic abuse while waiting on the platform at Sandhills rail station. Officers from the BTP have released an image of a man they want to identify and speak to following the incident, which occurred, at 9am, on Sunday, 19 January 2014. PC James Devereaux, the investigating officer, said:- "The victim was a 20 year old man from Liverpool. He was waiting in the shelter at Sandhills when he made eye contact with a male, who asked him what he was looking at. The man then followed this up with threats of violence, and started approached the victim, continuing to make a number of abusive comments and insults, some of which were homophobic in nature." The victim then left Sandhills on a train, fearing for his safety and reported the incident to staff, while the offender remained at the Sandhills Station. PC Devereaux added:- "If you recognise the man pictured please come forward as we believe he has important information which could assist in this investigation. No one should be subjected to any form of verbal abuse or offensive comments while travelling on the rail network, including those of a homophobic nature, and this deplorable incident is no different. We have carried out searches at the station and viewed CCTV of the offence, and we are now calling on members of the public to help us." If you recognise the man in the CCTV image or can assist the investigation in any way please call British Transport Police on:- 0800 40 50 40 or text:- 61016 quoting log:- NWA/B7 of 18/02/14 or the independent charity Crimestoppers, anonymously, on:- 0800 555 111.

LEVY CUTS TO HELP HARD-WORKING PEOPLE BUILD THEIR OWN HOME
UP to 3,000 mothballed self-build homes are expected to get underway when changes that save self-builders thousands of pounds come into effect this week. Since Monday 24 February, self-builders have been exempt from paying a levy which until now was placed on most new buildings over a certain size.

The previous charge added considerable cost in some cases to the expense of building a home. For example someone building their own four-bedroom house that is 150 square metres in size could be liable to pay £15,000 in Community Infrastructure Levy if a Council was charging £100 per square metre for residential development in that area.

The axing of the levy for people building their own home is part of the Government's determination to boost housing supply and help aspiring self-builders get their home off the ground. The relief from the Community Infrastructure Levy will cover homes that are owner-occupied and built or commissioned by individuals, families or groups of individuals for their own use.

Communities Secretary Eric Pickles said:- "Building your own home is always a challenge and we are doing what we can to help people realise their dream and provide a home for their family. This change will save self-builders thousands of pounds and help many more in the future. By boosting the numbers of people building their own home we can help increase the number of new houses built each year in this country and support local businesses. There are too many levies and charges on housing. By cutting these, we can help build more homes."

Ted Stevens, chairman of the National Self Build Association said:- "It's great news that the Community Infrastructure Levy exemption for self and custom builders is now being implemented. We estimate that about 1 in 8 self-build projects has been 'mothballed' over the last 2 years, because of the impact of this new charge. So we anticipate the exemption will have a significant impact on self-build starts, with 2,000 to 3,000 homes coming off the shelf, and starting on site in the next few months. This is good news for the people who want to build their own homes and it will also be good news for the supply chain and local construction related businesses that support the self-build sector."

Extensions and family annexes over a certain size will now be exempt from the levy and the Government also intends to consult on removing Section 106 tariff charges from self-build properties too. In addition from April there will no longer be a Council tax surcharge on family annexes.

Exempting self builders from the levy is the latest in a range of measures to boost the number of people building their own home. They include:-

► Making is easier to get a self-build mortgage. Government has been speaking to lenders and 26 of them are now offering self-build loans. Gross self-build lending is predicted to increase by almost half between 2012 and 2015 to £1billion a year;

► Freeing up more surplus public sector land for self-builders with the Homes and Communities Agency to bring forward a range of sites for custom build homes;

► Introducing a £30m Custom Build Homes Fund which makes available repayable finance for larger multi-unit projects and grant funding for community self-builders who can now apply for a share of £65million from the Affordable Homes Guarantees Programme;

► Planning guidance that makes clear Councils should help self-builders and establish demand in their area. This includes compiling a local register of people wanting to build a home so they have priority when new brownfield sites become available.
Merseyside lawyer backs 'cup of tea' approach to custody disputes
A recent High Court direction for feuding parents to settle their custody battle amicably has been endorsed by a Merseyside family law specialist.

In the case, a warring couple ended their 10-year litigation and decided to share custody after Mrs Justice Pauffley "talked tough" to them and suggested they should make each other welcome in their homes and sit down around the kitchen table to share a cup of tea for the sake of their children.

Carole Brennan, a mediator and partner at Morecrofts Solicitors, has welcomed this approach and says it demonstrates the need to focus on the needs of children and avoid an acrimonious litigation wherever possible. "When a couple goes through a divorce, their experiences are deeply affected and driven by the emotional state they find themselves in. Unfortunately, those emotions can often get in the way of finding the best way to move forward. Where children are involved, it's crucial that both parents try to keep negative emotions out of the picture and ensure the needs of their children remain at the forefront wherever possible. That usually means communicating with each other calmly and remembering they were once on the same wavelength. Family lawyers are there to help make this happen. Their main focus is to identify issues, gather the right information and provide sound advice about how best to resolve them. Many couples now use mediation or collaborative law, which are designed to give a supportive, clear process and also make it a lot cheaper. This helps the couple to make their decisions based on what is best for them and their children in the long run."

Morecrofts Solicitors has 5 offices across Merseyside, in Woolton, Allerton, Birkenhead, Crosby and Liverpool City Centre, as well as an office in London. For further information, please visit:- morecrofts.co.uk.