Landlords show they are a CLASS act
LIVERPOOL'S landlord accreditation scheme has reached an impressive milestone. New company MGM Letting; which provides accommodation for students; has become the 400th organisation in the City to sign-up for CLASS, a Council scheme which recognises good landlords. And there has been more good news for the scheme, with the submission of the 2,000th property for CLASS accreditation by Elgin Management, another Liverpool student accommodation provider.

It means more landlords than ever in Liverpool are being officially recognised for managing their properties well and providing a good service for tenants.

To celebrate the landmark, Liverpool City Council's Cabinet Member for Housing, Councillor Ann O'Byrne, presented certificates to Ian Howard, Property Manager at Elgin Management and John Morris Managing Director of of MGM Letting, at Liverpool Town Hall, on Friday, 7 March 2014.

The Council is now urging more landlords to sign-up to the City's voluntary landlord register, to aim for CLASS accreditation, and to work with the Council to make Liverpool a great place for all the City's housing tenants.

Councillor O'Byrne said:- "I'm delighted that our CLASS scheme has reached this important landmark. It is a great way of recognising good landlords in the City, and celebrating the work they are doing to improve life for tenants. We want to get even more landlords registered with us and working towards, or achieving, CLASS accreditation, because of the many benefits it brings. It benefits tenants, because they can make informed decisions when choosing a property. It benefits landlords, because we can offer them incentives which support their business. And it benefits the Council, because it leaves us better placed to know who our landlords are, and to communicate with them effectively. The huge amount of work we are currently doing to drive up the quality of our private rented sector; including our proposals to introduce a Citywide licensing scheme; means it's more important than ever that we establish contact with all our landlords. I would therefore encourage all landlords to sign up for our register, talk to us and work with us to deliver properties which fully meet the needs of each and every one of our tenants."

CLASS (Citywide Landlord Accreditation Safety Scheme) is a voluntary scheme which gives public recognition for being a good landlord. To become accredited, landlords and letting agents have to ensure that the properties they rent out are safe and well-managed, and that they will treat their tenants fairly.

It is free to join, and carrying a CLASS accreditation offers landlords a range of benefits otherwise not available, including:-

► Promotion of the landlord on the Council's website.

► Properties owned by accredited landlords given priority when the Council offers contracts for housing provision.

► Improved access to Council services via a landlord accreditation officer.

► Substantial discounts on licensing fees for houses in multiple occupancy.

► The opportunity to advertise vacant rental properties in Merseyside and Halton via the City's on-line Property Pool Plus service.

Landlords who wish to become CLASS accredited or sign-up for the City's voluntary landlords register should visit:- liverpool.gov.uk and type 'CLASS' into the search box.
Get support and advice with the lung cancer heroes
SUFFERING cancer or caring for someone with the disease can be a frightening and isolating experience. Lung Cancer Heroes Support Group exists to help patients and their families cope with what might be the most difficult period of their lives. Janet Thompson, Lung Cancer Specialist Nurse at Southport and Ormskirk Hospital NHS Trust, said:- "The heroes group is a meeting place for patients who have lung cancer and their family/carers so they have the opportunity to meet other patients and be part of a support group. It offers support and advice on financial, emotional and physical matters as well as signposting patients to other sources of support." The heroes meet every second Tuesday of the month from 2pm for 2 hours at the Macmillan Cancer Information and Support Centre based at Southport Community Service Station, 23 to 25 Scarisbrick Avenue, Southport, PR8 1NW. "Anyone can become a lung cancer hero – just give us a call or drop by..." said Janet. For more information contact Janet on:- 01704 705161 or Macmillan Cancer Information and Support on:- 0151 288 6893.

Local Charities will Benefit from the Sale of Banky's Liverpool Rat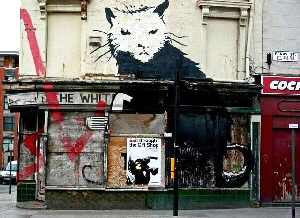 THE Liverpool Rat is the largest work ever created in Britain by world renowned street artist Banksy. Controversy and rumour have surrounded the piece since it was removed from its original location last year, but the future preservation of Liverpool's Banksy is now assured. The Rat will go to auction in April and local children's charities stand to benefit from its sale.

Painted onto the derelict Whitehouse pub, on the corner of Berry Street and Duke Street, as part of the 2004 Liverpool Biennial Festival, the enormous piece of street art sat slowly eroding for years. Large parts of it peeled off with the plaster, or vanished on rotted wood until this valuable creation, by the Bristol born artist, was in danger of becoming a shadow of its former self.

Waterloo based Ascot Property Group acquired the Grade II listed building back in 2011, with a view to revamping and re-purposing the prime location. After seeking advice it became clear that the artwork simply could not remain in situ. The Liverpool Rat was deteriorating rapidly, the building was becoming unsafe and the work of art deserved to be saved. With the support of the City Council, in 2013 Ascot enlisted experts to undertake the painstaking process of removing and rebuilding the iconic piece. As a result it can now be sold at auction, enabling a portion of the profits to directly benefit Liverpool charities.

The piece will be displayed as part of Stealing Banksy? an exhibition and auction due to take place over 4 days between 24 April and 27 April 2014. Stealing Banksy? will see the Liverpool Rat displayed alongside 6 other works by the artist, sourced and presented by London concierge service, The Sincura Group. The exhibition represents the most expensive Banksy collection ever assembled under one roof.

A number of Liverpool causes will benefit from the funds generated by the sale, including Rowan Park, a school for children with severe learning difficulties, based in Litherland.

June King, Business Manager at Rowan Park School said:- "We are thrilled that Ascot Property Group has thought of Rowan Park School when choosing a charity. We are in the process of building the RAP, a community adventure play park for children with disabilities within the Sefton area. It is a massive undertaking and the first project of its kind in the area; with sandpits, water pumps, tunnels, zip-wires and all kind of other activities, all of which will be accessible to children with disabilities and their families. We need to raise £150,000 just to open up the park and we are so grateful for any donations that we receive. We are close to hitting our target but paying for upkeep, new equipment and 24 hour CCTV will mean continuous fundraising, so the money donated by Ascot will be put to very good use."

Stuart Howard of Ascot Property Group said:- "If Banksy's Liverpool Rat could feasibly have remained on the Whitehouse pub, or even returned to the building, then we would have been happy to give it pride of place. We took the advice of experts and it lead to the conclusion that this was simply not an option. The piece has now been preserved and we will ensure that a number of fantastic Liverpool causes benefit from its sale."

Tony Baxter, Director of Sincura Group said:- "We are delighted to include the Liverpool Rat in our upcoming show as it represents one of Banksy's most important pieces. We understand the lengths Ascot Property Group went to, to safely salvage the piece, which was no small feat given the level of damage; without this work the piece would have been lost to the elements forever. By putting it on the market it's sale will ensure both the piece's longevity and benefit to local charities."

Renovation of the Grade II listed Whitehouse building was carried out with the support of Liverpool City Council's Conservation Department and Heritage Lottery Funding. Scaffolding has now been removed from the building to reveal a smart appearance, with new paintwork and tiling. The property recently obtained a 1am licence for a food lead establishment and is due to reopen soon.