Book Review:- "Richard Blanchard's Snow Blind"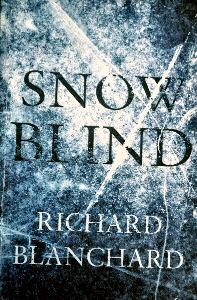 THIS debut novel, with distinctive prose by Liverpool raised the author, Richard Blanchard, is set at a stirring pace, with very descriptive prose, which makes it a compelling read. One is aware from the prologue that a disastrous situation will arise, but cunningly the out-come is not revealed until the final chapter. The story-line involves a fortyish copywriter obsessed by music, who has found himself due to marry Sophie, the mother of his toddler son, on a specific date organised by his prospective father-in-law. Indecisive and irresponsible Dan is haplessly following someone else's path for him, despite his own misgivings. This trait is further revealed as the stag party is arranged. The party is originally planned Scotland by his Best Man, Johnny, but the whole thing is high-jacked by bullying Robert, an old College friend. The party is ill-assorted and dominated by Robert, who changes the venue to a skiing trip to Vallee Blanche. The inclusion of Dan's ex-flame, Juliet, who has a 16years old son, Ethan, seems rather implausible but her addition to the party adds to the plot, not least through her efforts to modify the proceedings. Robert is hell bent on a lurid sexual and drink fuelled week which is sadly at odds with skiing. He also grossly over exaggerates his abilities on the slopes, with dire consequences.
This novel is seemingly well researched, but at many points the question as to how this ill assorted group came to be together in the first place, and their conceding the leadership to Robert, caused doubt. Would men really have stuck to their almost stereotypical performance throughout? However the disconcerting conclusion on the interplay of these stag party characters is the awful realisation of just how far people, especially men, can be goaded, beguiled and bullied into more and more ludicrous and dangerous situations just by dint of wanting to be:- "one of the gang." The skilful exaggeration of the weakness of the various characters adds insight to the many real life situations when we ask:- "How could this have possibly happened?" This book is a provocative read.
Title:- Snow Blind.
Written by:- Richard Blanchard.
Published by:- Troubador Publishing Ltd., 9, Priory Business Park, Kibworth Beauchamp, Leicestershire, LE8 0RX, UK.
ISBN:- 978-1-78306-174-7s.
Link to our online shop to buy a copy.

Transform at Tate into a Super Sculpture - Tate Liverpool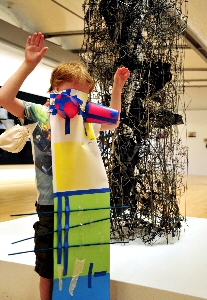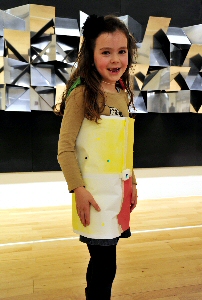 THIS Easter, families are invited to visit Tate Liverpool and unleash their creative potential with Super Sculptures, a fun filled free workshop for the whole family.
The free drop-in workshop will take place over the Easter holidays on:- Wednesday, 9 April; Saturday, 12 April, Wednesday, 16 April, Thursday, 17 April, Saturday, 19 April and Monday, 21 April 2014, between:- 13.30 to 16.30; within Tate Liverpool's family space Art Dock.

Using the works on display in DLA Piper Series - Constellations as inspiration, families can dive into the world of form and shape and transform themselves into a super sculpture.

Working with artist Kevin Hunt, families will explore the artworks in DLA Piper Series - Constellations to find interesting shapes, patterns and forms within these works. After finding inspiration from artists including Picasso, Matisse and Pollock, families will then go back to family space Art Dock and use a variety of everyday materials such as card, paper, fabric and foam to create their very own costume.

Once the costumes are ready and visitors have transformed into a super sculpture, they will return to the gallery to find the artworks that inspired their creative costumes. Families can then reflect on how an artwork feels and respond with a pose or performance to mimic their chosen artwork.

Debbie Goldsmith, Early Years and Families team, Tate Liverpool said:- "This hands on free Easter holiday activity is a fantastic opportunity for families to explore the gallery and respond to the artworks in a creative way. Super Sculptures is an activity which everyone can enjoy and have fun creating some amazing costumes."

DLA Piper Series - Constellations features more than one hundred works, many never seen before at Tate Liverpool and takes a fresh look at the links between artworks across time and location of origin. Constellations examines the role of nine 'trigger' artworks displayed within groups or 'constellations' of other artworks from many periods in art history. Highlights include Pablo Picasso's Bowl of Fruit, Violin and Bottle 1914, Marina Abramovic's Rhythm 0 1974 and The Inattentive Reader 1919 by Henri Matisse.

Super Sculputres Easter holiday family activity at Tate Liverpool, inspired by works in DLA Piper Series - Constellations © Tate Liverpool.