Patients rate Cancer Centre as one of the best in the country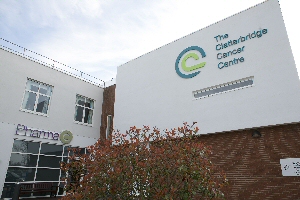 INPATIENTS at The Clatterbridge Cancer Centre NHS Foundation Trust have rated the hospital as one of the best in the country, according to the Care Quality Commission's inpatient survey for 2013.

Results published on 8 April 2014 has shown that the Centre achieved the top scores in England on 6 of the areas assessed, including cleanliness, privacy and being told about possible side effects of medication. It was also rated one of best performing trusts nationally in over 75% of the areas assessed. There were no areas where it came below average.

The national inpatient survey was completed by more than 62,400 patients aged over 16 who had spent at least one night in hospital at one of the 156 acute and specialist NHS trusts across England last summer. They answered a series of questions aimed at understanding what patients think about the care and treatment they receive. The results from the survey are a crucial way of improving quality of care.

The Clatterbridge Cancer Centre achieved the best scores in the country on the following areas:-

► The hospital room/ward was clean

► The toilets and bathrooms were clean

► Patients did not feel threatened at any time during their stay

► Patients had privacy during treatment

► Patients were told about medication side-effects

► The hospital did not change the admission date

It was also ranked one of the best-performing trusts on 48 of the 67 questions relevant to its services.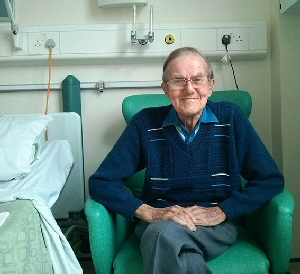 Jim Bewsher, 89, from Clitheroe in Lancashire, has just spent three weeks as an inpatient at The Clatterbridge Cancer Centre and said he was very satisfied with the care he received. "The staff have been very good. They really treat you in a personal, caring way rather than as 'bed number 1' or 'bed number 2'. They've also been very communicative, explaining what was happening, and they've told me what to expect. I have no complaints at all and my time here has been much more pleasant than I expected."

Helen Porter, Director of Nursing & Quality at The Clatterbridge Cancer Centre, said:- "We're 100% committed to delivering safe, effective and high-quality patient care so we are absolutely delighted to see this reflected in this year's results. We believe the professionalism and expertise of our staff is second to none; and it is extremely rewarding to see this recognised by the patients that receive treatment here at our Centre."

Chief Executive Andrew Cannell added:- "It is hugely reassuring to receive such a high level of very positive feedback from our patients. Every member of staff is committed to providing the best cancer care to our patients and this fantastic response is a credit to all their hard work. However, we are not complacent in our approach to cancer care. We want to keep raising our standards even higher so we always provide the very best cancer care to the people we serve. Patient feedback is vital in helping us do this so we will use these survey results to see how we can improve our services even further to benefit our patients."

A full copy of the survey is available on the Care Quality Commission website.
So what your your views on this topic? Please let us know by emailing us to:- news24@southportreporter.com.

LIVERPOOL WOMEN'S NHS FOUNDATION TRUST WELCOMES NEW VIRTUAL ARRIVAL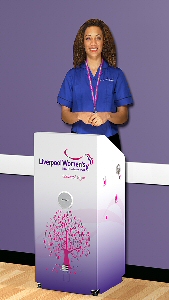 LIVERPOOL Women's NHS Foundation Trust has received an extra special delivery at its Antenatal Clinic, in the form of a Tensator Virtual Assistant. The next generation digital signage solution from patient and visitor journey specialist Tensator, uses cutting edge technology to create the illusion of a real person. 'Shanice' wears the uniform of a maternity nurse and welcomes both patients and visitors to the Antenatal Clinic at the Trust's Liverpool Women's Crown Street site. As well as providing a friendly face on arrival, Shanice talks through the clinics self check-in procedures, explains what to expect from some clinical assessments and offers information on many of the services on offer. As Ajay Joshi, head of media and technology at Tensator, explains, Shanice is designed as an extra resource for the hospital:- "The Tensator Virtual Assistant acts as an extra member of staff to handle frequently asked questions, freeing up team resources in the process. Shanice is on hand to guide visitors through the process of using the self check-in kiosks. She also relays advice and encourages patient feedback to make sure that everyone experiences the best possible visit. Ultimately, this is about enhancing the entire patient / visitor experience at the Antenatal Clinic and ensuring that everything continues to run as smoothly as possible."

As Caroline Jacobs, IM&T Project Manager at Liverpool Women's NHS Foundation Trust, points out, patients, visitors and staff are all enjoying the benefits of the latest addition to the team:- "Liverpool Women's is the busiest maternity hospital and welcomes thousands of expectant mothers through its doors. Every day, an average of 20 babies are born. As you would expect, it can get very busy at times. The implementation of the virtual assistant in conjunction with our new self check in kiosks and clinic management system have been very successful. Overall patients feedback has been very positive"

The Trust opted for the Ultra model of the Tensator Virtual Assistant. It has the smallest footprint of the entire range at just 50cm x 50cm, meaning it can be easily moved to almost any position within the hospital. Completely customisable, it can be designed to fit any brand image and messaging. Tensator Virtual Assistants are in place at a range of healthcare facilities across the country, including Luton and Dunstable Hospital in Bedfordshire and the Oswestry Hospital in Shropshire. Tensator Virtual Assistants are also used as a dynamic marketing tool across a range of other sectors, including transport, retail and leisure. For more information about the Tensator Virtual Assistant Ultra, visit them online.
Reset your passwords
A bug called 'Hartbleed' has been found in many major websites. The discovery of the bug is a major security flaw. Many sites have taken action to rectify the bug, but several leading technology firms are now urging people to change their passwords. Yahoo and Tumblr have already advised the public to:- "change you passwords everywhere you use services like email, file storage and any high security sites, like banking and financial sites." The bug, if security analysis are correct, could allow the safeguarding programs to be bypassed and any data being used could then be prone to eavesdropping, once compromised. This comes on the back of society updates for Microsoft's XP being stopped after 13 years. Since this bug, 'Hartbleed', has been found, it raises many worrying questions about things to come. A slightly unrelated issue happened on 8 April 2014 when Microsoft stopped its release of security patches for Windows XP. In the past, bugs like 'Hartbleed' would have been looked at and, if required, Microsoft would have issued a security patches for that OS. However, now Microsoft has said that systems still running the OS will be opened to hackers writing new malware and devising fresh attacks. The loss of the security patches for Windows XP might have a major effect on the way we use technology and it is not just home computers that could be hit as many of the worlds Cash Pints (ATM's). Despite being one of the most frequently used consumer technologies in the world, many ATMs running on this outdated operating systems, could now be exposed to other bugs, like 'Hartbleed' has shown with web based systems. It is reckoned that many of the ATMs will be running this operating system well into the next year, or longer! In the UK, 60,000 ATMs will be upgraded from Windows XP before the end of this year, according to biggest supplier of those machines - NCR. Shockingly, that is just a third of the UK's Bank ATMs. This potential could also be a warning to OS builders, as they have overlooked the business market more and more in resent years and forgot about the costs they have to pay to upgrade the new hardware and new programs, to work on their OS systems. Many banks are moving onto Windows 7, but this problem will hit again when Microsoft withdraws support for that! Without the support of Microsoft and other Operating System companies, on core operating systems like XP, to keep them updated, the discovery of security vulnerabilities like 'Hartbleed', for internet users, just adds to the problems now faced by many businesses and homes about security. We have to now ask, how long we can expect our operating systems to work and what to do if the public and businesses are not be able to afford and/or do not trust the new systems being offered when updates are withdrawn, like with XP. What are your views? Are you going to keep with XP or move onto VISTA or Windows 7 or Windows 8? Have you updated you passwords as a result of Hartbleed being found? Let us know by emailing us to:- news24@southportreporter.com.