Call to action for St Luke's Church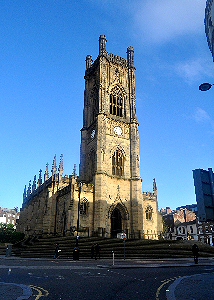 MAYOR of Liverpool Joe Anderson wants a social enterprise to be set up to secure the future of St Luke's Church. He is convening a public forum to be chaired by BBC Radio Merseyside presenter Roger Phillips, with the aim of engaging with different people and groups in the City who want to help develop a plan to secure the iconic site. It could see the creation of a Community Interest Company (CIC) to raise funds to create a strong and sustainable future for the much-loved building, known locally as the bombed out church. It comes after the City received a non-solicited approach from a private organisation with ideas for the site, which the Mayor has now rejected.

Mayor Anderson said:- "I have been clear that it was never my intention to sell St Luke's Church; it is a building which is extremely important to me personally and I would never do anything to jeopardise its legacy or status. We have now decided not to proceed with the proposals to develop a scheme inside the site. They were visionary and could have been economically viable, but I believe they don't represent what I or the public would want. Conversations have also taken place with Urban Strawberry Lunch who currently put on events within the grounds of the building. They were constructive, but they don't at this time provide the security and future that the site requires. However, they have carried out some fantastic work at the site over the last few years and I am keen that they play a key role in the discussions and debate about the future of St Luke's. The site requires a significant amount spending on it to secure the safety of the structure, so we have also had some very early positive discussions with the Arts Council about the possibility of applying for funding. I believe that setting up a CIC is our best option and will give us the opportunity to work with as many people as possible who all have the interests of St Luke's at heart."

A meeting date will be announced in the near future. In the meantime the City Council is undertaking a structural survey of the building because of the damage caused recently by the wind and rain. Once the repairs have been made and it is safe, it will be reopened to the public.

Library consultation gets underway
A consultation on the future of Liverpool's libraries has now started, as the service seeks to find savings of £2.5 million. The service needs to reduce its £10 million budget by 25 per cent, as part of £156 million of savings needed over the next 3 years due to cuts in Central Government funding.

The scale of the challenge means there is likely to be a significant reduction in the 19 libraries that are currently operated across Liverpool. The City Council is committed to ensuring that those that are retained are close to good transport routes and are fully accessible. Decisions will also take into account local needs as well as exploring opportunities to share building costs with other services and organisations.

Now, residents are being asked to complete a questionnaire which will give them the opportunity to have their say. A number of public meetings will be held across the City, with dates and venues to be confirmed. The questionnaire is aimed at establishing which libraries are most frequently used, what times of the week/day are popular, how far people travel to visit a library and how each community library is valued. It will also ask people's views on different ways of running the service, and whether they would be willing to see community organisations and local housing groups take over buildings, or introduce local book collection facilities.

Assistant Mayor and Cabinet member for culture and tourism, Councillor Wendy Simon, said:- "Due to the savings needed, we have to make some extremely difficult decisions about the library service. There is no doubt that in the future we will not be able to have a library in every community, and that people may well have to travel further to access the service. However, we are really keen to hear what people think, and their ideas about how we can mitigate the impact, or do things in a different way to enable people to continue to have access to books, public information and computers. The way in which people access library services is also changing due to new technology, and that is why we have recently re-launched our e-library service Read Liverpool to enable people to download books, magazines and periodicals free of charge without having to visit a library."

The consultation will run until Friday, 16 May 2014, and the form is available online, by phoning:- 0151 233 3069 and from libraries, One Stop Shops and Neighbourhood Health Centres.

The results will be analysed by an independent local company.

Liverpool's 19 libraries are at:- Central on William Brown Street; Allerton; Breck Road; Childwall; Croxteth; Dovecot; Fazakerley; Garston; Kensington; Lee Valley; Norris Green; Old Swan; Parklands; Sefton Park; Spellow; Toxteth; Walton; Wavertree and West Derby.