Refreshed trains roll out to northern rail customers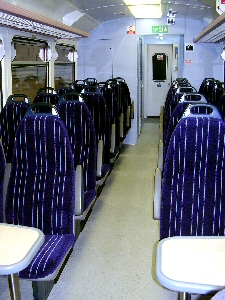 NORTHERN Rail customers will start to notice revamp work being rolled out across the train operator's fleet of Class 153 trains. The work has begun at Northern's Neville Hill depot in Leeds and the 1st of the 8 units is now in operation across the network.

The refresh, which will see an investment of £130,000 and is carried out in conjunction with Porterbrook who owns the trains, reflects Northern's continued promise to its passengers to improve journeys, and will see all 8 trains finished by early autumn.

Instantly recognisable by the vibrant purple and blue upholstery, seating will be reconditioned and new seat covers fitted, as well as the creation of a new priority seating area.

The refreshed trains will be completely repainted, including the toilets, and will also see the installation of new LED lighting and lino flooring.
New saloon tables are being fitted, and the interior sliding doors removed to offer better wheelchair access to the disabled area of the trains.

Stuart Draper, Director of Engineering for Northern Rail comments:- "We are known to have some of the oldest trains on the rail network and this refresh project is testament to our customers that we are committed to improving their journeys with us. As our 153 trains operate across our entire network, millions of passengers will experience these improvements. Customers have told us they'd like to see a better on-board environment and we're passionate about acting on these requests. These refreshes to our fleet, add to the carriages we have already improved and we hope passengers will notice the developments as we plan even more for the future."

Northern would like to know if you find yourself travelling on 1 of its refreshed Class153 trains. Tweet @northernrailorg with a picture and include #153Fresh.

Easter Family Fun and Top Class Racing at Haydock Park Racecourse
TAKE note is you are looking for family fun and thrilling racing as that is what is in store for racegoers at Haydock Park Racecourse on Saturday, 19 April 2014!

Easter Saturday will be themed the 'Magic and Mystery' Family Fun Day and will provide plenty of entertainment to keep children amused, including a Mystery Mansion ride, an inflatable Crooked Cottage, face painting, craft workshops and an Easter Egg Hunt. There will also be an Illusionist Magic Workshop to help develop kid's tricks as well as walk about entertainers showing off their skills.

The weekend's racing will include some of the country's leading jockeys and trainers and there are multiple entries from Paul Nicholls, who is soon to be crowned 2014 Champion Trainer. North Yorkshire based Trainer, Brian Ellison, who won both The Grassroots Series Final Handicap Races in 2012, and The Fixed Brush Novices' Handicap Hurdle Race in 2013, is also scheduled to return with a number of exciting entries.

In addition to this, a staggering £3 million is potentially up for grabs for a single Scoop6 winner this weekend, with many Scoop6 races likely to take place at Haydock Park Racecourse.

Garry Fortune, Haydock Park Racecourse General Manager, said:- "We have a great racing line-up and plenty of activity for all the family at Haydock Park Racecourse on Saturday, 19 April 2014. Whilst the kids are being entertained with our 'Magic & Mystery' themed day, parents can enjoy a fantastic afternoon of racing. We look forward to welcoming back past winners and new contenders, and we hope all racing fans and families looking for a great day out, come and join us at Haydock Park."

The 1st race on Saturday, 19 April 2014, will be at 1.30pm and gates will open at 11.30am. Admission will be available on the day but discounted tickets can be bought before midnight on Friday via:- haydock-park.co.uk or by calling:- 0844 579 3006. Also, racegoers who come to the Easter Family Fun Day will be entitled to a 2 for 1 offer for Haydock Park's afternoon of racing on Saturday, 26 April 2014.

In addition to the outstanding racing, Haydock Park has some world class music acts to look forward to this summer, kicking off with a brilliant eighties night, 'Here And Now', on Saturday, 21 June 2014. Next up will be one of the UK's most successful artists, Wet Wet Wet, on Saturday, 19 July 2014, and to complete the summer music line-up is Brit Awards winner Jessie J, on Friday, 8 August 2014, and the stylish and world-renowned Tom Jones, on Saturday, 9 August 2014. For tickets and more information please go to:- haydock-park.co.uk or call:- 0844 579 3006.