Local company makes a storm at the Post Office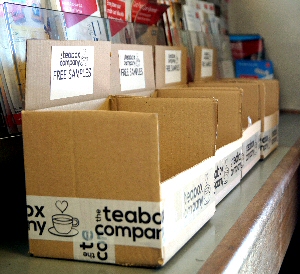 AS many small businesses are aware, it is hard to make a splash, let alone make a ripple online, but once in a blue moon a small business succeeds. This is the case for one small Liverpool based company, who has just recently bombarded a local Post Office with hundreds of parcels, caused by an unexpected surge in sales.

The Teabox Company, a predominantly online based store, attributed the recent success to crowd funding website Kickstarter. The company raised £3,440 in just 50 days through the platform, selling tea to over 150 people from countries as far flung as Singapore, New Zealand and Canada.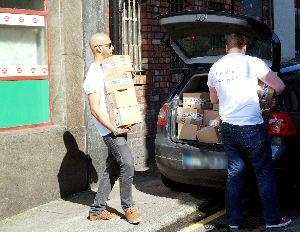 Hundreds of parcels were taken to Leece Street Post Office in Liverpool for send out, causing delays in service for many using the local Post Office. As a result, the inconvenienced customers were treated to free samples of tea - a small token of gratitude from the tea company to say:- "thanks for waiting" and hopefully defusing any storms in the tea cup that might have resulted.

Colin, manager at the Leece Street Post Office, comments:- "It's great to see a local independent generating so much business and giving back to the community at the same time. We were more than happy to work with them to send off their orders and appreciate their consideration towards our other customers."

Philip Perera, one of the company's directors comments:- "We started as a university project, with the support of LJMU, and now we're sending loose leaf tea all around the world. It's exciting to see how big the reach of an independent company in Liverpool can become."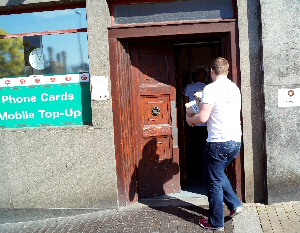 The Teabox Company has become the latest start-up to take on the City's corporate giants and to fly the flag of independent trade. The specialist tea company has launched a range of over 20 loose leaf flavours and is taking over the City One Café, Bar and Restaurant at a time.

Philip said:- "It was a shock for us to have such a massive amount of orders come through and it shows Liverpool's small businesses can and do make headway in what is a highly competitive world online. We have had fantastic support from groups in Liverpool, like JCI Liverpool, LJMU, Independent Liverpool, PBT Media Relations Ltd. and many others since we started. If small businesses work together, we can be successful online and we are now looking to build on our success. Merseyside is a fantastic place to run a business and we are so pleased to be based here!"

To find out more about the Teabox's latest news and offers follow them on Twitter @teaboxco and give them a like on Facebook. Keep an eye on:- teaboxcompany.co.uk for their much-anticipated website launch next week.

MERSEYSIDE DRESSAGE RIDER WINS PETPLAN EQUINE AREA FESTIVALS CHAMPIONSHIP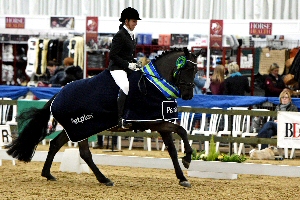 AFTER gaining a wildcard entry by coming 3rd and qualifying at Aintree Equestrian Centre in Liverpool, 28 year old Zoe Ball from Billinge in Merseyside has won the Petplan Equine Novice Restricted Championship of the Petplan Equine Area Festival Finals on Garvery Boy. These prestigious amateur championships were held alongside the NAF Winter Dressage Championships at Hartpury College, Gloucestershire from 9 April to 13 April 2014.

Riding Garvery Boy, a 7 year old gelding, owned by Zoe herself, Garvery Boy impressed the judges and received a score of 71.37% to win the Novice Restricted Championship from among 52 horse and rider combinations.

Garvery Boy at 14.2hh proved that size doesn't matter. He may have been one of the most 'vertically challenged' on the starting list, but this proved no barrier to him posting a great performance. "I can't believe it!" beamed Zoe. "When I saw someone was leading on 70% I never thought we stood a chance. He was tired in the second test too, but in a way I think it helped as I had to ride him more."

Not your typical dressage horse but capable nonetheless, 'Beau' was found through a dealer, from a field in Ireland. "The dealer said he thought Beau might make a good working hunter. I bought him, the plan being to sell him on, backed him, but it turned out he hated jumping. So, I thought I'd better do something with him if I'm going to sell him." That's where the dressage came in:- "He was placed first time out and we never looked back. Needless to say, I kepthim."

Zoe, who works as an Equine and Animal Care Lecturer at Salford City College, described her pony's qualities:- "He has an ability to 'sit' and engage his hindquarters in all paces plus he has an amazing walk. It's very natural for him."

Now in their 15th year, the Petplan Equine Area Festivals give riders of all levels the opportunity to experience the thrill of competing in true championship conditions, in a relaxed and friendly environment. More than 2,779 amateur dressage riders from all over the UK competed at 18 Petplan Equine Area Festivals across the country from August to November 2013, for a chance to qualify and compete for 1 of these coveted amateur titles.

British Dressage's Chief Executive Amanda Bond said:- "British Dressage is extremely grateful for Petplan Equine's on-going support of these popular championships. Having such a loyal sponsor on board has really helped the Petplan Equine Area Festivals to grow exponentially over the last 15 years."

Charlotte Collyer, Senior Marketing Executive at Petplan Equine, added:- "With more than 2,779 dressage riders now able to compete on the 'big stage' it is pleasing to see how the Area Festival finals have become important destinations for grass roots combinations across the country. Not only have the numbers grown, but the standard has also improved enormously as can be seen at these finals, whichprovide the perfect showcase of the talent that is out there. We would especially like to congratulate Zoe Ball on her fantastic win and wish her the very best of luck for the future."

Further information about the Petplan Area Festivals and how to qualify is available from the Petplan Equine website.
Northern Rail celebrates more sustainability success
THE UK's largest train operator, Northern Rail; owned by joint venture Serco and Abellio are celebrating adding yet more green credentials to its name thanks to its efforts in sustainability. Northern has increased the amount of waste it recycles in various areas of the business as well as scoring a fantastic three stars in the Corporate Responsibility Index. To encourage recycling by customers and employees at its stations and depots, Northern has developed greener initiatives, resulting in a 50% increase in the amount of waste it recycled last year, compared to 2011. By installing 'Dry Mix Recycling' methods, allowing 'clean' recyclable waste to be added to the bins, the amount of waste recycled at stations increased from 25% to 40% in the last 12 months. By introducing the same system at its engineering depots, recycling rates have increased from 50% in 2011 to 72% in 2013. Increasing recycling rates has contributed to Northern's latest environmental success in achieving a high and above average BITC Corporate Responsibility (CR) Index score of 91% and a Star Rating of 3 (average 2.5 stars and 85%). Alex Hynes, Managing Director of Northern Rail, comments:- "We're delighted to keep our commitment strong to going green. As our recycling rates rise, so does our recognition on the Business in the Community's Corporate Responsibility Index which is a valuable benchmark for any business."