Band of life to remember Hillsborough 96
Photographs by:- Claire Stringer / Julian Taylor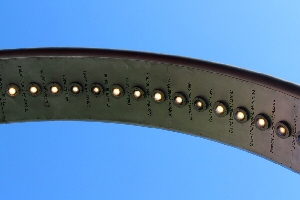 A special art sculpture commissioned by Mayor of Liverpool Joe Anderson was unveiled at the 25th Anniversary service of the Hillsborough disaster at Anfield. The Band of Life, created by Julian Taylor at Bridewell Studios in the City, is a large metal circle filled with lights. It symbolises the bond between the families, friends and survivors who were brought together for the love of their lost ones. It has a minimalist design with an emphasis on the 96 lights, which represent those who lost their lives in 1989. It was created in co-operation with the Hillsborough Family Support Group and revealed for the first time on Tuesday, 15 April 2014.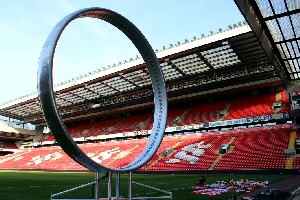 Mayor of Liverpool Joe Anderson said:- "I met with Margaret Aspinall and the Hillsborough Family Support Group and talked through the idea of a sculpture last year. My thoughts were about commissioning an artistic piece that would represent the bond between those who lost their lives, their families and the survivors and how that could best be represented creatively and emotionally. The Band of Life sculpture was worked up with the artist Julian Taylor who has made a beautiful piece of work for this special anniversary. We had seen work in progress but we were delighted with how stunning it looked on the pitch. It was very poignant to see the lights lit up one by one representing each life lost in the disaster." A suitable and fitting location will be identified in due course for people to view it.

A&E staff won't kiss it better this Easter… it's for real emergencies
EXAMINE your options before using Accident and Emergency departments is the message from busy doctors and nurses as Easter approaches. "A&E is for people facing life threatening and serious emergencies such as serious accidents, serious burns, breathing problems, heart attacks and strokes. You don't need an appointment at A&E but we'll make an assessment on arrival and, depending on how urgent treatment is needed, you may have to wait up to four hours. The triage nurse or clinician may also signpost you to a different health care provider such as your GP, dentist or pharmacy. That's why you might be better examining your options and choosing another NHS service; or even treating yourself." said Liz Yates, Director of Nursing at Southport and Ormskirk Hospital NHS Trust.

Coughs, colds, sore throats, upset stomachs, general aches and pains, and flu will usually clear up on their own. Keep warm, drink plenty of fluids and, if appropriate, treat with over the counter painkillers such as paracetamol. Contact a GP or the GP out of hours service for help with injuries or illnesses that won't go away. Alternatively, West Lancashire Health Centre at Ormskirk Hospital is open from 8am to 10pm, every day and throughout Easter.

Skelmersdale NHS Walk In Centre at The Concourse is open from 7am to 10pm weekdays and 9am to 5pm on weekends, Good Friday and Easter Monday. The last booking at each centre is an hour before closing.

Trust clinics providing sexual health services will be closed on Good Friday and Easter Monday. Emergency contraception is available at community pharmacists, walk-in centres and A&E. HIV post-exposure prophylaxis (PEP) is also available from A&E. There is more information on our sexual health website. Safe Place in Liverpool will help with sexual assault referrals.

Local pharmacies and NHS Choices are also a good source of information and advice. Click the links for information about pharmacy opening times in Southport and Formby, and West Lancashire.
For more advice you can also call NHS Direct was decommissioned as of 31 March 2014, but if you are feeling unwell and need a telephone health assessment and you are in England, you can also get advice by calling the non-emergency NHS number medical helpline on 111. the NHS 111 service is free of charge, if you are in England and is intended for 'urgent, but not life-threatening' only.
If you need emergency assistance, you must call:- 999 and ask for an Ambulance.
This is also a good time of year to check your First Aid Kit is in date and fully stocked. For advice about First Aid visit the St. John Ambulance website.