WALL STREET BRINGS BRITS A TASTE OF THE BIG APPLE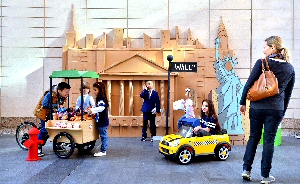 THINK there's only one Wall Street? Forget about it! Soak up the sights and sounds of America's most iconic City, as Wall Street, Liverpool, is transformed into a mini version of New York's world famous financial district in a one of a kind, family friendly, multi-sensory street makeover.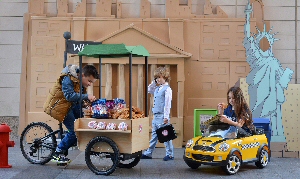 Bought to you by authentic bagel experts New York Bakery Co. to celebrate the launch of its new range of Mini Bagels, the new-look Wall Street features some of the Big Apple's most famous tourist hotspots including a scaled-down stock exchange made from 100 cardboard boxes, a tiny take on the colossal Statue of Liberty and even New York's metropolitan skyline, in miniature.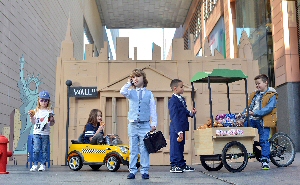 Taking a team over 150 hours to create the pocket-sized Wall Street standing, at just 2.5 meters tall, is also kitted out with mini fire hydrants and the financial district's legendary Charging Bull. Iconic kid sized yellow taxis are on hand for little ones to explore the land of the brave whilst the Cityscape provides a picture perfect backdrop for families to capture their own mini New York moments.

To pay homage to the Big Apple, thousands of freshly filled Mini Bagels in Plain, Cinnamon & Raisin and Duo will be handed out for free. With a stacks of classic sweet and savoury combos to choose from, hungry passers-by can treat themselves to a true taste of mini New York.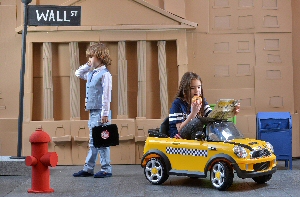 New York Bakery Co makes all of its Mini Bagels the authentic NY way by boiling them before they are stone-baked, making them soft on the inside with a deliciously chewy crust. Small in size, but full in flavour, the bagels make diverse and delectable light bites for New York inspired snacks whenever hunger strikes.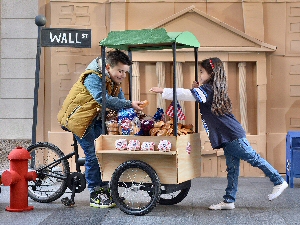 Pauline Clement, Brand Manager at New York Bakery Co, comments:- "We wanted to bring a miniaturised taste of New York to the UK as a fun and memorable way of introducing the new range of Mini Bagels and the wonders of Wall Street to peckish passers-by. Mini Bagels deliver the same great taste at half the size as a delicious and nutritious lunchbox staple to satisfy big and little ones the New York way."

Feature film produced by the community of Liverpool to open London Labour Film Festival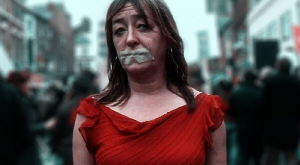 PRODUCED exclusively on Merseyside by the team at award winning not for profit filmmaking organisation First Take, Big Society The Musical is a provocative, creative and gutsy response to the insult that is the governments 'Big Society' policy. Set in Liverpool in 2011, it is a hard-hitting, tragic yet hopeful personal drama. First Take filmed against the backdrop of events as they were unfolding; the austerity marches, the royal wedding, the riots, weaving them into the fabric of the film, the music and the personal drama. Now, this ground-breaking piece of work will be screened at the Odeon Cinema, Covent Garden, as the opening film of the London Labour Film Festival. "Last year a Ken Loach film opened the festival so we are in good company!" explains First Take Producer Nicola Mitchell.

It was 5 February 2011 when First Take shot the first footage for the film and it was 2 March 2014, over 3 years later, when they shot the last. It is a stunning achievement. A musical with 16 original tracks with lyrics that subvert Cameron's rhetoric, insightful and beautiful cinematography, hard-hitting performances from award winning actor Paula Simms, the amazing voice of Jennifer John from Sense of Sound Choir, Dan Wilson of The Cubical and introducing the raw talent of Joe Maddocks who plays the young offender Connor and who defiantly sings:- "we're all in this together, that's what the man on the TV says…"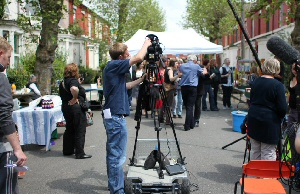 The film is a beautifully honest and moving portrayal from the heart of the real 'Big Society'. Lynne Harwood, the director, explains, "It is our creative response to the cuts. 'Big Society The Musical' is about standing up and saying this is who we are – the real big society - and our actions speak louder than their words. As one of the characters in the film sings - 'If they don't see us march, then we'll dance. If they don't hear us shout, then we'll sing.' And that's what we're doing with this film."

The production was made possible by funding from Liverpool City Council, Unison Northwest, SHAP and the Cooperative Community Fund. Co-Producer Jenny Monks explains why the festival is so important:- "This is a huge coup for us as we have been chosen as the only British film and our world premiere screening will open the festival to all major press."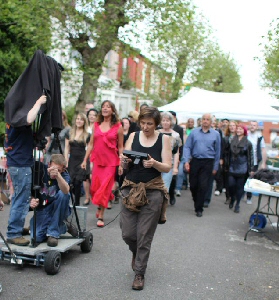 Set in a society that no longer values or cares for the young and vulnerable, Linda (Paula Simms), a fearless woman in her late 40s who works with young offenders, faces unemployment. When she loses her job she loses contact with Connor (Joe Maddocks), a disillusioned 14 year old who has no one apart from her. Linda risks her relationship, her home and her reputation to help him. But as she fights for control, she realises she has none.

Spanning 5 days at the heart of the UK capital, and taking audiences on journeys from the effects of the financial crisis on the working classes, to visions of future labour, the London Labour Film Festival will welcome guests including Ken Loach and Mike Leigh for what will be a major contribution to a growing global movement committed to cinema's treatment of labour. 'Big Society The Musical' will screen at 6pm, on 28 April 2014, at Odeon Cinema Covent Garden, London.

Book your tickets here:- londonlabourfilmfest.com/films. You can find out more about the film and watch the trailer online at:- first-take.org/bigsocietythemusicall.