WALL STREET BRINGS BRITS A TASTE OF THE BIG APPLE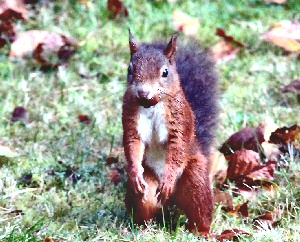 WORLD'S biggest wildlife survey reports a chorus of frogs hopping around in Merseyside gardens, but our native squirrels are in the red. More than half of people in Merseyside who took part in the Big Garden Birdwatch see common frogs in their gardens on a regular basis, but only a fraction ever see the endangered red squirrel, according to the 2nd round of results from the world's biggest wildlife survey, run by the RSPB.

This year, for the first time in the 36 year history of the survey, Big Garden Birdwatch participants were also asked to tell the RSPB about some of the other wildlife that visits their gardens throughout the year, including common frogs, red and grey squirrels, badgers and hedgehogs. This follows the release of the bird results by the charity at the end of last month.

Almost half a million people took part in the Big Garden Birdwatch and most of them supplied extra information on the other garden wildlife they see. The RSPB hopes to use it to build an overall picture of how important our gardens are for all types of wildlife and tailor its advice so people can help their wild visitors find a home, feed and breed successfully.

The RSPB's partners, including Amphibian & Reptile Conservation Trust (ARC), People's Trust for Endangered Species (PTES), and The Mammal Society, have been highly enthusiastic about including these data in their national datasets.

According to the national results, grey squirrels came out on top overall, with 72% of people seeing them in their gardens at least once a month. In Merseyside 70% of participants see a grey squirrel in their gardens regularly.

At the other end of the scale, the grey's native relative, the red squirrel, was one of the least seen garden visitors, with 75% of participants in Merseyside reporting they never see one in their gardens. The red squirrel, which is threatened by a lethal virus carried by the grey, has been lost from much of the UK. In areas where the greys don't carry the virus, the reds are still affected, essentially being out-competed by their rivals.

Less than a 3rd of participants in Merseyside saw hedgehogs in their gardens regularly. Hedgehog populations have seriously declined nationally by around 30% since the millennium.

When not hibernating, the common frog takes the lead as the most abundant garden amphibian, according to the results. Approximately half of people in the UK see a common frog in their gardens at least monthly, regardless of whether they live in a rural, suburban or urban area. In Merseyside, 51% of participants see a common frog in gardens regularly.

When it comes to toads, nationally 28% of people see them monthly, however in Merseyside, a 3rd of people report never seeing one in their gardens.

Last year, 25 wildlife organisations, including the RSPB, released the groundbreaking State of Nature report revealing 60% of the wildlife species studied have declined over recent decades.

Many garden favourites were among the creatures shown to be in serious trouble including starlings and hedgehogs, as well as some butterflies and ladybirds. All are in danger of further declines unless more is done to provide better habitats.

Daniel Hayhow, RSPB conservation scientist, commented:- "This massive survey shows how important our gardens are for the amazing variety of wildlife living there. The State of Nature report showed that we need more information across many species groups, so widening the Big Garden Birdwatch's scope to include other animals made perfect sense. This is the start of something big and something very, very important. In a few years' time we'll be able to compare how the distribution of garden wildlife may have changed. Hopefully, the fact that more people are helping to give nature a home in their gardens and outside spaces will mean we see improvements rather than declines."

Dr John Wilkinson, ARC Science Programme Manager, said:- "It's great to know that frogs and toads are still widespread in UK gardens, which are a crucial habitat for both of them, but worrying that toads are relatively so much less common than frogs, especially in England. Future results from Big Garden Birdwatch will be critical in helping to understand all the factors affecting all our wildlife, including amphibians."

David Wembridge, mammal surveys coordinator for the People's Trust for Endangered Species, said:- "Gardens can be ideal habitats for mammals but from the Big Garden Birdwatch and People's Trust for Endangered Species' (PTES) mammal surveys, we know that only a minority of gardens are regularly used by hedgehogs; one species we're particularly concerned about. With numbers falling in the wider countryside, doing more to encourage hedgehogs into the green spaces around our homes and places of work could make a big difference."

Marina Pacheco, the Mammal Society's Chief Executive, said:- "Those taking part in this year's Big Garden Birdwatch have captured one of the largest snapshots ever recorded for some of our most endearing and threatened mammals. It's fantastic to know that gardens can be a vital refuge for rapidly declining species like the red squirrel and hedgehog. As well as taking part in an enjoyable survey, participants have greatly increased our understanding of the distribution and relative abundance of UK mammals."

Giving Nature a Home is the RSPB's latest campaign, aimed at tackling the housing crisis facing the UK's threatened wildlife. The charity is asking people to provide a place for wildlife in their own gardens and outside spaces; whether it by planting pollen rich plants to attract bees and butterflies, putting up a nestbox for a house sparrow, or creating a pond that will support a number of different species.

The RSPB hopes to inspire people across the UK to create a million new homes for nature.
To find out how you can give nature a home where you live visit:- rspb.org.uk/homes.

"Atten-shun!" Volunteers needed for giant army!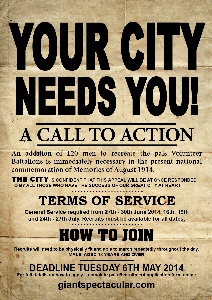 CALLING all recruits; the giants need you AGAIN! There's already been a call out for volunteers for this year's biggest street theatre event; and now 120 people have the chance to be part of the show itself.
For the first time in its 21 year history of producing jaw dropping giant events, the company behind the theatrical spectacle, Royal de Luxe, is asking members of the public to play a central role in their production.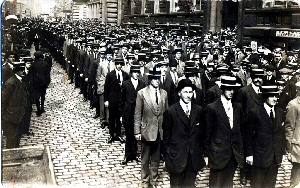 Although the full story is yet to be revealed for Memories of August 1914, part of it will focus on the recreation of the recruitment of the Liverpool Pals battalions, which 100 years ago saw men volunteer alongside their family members, neighbours and work colleagues, signing up to defend Britain on the battlefields of Europe.

The team is after 120 men to volunteer to take part in Memories which runs from 23 July to 27 July 2014, with the main action taking place from 25 July to 27 July 2014. All applicants:-

► Must be over 18 years of age.

► Be physically fit as marching repeatedly will be required.

► Must also be available for rehearsals on the 27 June to 30 June 2014, 16, 19 and 24 July to 27 July 2014.

► Must be able to supply their own costume; period civilian outfits are welcomed as are period military uniforms (of the era).

The deadline for applications is 10pm Tuesday, 6 May 2014. For full details on how to apply visit this link and fill in the Liverpool Pals Battalions re-enactment volunteer application form.
Founder and Artistic Director of Royal de Luxe, Jean Luc Courcoult, said:- "We put our heart and soul into these shows and it's hugely important for us that our giants tell a story which resonates with the City they are exploring. Liverpool has such a rich history and the Pals is an incredible and inspirational part of that; and one that we had to incorporate in the show. When we looked at developing the idea, we decided we must recruit an army, and there was no doubt in our minds that we wanted it to be made up of people from Liverpool. We aim to recreate the recruitment spirit of 100 years ago, and we're positive the finished product will be an emotional highlight for many."

Tony Wainwright, Secretary of the Liverpool Pals Memorial Fund, said:- "We are delighted that Royal De Luxe have chosen to incorporate the story of the formation of the Liverpool Pals in the production Memories of August 1914. The Liverpool Pals story is a remarkable one. Following Lord Derby's promise that Liverpool would provide one battalion of men from the business community of Liverpool, the response was overwhelming. Between August and November 1914 not 1, but 4 battalions were formed and there were enough volunteers to form two reserve battalions. They went on to distinguish themselves during the course of the war, seeing action in some of the fiercest battles. Sadly over 2800 men fell in action and never saw the peace for which they gave their lives. On 31 August 2014 a memorial will be unveiled in Lime Street station. The date is significant, being 100 years to the day of the first volunteers signing up at St Georges Hall to join the Liverpool Pals. We hope that the Pals being involved in the show will raise the profile of their story and allow many more people to discover their heroism. The City of Liverpool should be rightly proud of OUR Pals, the first to be formed and the last to be stood down. With the help of Royal de Luxe we hope to show just how proud we should be."

Liverpool City Council's Arts and Participation Manager Alicia Smith, said:- "This is a first for Royal de Luxe as they have never before involved people outside their company to be part of the show itself. The Pals are a huge part of Liverpool's history and it would have been impossible for us to re-tell a story about the outbreak of the Great War and its impact on Liverpool, without including them. This is a wonderful opportunity for members of the public to be part of the UK's flagship 2014 commemoration event, making it a truly unforgettable experience. We hope as many men as possible sign up for this one in a lifetime opportunity."

To keep up with the latest news 'like' the Giant Spectacular page on Facebook, follow @giantspectacular on Twitter or
visit:- giantspectacular.com.