Mayor gives charity drivers a good send off!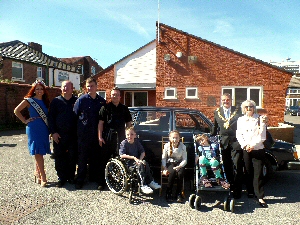 DALE Bland, owner of Keep it Cheap Garage Services based in Birkenhead, and others set off on a 2,500 mile round trip to Volvo headquarters in Sweden on Friday 11 April 2014, as part of his company's fundraising for local charity Stick 'n' Step. The journey is being made in a vintage 240 series Volvo, which was manufactured in 1975 in Gothenburg and is anticipated to take around five days to complete.

Departing from Stick 'n' Step's centre in Wallasey, the team were waved off by the Mayor of Wirral, Cllr. Dave Mitchell and Mrs Galaxy UK, alongside staff, families and supporters. To celebrate the occasion, Stick 'n' Step's spring raffle was drawn before the team made tracks.

Car manufacturer Volvo has generously offered to provide roadside assistance to the team for the duration of the challenge. It has also agreed to provide hospitality and a tour of its main factory and museum site in Sweden upon the arrival of the challenge team. The team consists of Dale, his wife Tanya and Keep It Cheap Apprentices Steve Giles and Brad Stevenson.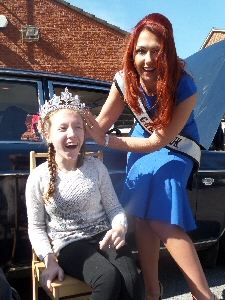 Leading up to the launch, Keep It Cheap Garage Services undertook extensive work on the car to ensure it was roadworthy and reliable for this unique journey. Dale explains:- "Cars have always been a hobby of mine, so when the opportunity to join Stick 'n' Step's 50/50 challenge arose I couldn't wait to get involved. I decided to do something that's unusual, in the hope that this will get some big name sponsors to back us and ultimately the charity."
Commented Kerry Roe-Ely, Community and Events fundraiser at Stick 'n' Step:- "Since we launched the 50/50 challenge in November last year, we have had a fantastic response from all those involved. Dale's decision to go on a sponsored road trip is a great example of the sorts of ways in which local businesses can fundraise for charity. We can't wait to hear how the 'Keep It Cheap' team gets on during their fundraising journey."

Keep It Cheap will be updating supporters on the team's progress whilst on the trip, with pictures and blogs, via its Facebook page 'Sticknstepvolvochallenge2014'. Members of the public can also support Stick 'n' Step by sponsoring the Volvo challenge team via its JustGiving page, 'sticknstep-volvochallenge'.
Sponsors include Wrightsure Insurance, JMS Automation, Wirral Freemason's and the Pyjama Factory.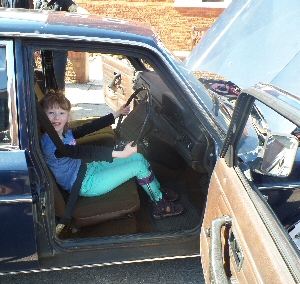 The 50/50 Challenge is Stick 'n' Step's fundraising initiative for businesses. The charity has given 50 businesses £50 each to kick-start fundraising, in a bid to raise a collective amount of £150,000 by November 2014. Keep It Cheap Garage Services will use its £50 to cover the cost of food and drink for the team whilst on the trip. If you would like to get involved with Stick 'n' Step's 50/50 Challenge for businesses, contact Kerry Roe Ely at Stick 'n' Step on:- 0151 638 0888 or visit to find out more.
EU fights alien invaderss
NEW measures to combat the spread of alien invasive species have been agreed by MEPs meeting in Strasbourg. The arrival of plants and animal species from other parts of the world is one of the greatest threats to biodiversity, as well as damaging fisheries and agriculture. American crayfish in British rivers are wiping out native species while fast spreading Himalayan balsam is coming to dominate hedgerows and crushing local plants. Liberal Democrat Euro-MP Chris Davies welcomed the new EU law that will promote greater cooperation between national authorities and encourage urgent action to prevent the spread of alien species. Norwegian King Crabs, Killer Shrimp, Japanese knotweed and Asian Harlequin ladybirds could all be blacklisted, amongst scores of other types of invasive flora and fauna. Chris Davies commented:- "Getting rid of these species can cost huge sums, and in too many cases it is already too late to do so. The problem is bound to get worse as travel increases, and early action across European borders is needed whenever a new problem is detected. I'm all in favour of free movement in the EU, but no one wants a 6ft crab coming up to them on the beach." Email your views about this vote to our newsroom via:- news24@southportreporter.com.

Kidney transplant patient completes 150-mile trek back to hospital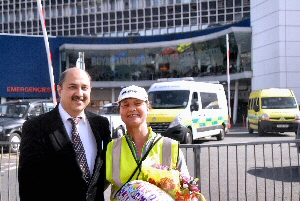 A fitness instructor who had two kidney transplants at the Royal Liverpool University Hospital has completed a 150 mile walk across North Wales to the hospital she credits with saving her life. Ninette Thomas, 53, of Abergele, who underwent two kidney transplant operations at the Royal in 2006 and 2012, was welcomed with balloons and flowers after journeying for 12 days along the Wales Coast Path from Holyhead to the hospital, which houses a regional transplant unit carrying out 100 kidney transplants every year. She underwent her 1st kidney transplant in January 2006 after a childhood degenerative disease scarred her kidneys. That kidney would only function for 6½ years, so in 2012 she received another. Setting off on 29 March 2014 and tackling 12 to 16 miles each day, Ninette finished two days earlier than planned on Friday, 11 April 2014. She got a lift home each evening during the 2 week trek before starting again the next morning where she left off, with the Rotary Club in Abergele sponsoring fuel and travel costs.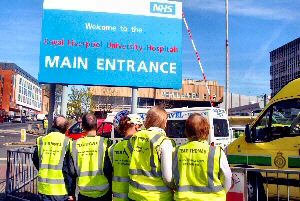 The mum-of-3, who works as an instructor at Colwyn Leisure Centre in Colwyn Bay, said:- "After the second transplant, I noticed a lot of patients gave chocolate biscuits," she added. "Bearing in mind you've had a £40,000 operation and staff are highly trained, a box of biscuits didn't seem to fit the bill to me. I said when I'm fit and well, I'll find something to do which will hopefully raise them a lot of money. The dialysis machines have saved my life twice so I said I'd try to help them raise as much money as possible for new dialysis equipment."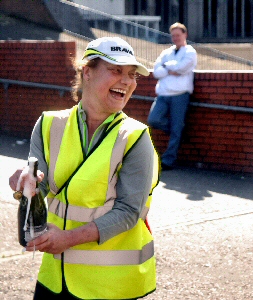 Ninette had 6 months off work following her transplant in May 2012, eventually returning to light duties before taking classes again in February 2013. While recovering, she read '500 Mile Walkies' by Mark Wallington, who walked the south coast of England with his dog, and was inspired to attempt a similar feat. She was joined on the walk by family and friends, including her sister Anne-Marie Nicholas, her husband Raymond Nicholas, her brother Howard and wife Carole, and her nephew Gareth Jenkins and his wife Helen. Ninette has raised around £4,000, with hundreds collected at a darts match at Colwyn Bay Leisure Centre, and the full amount will be doubled by the Barclay's Charitable Trust.
The surgeon that carried out 1 of Ninette's transplant operations, Sanjay Mehra said:- "We see patients in a very difficult situation under dialysis. But once they have a transplant they can often go back to work, do what they want to do and eat what they want to eat. It is very rewarding seeing the patients get so much better. It is great that Nin can raise awareness of the value of kidney transplants and raise money so that other patients can benefit. My family are already talking about us walking all the way around Anglesey next year, but I want to get over this first!"

To sponsor Ninette online, visit:- justgiving.com/ninette-thomas.
Victory for Lib Dems as MEPs approve safer lorry designs
NORTH West Euro-MP Chris Davies has welcomed a European Parliament vote to improve lorry safety through tougher design standards today, with 606 MEPs voting for and just 54 against. Under changes pushed for by Liberal Democrat MEPs, the design of lorry cabs are set to be changed to reduce the number of blind spots under the front windscreen and the side of the vehicle. The new designs would also include safer cab fronts to reduce damage caused by impacts with cyclists and pedestrians. It is thought the proposal and could help prevent dozens of fatal accidents each year. Davies recently met with the Olympic gold medal-winning cyclist Chris Boardman to discuss the EU proposals. Boardman, who was born and lives in Wirral, is also well-known for his campaign work in favour of tighter rules to improve road safety for cyclists. Davies said:- "This vote is a victory for all the campaigners in the North West who have worked so hard to bring about these life-saving changes to lorry design. This shows that when individuals engage with their MEPs they can affect the outcome of EU decisions and bring about real change. Redesigned lorry cabs with a curvy nose, a crash box and better vision for drivers will drastically improve lorry safety and prevent hundreds of fatal collisions every year. With the lorries on our roads coming from all over Europe, it is especially important that we act at the European level on this issue and ensure that the vehicles on our roads meet safety standards." Do you agree or disagree with this? Email your views to us at:- news24@southportreporter.com.