Leo's Bar's Southport Official Re-Opening
Photographs by Patrick Trollope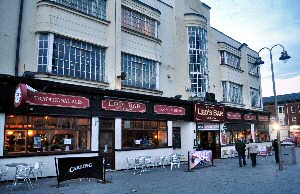 ON Easter Day, the freehold, landmark, art deco, public house, known as Leo's Bar, located at the top end of Nevill Street, in Southport held its Re-Opening event. The semi-detached structure has been up for sale for some time and many locals worried that this prime location and historic venue would be lost. Thankfully, a group of locals have saved it from property developers and are set to get this historically important icon of Southport's history, rocking again. On the party night, the bar was buzzing to the sounds of a fantastic band, April Moon, led by Jaime April and Jason Moon. Also the night featured a special guest Karm. For now, keep an eye on the bar's Facebook Page to see what they have taking place over the summer... Also these are a few photographs we took on the night... To see our video clips of the event, please use this link to our Facebook Page.