Take a stroll among a bluebell spectacle at RSPB Burton Mere Wetlands this spring
Photograph by Lynne Greenstreet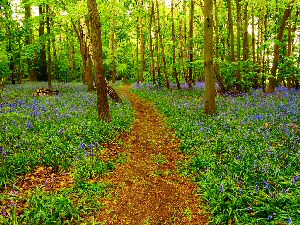 NOW is the perfect time to discover one of the best bluebell woodlands in the region - at RSPB Burton Mere Wetlands, on the Dee Estuary. Each spring, the nature reserve's Gorse Covert, a 3.4 hectare semi-natural ancient woodland, bursts into colour with a blanket of blue and this year, the bluebells have not disappointed.

Having flowered much earlier than last year due to the mild winter and early spring, many of the flowers are already beginning to emerge and tease admirers with their colour well before their usual May bloom. Last year, hundreds of visitors to the nature reserve told staff of their delight at seeing such a pristine area of the iconic British flower.

Dan Trotman, Visitor Development Officer at RSPB Dee Estuary reserves, said:- "Last May was when visitors really started to notice the intensity of the bluebells. People were coming to the reserve purely to see the bluebell spectacle. The contrast of the deep blue against the greenery of the trees creates a lovely setting for a relaxing stroll. On our guided walks this year, visitors can not only enjoy a stroll into the heart of the bluebell woodland, but there will be the chance to venture up to Burton Point, a previously inaccessible part of the reserve, where there is another impressive stand of bluebells, along with breathtaking panoramic views over Burton Mere Wetlands and across the estuary to the Welsh hills."

While Gorse Covert can be enjoyed independently by all visitors to the reserve, visitors are welcome to join a Bluebells and Birdsong guided walk, to discover more about the bluebells and other interesting flowers and wildlife on the reserve.

Dan added:- "The walks are a great way to discover more about the nature which lives on the reserve. The nesting birds will be in fine voice, adding to the tranquil atmosphere, and you will be given tips on how to pick out the songs of different birds. It's a great way to spend a morning."

The 2 Bluebells and Birdsong guided walks will be held on Saturday, 26 April and on Sunday, 11 May 2014, from 10am to noon. The cost is £5 per person, discounted to £3 for RSPB members, with children half price. This includes a hot drink and a snack in the reception hide, and covers the entry fee to the reserve for non-members. To book your place, phone:- 0151 353 8478 or email them via:- deeestuary@rspb.org.uk. For more information on the reserve and its activities, check out the website.
NWAS NHS 111 Reflects on a Successful Easter
EASTER proved a busy but successful weekend for all the staff at North West Ambulance Service NHS Trust 111 Service (NWAS).

For the majority, Easter Bank Holiday is a long relaxing weekend with the family, but for all the staff at NWAS NHS 111, it proved to be an exceptionally busy time, providing urgent care to people in the North West that needed medical advice over the 4 day weekend.

Covering all 3 of the NWAS NHS 111 call centre sites, Middlebrook - Bolton, Parkway - Greater Manchester and Carlisle in Cumbria, the service took all the appropriate steps to meet the anticipated demand of the Easter period.

We placed an additional 30% of staff in our call centres, which went on to triage an incredible 12,179 calls over the weekend. As well as this, additional front line management and a senior manager were on site each day of the weekend.

NWAS stepped in as stability partner last October, and the service has gone from strength to strength ever since. After trialling many staffing patterns, the service is now performing to an ever increasing high standard, making NWAS NHS 111 a valuable extra service to the NWAS family, in providing excellent urgent and emergency care to the people of the North West.

Derek Cartwright, Director of Operations said:- "I am very proud of all the hard work and dedication from the NWAS NHS 111 staff at all 3 call centres in the North West. There was a massive amount of calls over the bank holiday weekend and this was handled safely, professionally and effectively by all the staff. This has been one of the biggest tests since we stepped in as stability partner last October and it has been approached fantastically. NWAS NHS 111 is proving to be a vital and valuable part of NWAS operations and an asset to the North West community."

"Magnificence!" Organ and Orchestra Concert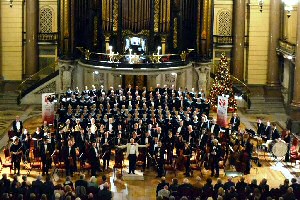 ST George's Hall's resident orchestra present another unique concert in the Great Hall which includes the world famous Willis Organ. The Great Hall within Liverpool's St George's Hall will once again be filled with live classical music on Saturday, 17 May 2014, in the 3rd concert in the series for Organ and Orchestra.

The St George's Hall now orchestra-in-residence L 'Orchestra dell'Arte, are this season bringing 3 concerts under the musical direction of their conductor Edward Peak. Edward is widely known to music lovers in the region from his career with the RLPO and BBC.

The refurbishment of the world famous Willis organ with its 7737 pipes means that after a gap of many years it can be heard once more in some of the best works written for organ and live orchestra. The organ was originally built as the largest concert organ in the world in 1855.

British Cathedral Organist David Houlder, will be the soloist on the Willis organ along with 54 members of the orchestra in "Magnificence!" a feast of Europe's most uplifting music. The concert will feature Strauss – Wiener Philharmoniker Fanfare, Wagner – Scenes from Gotterdammerung, Guilmant – Organ Symphony No 1, Strauss – Serenade for Wind – Op 7, Widor – Toccata – Symphony No 5, Strauss – Waltz Sequence No 2 (Rosenkavalier) and Strauss – Festive Prelude.

Valerie Warr, Orchestra Manager said:- "We have brought back to the people the original hopes and traditions of the Great Hall, and its iconic Henry Willis Organ, as a venue for music making. This forthcoming concert brings hugely uplifting works from some of Europe's finest composers. In the year that celebrates the anniversary of Strauss (150yrs) and Wagner (200yrs)"

Alan Smith, St George's Hall Manager said:- "St George's Hall is delighted to have developed its own "in house" orchestra to animate this magnificent building, and to continually put centre stage the magnificent Willis organ. The hall is aiming to improve the condition of the Willis organ year on year, and this ambition can be enhanced through its continuing use. We are really looking forward to this 3rd concert in what has been a great series."

This is a unique classical evening not to be missed!

For further information please visit:- stgeorgesliverpool.co.uk. And for an excerpt from the last concert click here.

AT A GLANCE PERFORMANCE DETAILS... L'Orchestra dell'Arte Presents:- "MAGNIFICENCE!" ORGAN AND ORCHESTRA CONCERT at The Great Hall, St Georges Hall, Liverpool (Heritage Centre entrance), on Saturday, 17 May 2014. Doors 6.30pm, Start 7.30pm. Tickets are:- £15.00 (NO BOOKING FEE) Onsale Thursday 24 April @ 9am. Groups: 1 in 10 Goes Free. Purchase in person at TicketQuarter, Queen Square, Liverpool, online or on:- 0844 800 0410. Cash and Cheque only on the night.
Foster carers to get payment for skills
FOSTER carers in Liverpool are set to be paid a professional skills allowance of up to £23,000 per year. A report to the Council's Cabinet meeting on Friday 25 April is recommending the changes to increase the recruitment and retention of foster carers, and recognise the high degree of professionalism needed to do the job.

Payment for Skills will see the City Council's team of 300 foster carers paid a professional fee of up to £444 per week in recognition of the knowledge and expertise they bring to the care of looked after children. The money is in addition to weekly age-related allowances of up to £203.75 per child.

Director of Children's Services, Colette O'Brien, said:- "Our team of foster carers do an amazing job providing a loving home for some of our most vulnerable children. They deserve the very best support that we can offer, and that is why we are making changes to the system to better reflect the skills that they possess. It will also allow us to better match the abilities of foster carers to the needs of our children."

There are 5 fee levels linked to skills, knowledge, experience and professional development. Prior experience and relevant training will be taken into account. A steering group of foster carers and social work managers have drawn up and consulted on the new policy.

People interested in fostering can visit:- fosteringforliverpool.co.uk to find out more, or call the recruitment line on:- 0151 515 0000. Foster carers need to be aged over 21, but there is no upper age limit. They can be single, married or co-habiting, straight or gay.