County Insurance to light up the Merseyrail Community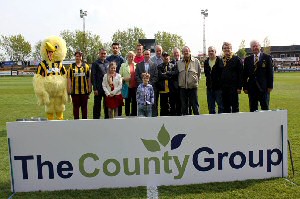 STADIUM County Insurance are Southport Football Club's floodlight sponsors for the next 3 years. In a 1st for Southport Football Club, the exciting new sponsorship partnership was announced on the Merseyrail Community Stadium pitch before kick off on Easter Monday.

County Insurance adds fantastic financial support to Southport Football Club's stadium development, linking in with the club's dedicated supporters led by Trust in Yellow.

Trust in Yellow have led a fund raising series of events to raise funds to support the club's ambitions to replace the stadiums floodlights that date back to 1963. The symbolism of the Trust's dedication to their fund raising was Colin Aindow's sponsored run from Southport to Grimsby Town.

County Insurance's Managing Director Dave Clapp, Tim Crighton (Marketing Director) and Kevin Catterall (Sales Director) have all been impressed with Southport Football Club's ambitions for the future and this major sponsorship will light up the Merseyrail Community Stadium for next season.

County Insurance are based locally at 23 Princes Street, right in the centre of Southport. This makes them an ideal insurance broker if you'd like to pop in and discuss your insurance requirements in person, and of course they are available on the phone and internet.

County Insurance offers the full suite of both personal and business insurance services. On the personal insurance side, this includes car, van, home and travel insurance.

For business insurance, this ranges from sole traders requiring public liability or van insurance, through to larger businesses that need premises, stock and vehicles insuring.

Just over a year ago, they launched a sister company called County Financial Services, headed up by Southport life resident Paul Gilchrist. So they can now offer mortgages, life insurance, sickness cover and private health schemes.

County Insurance Managing Director Dave Clapp comments on the 3 year sponsorship deal:- "We are delighted to have signed a major sponsorship deal with Southport FC having held discussions with both Charlie Clapham and Haydn Preece. We have sponsored several match balls over the last couple of years but really wanted to take our sponsorship of Southport FC to the next level, and sponsoring the floodlights and tying in with the very worthy Trust in Yellow is a perfect fit for us. Our Southport office has really flourished in recent years and now employs over 45 people. We are expecting this to grow in the next few years, and are hoping our sponsorship of Southport FC further increases our profile in the region. We'd be really grateful for all supporters of Southport FC to try us for their personal and business insurance quotes to see how competitive we can be, coupled with local broker service. We genuinely believe we are a best of both worlds broker in that we are a Top 50 UK broker who will provide £35m worth of insurance premiums for our clients this year, but with a big emphasis on providing quality local customer service. We are delighted to be a main sponsor of Southport FC and are already looking forward to next season building on the very promising form and results shown in recent weeks"

Commercial and Community Director Haydn Preece said:- "Easter Monday was a wonderful day of celebration led by County Insurance. We have a stadium up to Football League standard and now with County Insurance's sponsorship we can construct the highest quality floodlights. The club's ambitions are to compete for promotion to the Football League so it is imperative we have all the facilities to match. The new floodlights are fundamental to that. County Insurances input plays a major part along with our supporter led Trust in Yellow who I am sure will support County Insurance during this fabulous long term floodlight sponsorship."

UK Government unveils a major new renewables project within the Merseyside area

A major renewable electriCity project has been unveiled in Merseyside as part of the government's world leading electriCity reforms, giving a massive boost to green growth and green jobs. The project, along with seven others across the UK, will provide up to £12 billion of private sector investment, supporting 8,500 jobs by 2020.

The project, based in Liverpool Bay, around 7 km North of the North Wirral coast, involves an extension to the existing Burbo 2 Offshore Wind Farm. It is expected to add a further for 258 MW of low-carbon electriCity to Britain's energy mix.

The 8 projects, once built, will contribute around 15TWh or 14% of the renewable electriCity we expect to come forward by 2020, helping to put the UK well on the way to meeting the UK's renewable energy target. They will also reduce emissions by 10 MtCO2 per year compared to fossil fuel power generation.

The projects have been offered under Contracts for Difference (CfD), which form part of Government's world leading ElectriCity Market Reform programme. They include offshore wind farms, coal to biomass conversions and a dedicated biomass plant with combined heat and power.

Energy and Climate Change Secretary Edward Davey said:- "These contracts for major renewable electriCity projects mark a new stage in Britain's green energy investment boom. By themselves they will bring green jobs and growth across the UK, but they are a significant part of our efforts to give Britain cleaner and more secure energy. These are the first investments from our reforms to build the world's first low carbon electriCity market; reforms which will see competition and markets attract tens of billions of pounds of vital energy investment whilst reducing the costs of clean energy to consumers. Record levels of energy investment are at the forefront of the Government's infrastructure programme and are filling the massive gap we inherited. It's practical reforms like these that will keep the lights on and tackle climate change, by giving investors more certainty."

There has been significant growth in renewable electriCity sector with the renewables' share of total electriCity generation more than doubling since 2010. We are supporting this growth to continue through ElectriCity Market Reform and expect to deliver over 30% renewable electriCity in 2020.

The 8 successful projects have been awarded contracts under the Final Investment Decision (FID) Enabling for Renewables process, allocating the first CfDs that are being introduced through the ElectriCity Market Reform programme. Under CfDs, generators and developers receive a fixed strike price for the electriCity they produce for 15 years.

These contracts are vital to give investors the confidence they need to pay the up front costs of major new infrastructure projects.

The contracts are supported by the new legislative framework introduced through the Energy Act 2013.
Further CfDs will be made available in the autumn and the Government intends to publish further details of the allocation process alongside the Government Response to the January Consultation on Competitive Allocation of CfDs shortly.

Together, the successful projects will help provide a secure, affordable supply of electriCity and support skilled jobs, boosting growth, supply chains and businesses across the country.