A sandwich supremo found in Birkenhead's Pyramids Shopping Centre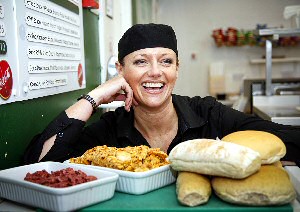 A sandwich supremo is having a 2nd bite of a national competition. Paula Smith, who runs Let's Lunch in Birkenhead's Pyramids Shopping Centre is still savouring the taste of success after her roast dinner delight earned her the title of Sandwich Designer of the Year. Now the creative conjurer is hoping her next pesto-themed concoction will once again tantalise taste buds after being whittled down to the final of the competition in May. But in the meantime, the 44 year old is spreading the joy to her customers who are to be the first to sample the 'simple yet interesting' sandwich.

"Winning the competition, despite entering for the very 1st time last year was such a great achievement, I just couldn't resist entering again. Each sandwich artist enters into 6 different categories and out of the 6, 3 of mine made the short list for the regional heats. I thought if I was to be lucky enough to get through to the final again, it would be for my curry in a butty, which I entered into the chicken tikka category. I was really surprised to find out that the pesto sandwich had made it through in the pesto category as it was the most simple." said Paula, who has owned the popular eatery for almost 12 years.

Made up of toasted herb focaccia bread, spread with pesto, sliced roast chicken, roasted peppers in garlic and beef tomatoes, the mum of one from Wallasey said her mouth watering ingredients won her praise for bringing out the flavour of the pesto. It was a far cry from her more elaborate Sunday lunch sarnie which was carefully crafted with slices of juicy chicken, stuffing, gravy and real potatoes roasted in duck fat. And the creation only came about to mark the tenth anniversary of Let's Lunch.

Paula explained:- "I wanted to do something special to celebrate a decade in business so we took to Facebook and asked our customers to give us some unique sandwich ideas. One of our regulars came up with the idea of a roast dinner sandwich and we thought it was great so we put one together, it went down a treat. Then out of the blue, I had an email from someone telling me I should enter it into the Sandwich Designer of the Year competition. It's something I'd never thought to do before but I decided to go for it, never for one moment thinking that it would actually win. Now we're making the competition a regular thing and are even making room on a shelf in the shop for some more awards."

But Paula recalled the bitter-sweet moment of scooping her 1st trophy when after the awards ceremony at a swanky London hotel, her husband, Lee accidentally dropped it.
"I was so elated to have won I was absolutely devastated when my husband dropped the award on a ceramic floor and it smashed to smithereens. He felt so terrible about it that I couldn't really give him a hard time. Luckily one of the competition organisers sent me a new one so now it stands pride of place in the shop where hopefully it will be joined by another one. My husband can't come with me this year because he is away, but a few customers have joked that at least my award will stay intact!" joked Paula.

Paula will put her culinary skills to the test at the competition at the Lancaster Hotel near London's Hyde Park on May 15 when she will present her sandwich to a panel of judges.
The winner will be announced during a gala dinner at the hotel later that night.

Derek Millar, Commercial Director for Pyramids Shopping Centre, said:- "We are all so pleased for Paula that she has made it through to the finals of this prestigious awards for a 2nd time. I know our shoppers love her sandwiches and it is terrific to see her talents being recognised in this way."

But win or lose, it won't be the end of Paula's imaginative ideas. "As strange as it sounds, I actually wake up in the middle of the night thinking of unique ideas for sandwiches."

GMB is calling on the UK Government to use the Tax System to curb excessive pay and bonuses
VINCE Cable has same chance as King Canute rolling back the waves as getting the City fat cats to voluntarily take their snouts out of the bonus troughs says GMB. GMB commented on letter from Business Secretary Vince Cable to top companies urging them to show restraint over executive pay and slash bonuses to restore public trust. Paul Kenny, GMB General Secretary, said:- "GMB has repeatedly warned since the days of Cedric the Pig protest on excessive executive pay that exhortation will not curb excessive pay. Vince Cable has same chance as King Canute rolling back the waves as getting the City fat cats to voluntarily take their snouts out of the bonus troughs. The share of income from labour in the UK going to the top 1% of earners has nearly doubled from 7% in 1970 to 13% in 2011. Before the recession the top 1% of earners were raking in over 15% of all pay. See notes to editors for the data series since 1970. This doubling of the share to the top 1% is leaving less money for the pay of the rest of the workforce. Fat cats like Simon Wolfson at NEXT getting all the cream is the major reason for the growth in precarious forms of employment like zero hours, bogus self employment, agency and temporary work, very short hours part time jobs, flexible and casual employment. The lesson from history is that Government has to use the tax system to deter employers paying excessive pay. If the marginal tax rate for earnings above £1m a year is raised to 80% there would be a dramatic drop in numbers getting paid that amount. That would leave more for the rest. This would help the economy will get back to pre-recession levels as we have a very long way to go to climb out of the hole caused by the recession. Given the increase in population GDP per head is still 5.8% below 2007 levels. This is the root cause of average earnings being down 13.8% in real terms since then."
HR specialists speak up about new labour laws in France
THE Liverpool based HR specialists, High Performance Consultancy (HPC), have contested the changes to working laws announced in France last week, suggesting they are a step too far, but what do you think?

A new labour law that High Performance Consultancy says has been shaped in France to protect those working in the digital and consultancy sectors from responding to emails after 6pm will damage business. They say that:- "Employers will no longer be allowed to contact staff during the 133 hours of designated rest time during the week. It is reported that companies must also take measures to ensure their employees come under no pressure to read work related emails or documents outside of the specified working hours."

Managing Director at HPC, Victoria Brown is of the opinion that the new law may not be welcomed by employers, or in fact employees in the UK. She said:- "Since the release of easy to access mobile devices such as Smartphone's, it has made it easier for employees to be contacted when away from the office or outside of office hours. However, this development has also afforded people the opportunity to have a more flexible approach to their work and to maintain control over how they manage their workload. This includes more opportunities for home working, which has allowed many to move away from the traditional 9 to 5 working day. In the hierarchical set-up of the modern workplace, employees typically have more autonomy over workloads and restricting the opportunity to respond to emails could cause unnecessary stress. This move could potentially be doing more harm than good, as it could be perceived as de-motivating in taking the control away from employees are wholly committed to their career development. For some time there has been a move towards reducing red tape for businesses, and to introduce these legislations, I believe would be counterproductive. The Working Time Regulations are already in place, giving protection to employees. Good employers recognise they have a duty of care to their employees and already have measures in place to support and encourage the right work-life balance."

Sweden is currently reviewing working conditions and have proposed reducing working hours to just 30 hours a week, with full pay for staff in Gothenburg; an experiment has been based around the theory that suggests that after 6 hours, employees become tired and productivity is significantly reduced. So should the UK follow those countries and do the same, or can the UK businesses and workers seize this opening and profit from this, for example by offering out of hour services for French Firms?