Parking Signs in and around the St Luke's Church Road Area
Photographs and report by Patrick Trollope.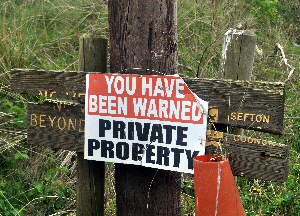 A columnist at the 'Mail On Sunday', on 7 July 2012, published the comment:- "Signs reading 'No trespassing' are as much a part of the British countryside as hedgerows and winding lanes." Sadly this increasingly the case in many parts of the UK and it is now becoming an issue in Formby. Recently we have had many emails from readers asking about a rash of signs and warning notices that have cropped up near Lifeboat Road and on the sand dunes on Formby Point.
In last week's issue we raised this matter, as you our readers have been asking us about it and we have contacted a wide range of parties to find out more about the mushrooming of parking signs and private property signs around the dunes and pinewoods on the south side of Formby Point.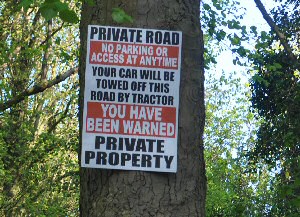 We are going back to clarify these issues which were raised with Sefton, as they appear to be only aware of the signs on St Luke's Road, even though we have supplied photos of others. But with Bank Holiday just passing us, we will be doing so next week. We wanted to give all parties a chance to reply, so we are once more emailing Formby Hall Investments, who are building the new detached 2 storey dwelling house, on the old Firwood site, as we have not had a reply as yet.
Our investigations so far have highlighted a massive amount of problems, with lots of contradictory information, but so far this is what we have found out.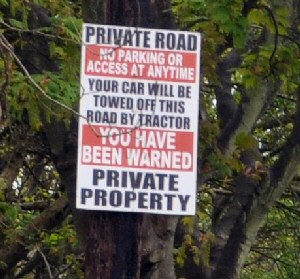 The problems in 2012 and 2013 with parking becoming an increasingly hot topic within parts of Formby, with many locals, since last summer's parking issues, asking why the old overflow car parks of Alexandra Road and Albert Road, on Formby Point are not being used over the summer and over Bank Holidays. Yet, opening the roads up to the public Highway were looked into as an option, according to Meeting Notes - Appendix 8, at the Formby Area Committee back in 23 September 2004, by the Formby Society. Back then, a report from as far back as 6 March 1995, which had been issued by the Highways Committee, was cited at a consultation: It was a suggestion to make the roads off St Luke's Church Road part of the Public Highway, but it met with 2 objections. These objections, at that the time were:- "there may be an increase in use of the paths and resultant deterioration of the road surfaces and damage to flora and fauna, and the other that St Luke's Church Road and Range Lane are public footpaths and vehicles may only use it with the express permission of the landowner." Also Dave McAleavy, the Head of Coast and Countryside, advised:- "of problems in the area with vehicular traffic accessing the site and causing nuisance and damage to the area." He was particularly concerned with the claimed status of Byway Open To All Traffic (BOAT) and asked that this be reduced to bridleway to enable vehicular traffic to be controlled. But with the local Council asking residents about imposing double yellow lines in and around the roads near the beach off Lifeboat Road, Bushbys Lane and St. Luke's Church Road, this question has been asked again. So that was our first question we asked for you. What is the status of the roads? This is an interesting question as 20 mph signs have been erected in them all, yet are displaying signs saying:- 'Private Property'. MP Bill Esterson's website says:- "Harington Ward Labour Councillor, Nina Killen, and other local councillors after it became apparent that it was unclear who was responsible for the upkeep of the road." And later the item on the site adds:- "Harington Ward Labour Councillor Nina Killen and other local councillors after it became apparent that it was unclear who was responsible for the upkeep of the road." A bit further on, Cllr Killen is reported as saying:- "The condition of the road really is shocking. To get to the houses, it is like going off road. The potholes are more like craters from the surface of the moon. My council colleagues and I asked Sefton Council to look into this, and when they did they realised that something needed to be done. Although these roads are unadopted, the council's Coast and Countryside department owns them, so the council could have left itself open to a claim if someone had been injured using the road. The residents were all desperate to find a solution as it was getting more and more difficult every day to access their homes. They all have a historic right of way over the road and felt that the council was legally obliged to create a safe passage." That is fair enough and not the issue, what is the issue is that they clearly say that:- "Sefton Council's Coast and Countryside department owns them." This is the major point of the next issue raised. That issue was why the signs appeared along Alexandra Road and Albert Road now and who put them up? Also they want to know who paid for them. Again, this gets more complicated as a Sefton Council Planning Committee Report, S/2012/1429, dated 24 April 2013, in response to the application to build a detached 2 storey dwelling house, by Formby Hall Investments, states clearly:- "Alexandra Road is unadopted and as such, any works associated with the provision/modification of vehicular access do not need to be undertaken by the Highway Authority." This then raises more questions. If any of these signs are on Sefton Council land and fall under the Highways Act 1980, then we have been told that these signs are not legal and the offender who placed them up can be prosecuted. Also, if not on the highway, then this is still an offence if the land is owned by the Council's Coast & Countryside department. So this leads on to another question, who put them up? This is even more confusing as a few of these signs that say:- 'Private Property' are on Sefton MBC's path signs; as you can clearly see in the photos accompanying this report. Many locals know that the gate was only erected in late 2012 or early 2013, on the small section of St Luke's Church Road, which is 'Private Property'. That gate's arrival followed the application to build on the ruins of Firwood. Also at the same time intimidating 'Private Property' notices were added along the road, leaving many puzzled as to what was going on, as that section had never been closed to the public before. We have also been told that the signage is perceived as ambiguous, and taken by some as banning all access, including walkers, despite the fact that the Coastal Way runs along it, and indeed there is a sign to this effect at the entrance. The road is at present open to non-vehicular traffic.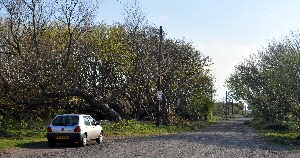 Then came the question from some of you:- "Are they legal and can they do what they threaten to do?" Oddly, we have discovered that the signs may not be not valid anyway, as:- penaltychargenotice.co.uk has stated that:- "The threatening tow away signs on private property are not, in my opinion illegal, but as your readers are correctly saying, they cannot tow or clamp on private land. I suppose one has to wonder why the owner of the land would erect such signs in the first place but it may have been out of frustration. To be legal the signs must give full details of the company who are enforcing and also must comply with other regulations in respect of size and other information which must be included. Also, a private land owner can only enforce on his/her land and only a local authority or the police can enforce on public roads. I am not sure on this, as if it is a private road and there is no public right of way in a motor vehicle they may be within their rights."

Rupert Lipton, Managing Director of NMAG has told us that our readers' are correct that:- "Under s54(1) of POFA 2012" those enforcing the tow or clamp notice would have issues. Rupert Lipton thinks that as there are 20 mph signs on the roads, that is a clear indication those roads are the Queens High Way, but it needs investigating. "Good question. I don't know for sure without further research, but I seem to recall that private roads can be 'adopted' which puts them under the auspices of the local highway authority and probably allows for the placing of speed limit signs in accordance with local orders, ask the Council." He also added:- "As for the signs not on his land, the placing signs on a highway without the consent of the highway authority or reasonable excuse is an offence. The highway authority has the power to remove such a sign. (Highways Act 1980, s.132)"
Interestingly, as one of our readers has pointed out to us, the 20mph signs are also located on St Luke's Road, at the very top, as well as on the other 2 roads. Also, just next to it is a 'Private Property' on the 'public' side of the path. Strangely the private stretch of St Luke's Church Road also sports a Sefton 'Do Not Drop Litter' sign, located on the fence of Shorrocks Hill, near the newly fitted gate. All this, plus the point that the path sign being covered up; it is no wonder why people as asking questions!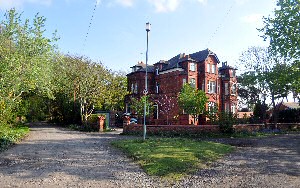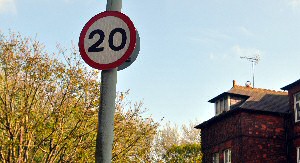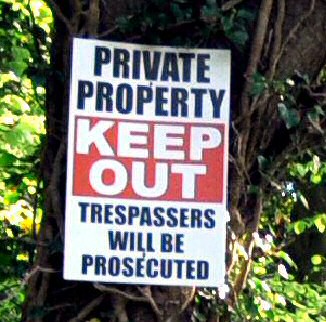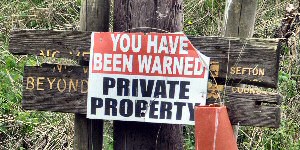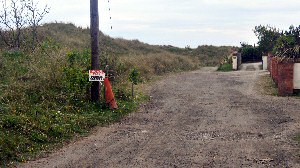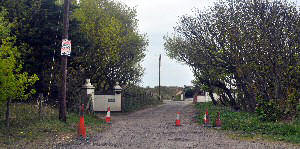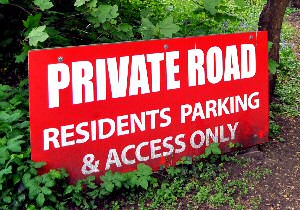 Please help us to keep our copyright intact and to keep this site online.
We hope you liked the photos, but please, don't copy them.
Click on here now.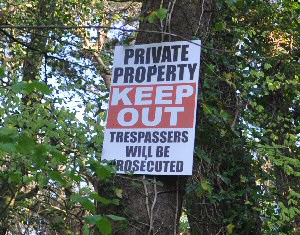 Derek Baxter from FRAGOFF said:- "I handled the original complaint about this issue last year. The road where the signs and gate have appeared is not a Public Right of Way for Vehicles or pedestrians; its status is that of a Permissive Path, that is to say that pedestrians may use it because the Land Owner consents to it. Although the route appears on the Ordinance Survey Maps as a National "way" for it to be a Public footpath it has to appear on the Definitive Map for the area, a copy of which can be viewed by contacting the Council, however this path isn't on it! If the land owner ever withdrew permission to walk down St Luke's Church Rd or indeed Alexandra Rd or Albert Rd, I have a strong suspicion the Ramblers organisation or Local Authority would step in to secure them as a public right of way, however this would be expensive, so unless pedestrian access is contested, things are likely to stay as they are."

Derek Baxter also added:- "The "No Trespassing" signs have sprung up around the site of Firwood House. This plot of land is privately owned and was granted Planning permission for a large house about a year or so ago. There is a well established path that runs through this land which has been walked for many years by myself and amongst others and at this time of year the route is surrounded by bluebells, some of the locals call it the 'Bluebell Woods'. This route is not part of the permissive right of way and is quite clearly on private land. This doesn't prevent residents from applying to have it recognised as a right of way but makes the process a whole lot more difficult. For a start this bit of path doesn't start on a public right way and doesn't end on a public right of way, once again this would not prevent it from becoming a Public right of Way but it does make matters more tricky. The final consideration in trying to get access to the route though Bluebell Woods is this, Developers apply and succeed in having public footpaths diverted all the time, so even if you did manage to claim the path as a public Right of Way there is a very good chance that the landowner would apply for and get a Diversion Order. I hope that makes sense?"
Incidentally, as many have pointed out, for over at least 30 years local people, and visitors, have been walking and running along those paths.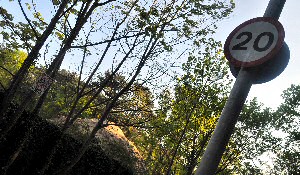 Sefton Council have also replied accordingly to our email. Brian Goodwin, Senior Assistant Engineer - Public Rights of Way and Cycling Highways Development Control, for Sefton Council told us that:- "The South Section of St Luke's Church Road is a private road and not public highway. It is the Authority's understanding that there have been signs at the entrance to St. Luke's Church Road, for many years, stating that it is a private road. The gate and the new signage, that were erected last year, were probably undertaken by the owner of the land and that it was done so as to clarify the fact that it is a private road."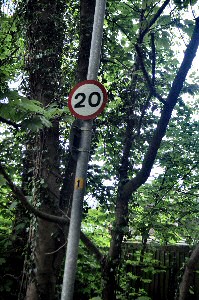 He also added that:- "The Council is unable to comment upon the appropriateness of the content/wording of the current signs as they are sited upon and refer to access and use of this private road. Similarly, it would not be appropriate for the Council to comment upon whether these signs should be complied with or about entitlement to drive along, park or use this road. Furthermore, The Council does not have the authority to permit or protect public vehicular use of the private section of St Lukes Church Road."

Brian Goodwin responded that:- "Albert Road and Alexandra Road are owned by the Council. However, they are not public highway and the public does not have a vehicular right to use them." This part we are now getting clarified, due to the 'Private Property' signs being placed on them.

He went in his email to say:- "Within Formby, an Order has recently been made to reduce the speed limit to 20mph on numerous roads. As the order relates to public roads Albert and Alexandra Road were not included in the Order and are not subject to the restriction. Unfortunately, it appears that the contractor has erected repeater signs in these two roads in error. The Council has instructed the Contractor to remove these signs and set them aside for future use elsewhere. In regards to St Luke's Church Road, the Order includes the full length of St Luke's Church Road however, only the section between Busbys Lane and Kirklake Road is adopted highway, therefore, the Order will be duly amended and the signage will be removed. I trust this helps clarify the situation"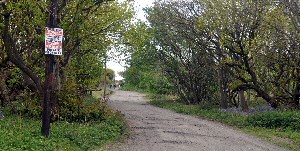 For the most part we at Southport Reporter feel that this has clarified the situation and thank all parties who have replied to our requests, but we will continue to ask for any outstanding issues which you raised, to be addressed. For example, we think that as we asked so many questions, the fact that some of the signs being on 'Council Land' might have been missed or confused with the question about the 20mph signs.

One thing is for certain, Formby Hall Investments, known now as McComb Property Company Ltd. according to Company Check, has a good record in Formby for helping the community, so we do not think it is likely that there are any dark forces at work, but we can see why people are thinking that. Also, we are not positive that it was Formby Hall Investments who added the signs, as they are not marked. The only thing we can be certain of is that they look the same as the ones on their land. It could easily be, as with Sefton's contractors that the Private Property' signs have been erected in error..
We will let you know more as and when we get it.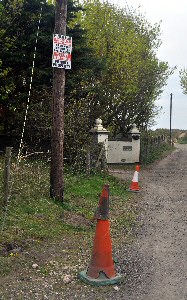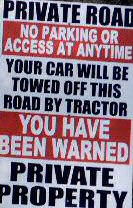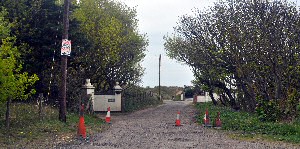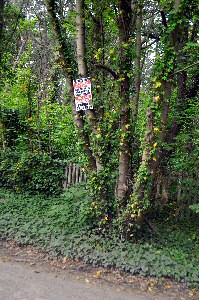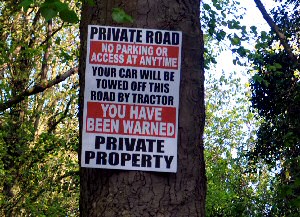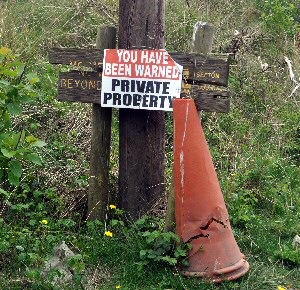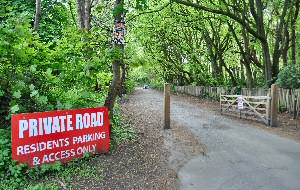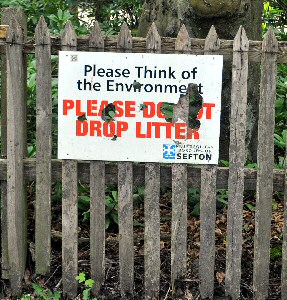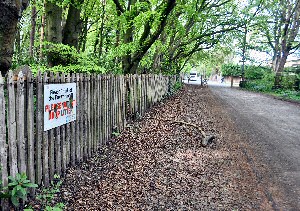 Examples of the locations of odd signage on areas that are meant to be Sefton Property:-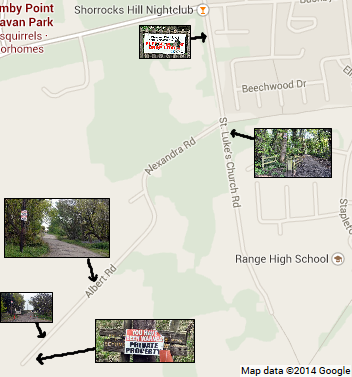 Please email us your views on these issue raised to our newsroom via:- news24@southportreporter.com and also let us know if you have any information regarding these signs that could help clarify matters for our readers.