Hidden Views on Merseyside. Can you work out this location?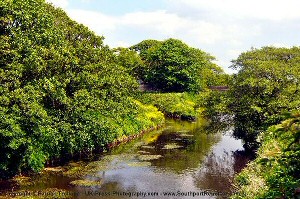 MERSEYSIDE is full of photographic opportunities and hidden gems that often make very picture postcard images, so we have opted to go out and about and take some views that often get over looked. So we start this off with a challenge. Can you guess what the location of this view is? Andre Gauthier on Twitter has already got the location, as we have tweeted a copy of this picture on our Twitter feed. We will show you more photographs of this location next week and also put another challenge to you... So if you think you know any hidden views that you think are worth snapping, please do let us know by emailing our newsroom today via:- news24@southportreporter.com.
Record Attendance Figures for Free Half Term Science Festival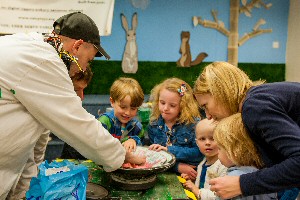 THE organisers of the Amazed by Science festival have announced record attendance figures for the opening weekend of the first pan Cheshire science festival. Venues involved in the free science festival welcomed over 5000 visitors across over 100 events throughout Cheshire and Warrington over the Bank Holiday weekend, as a result on their involvement in the events programme for the festival.

The first weekend saw CBeebies' Jess French discovering the world of creepy crawlies on the Bug Safari with children and teenagers at Chester Zoo, a 'flash-bang' pop up Science Lab at Tattenhall Library and an action packed science activity day at Thornton Science Park.

The festival aims to make science fun and exciting for children and their parents, with a focus on attracting young people to the wide range of careers in the field of science and technology. The programme still has plenty to offer for the rest of this week with a four day nuclear focused event at Orford Park in Warrington, a spectacular live Science Show with Air Products at Crewe Lyceum, a strand of bee trails and bee keeping demonstrations at several venues including Norton Priory, an 'Amazed By Maths' coding event sponsored by MBNA at Chester Racecourse for budding digital masterminds; and a chance to meet an Astronomer in your lunch time at Jodrell Bank.

To find out more about the free events available, parents are being asked to sign up for alerts and information on the website or by following:- @amazedbyscience on twitter or via their Facebook Page.

The festival has attracted sponsorship from several big names from the science community including headline sponsor Siemens and science and technology companies such as Urenco, The National Nuclear Laboratory, Waters Corporation, Sellafield Ltd, Peel Environmental, Atkins, C-Tech Innovation and the Cheshire and Warrington Enterprise Partnership.
Katrina Michel, Chief Executive of Marketing Cheshire and a founding partner of the Amazed By Science festival, said:- "This brand new science festival is a fantastic opportunity for families across Cheshire and Warrington to experience hands on fun whilst learning more about science and technology over the half term holiday. Cheshire is an incredibly science rich destination and the event programme gives us an ideal opportunity to showcase what's happening here, with the help of our venues and sponsors. All festival events are free to attend and what better way to spend time with the family than at a whole list of fantastic attractions across the region."

Venues involved in the festival include Jodrell Bank, Norton Priory, Daresbury Science Park, Delamere Forest, Chester Zoo, Macclesfield Silk Museum, Warrington Museum, Chester Cathedral, Reaseheath Agricultural College, Tatton Park and the Hack Green Nuclear Bunker.

Keen runner makes MBNA Chester Marathon her centenary event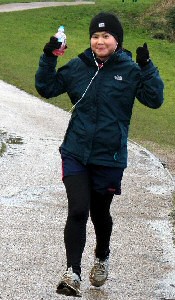 A keen marathon runner and sports enthusiast who lives in Hounslow will become a member of the 100 marathon club after she crosses the finish line at the MBNA Chester Marathon this October (2014).

So Mei Chan, who is known by her friends as 'May' and originally from the West Midlands, hit the age of 30 and decided to get active and start running. She commented:- "I wasn't much of a sports enthusiast as a youngster and can't remember exercising much at school either. I guess that once I hit 30, all those late nights and restaurant meals were beginning to take their toll on my health and I was beginning to see the effects of my sedentary lifestyle."

After completing her first marathon in 2009, the running bug hit So Mei and she decided to take on the challenge of completing 40 marathons before her 40th birthday. She added:- "I had originally set myself five years to complete my challenge, but ended up completing it in four. I hit 40 marathons last year and my 40th race in Luxembourg. I felt such a huge sense of achievement, so I decided to set myself a new goal: 100 Marathons at the age of 40."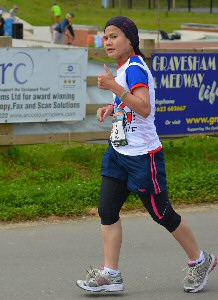 So Mei works full time in the Freight Forwarding Industry, and sometimes finds it hard to fit in her marathon events around her busy work schedule. She commented that:- "My marathons are my training now, I run one every other weekend. I'm very comfortable running long distances; I know how to pace myself and where my limits are. My biggest challenge is juggling around my work schedule and forward planning to make sure I meet the marathon goals I've set myself. Work is work, I like to keep my running hobbies separate from my day job, however my work colleagues have always been very supportive and I've been mentioned a couple of times in my company newsletter."

Organisers of the MBNA Chester Marathon welcome runners of all abilities to enter the race, whether they're new to running, taking part in a charity challenge, or aiming to set a new personal best. With a series of marathon training runs organised throughout the year, race organisers hope to help as many runners round the course as possible.

Chris Hulse, Joint Race Organiser of the MBNA Chester Marathon commented:- "We are delighted that So Mei has chosen the MBNA Chester Marathon as her 100th, it's a real honour and we're looking forward to welcoming her to the event. As with all our entrants, we'll be there to cheer her across the finish line with open arms as she celebrates completing this inspiring challenge. The Chester MBNA Marathon won't be So Mei's last event as she already is signed up for marathon number 105. She added: "I run for a sense of well being, it's a way of clearing my mind at the end of a tough day, and it gives me the ability to explore and learn about myself."

For more information on So Mei's Challenge go online to:- maychan88.blogspot.co.uk.
Entries are open for the MBNA Chester Marathon, which takes place on Sunday, 5 October 2014.
The official race charity is Cancer Research UK. To enter, go to:- chestermarathon.co.uk.

More information on the dates and times of the training runs can be found online.