Letters to the Editor:- "We did it! Community Action not Party Politics!"
"MANY thanks to all our supporters and helpers with our campaign, without whom we would not have been able to put a candidate forward, we won by over 500 votes and FRAG now has a Councillor inside. We have proved if the community stick together no matter what political beliefs they may have you can win and make changes. Community Action and Not Party Politics has proved to be a winning combination for FRAG and the fact that we are non party political but represent the residents of the community. Taking a seat from our Labour run council who are voting all the housing through makes us feel even better. If you want to know how we did it just ask us and we can let you know and guide you to a success at your next election. You can do it as well." You newly Elected councillor for Ravenmeols, Maria Bennett for Community Action not Party Politics - fragoff.co.uk.
IDAHO Day 2014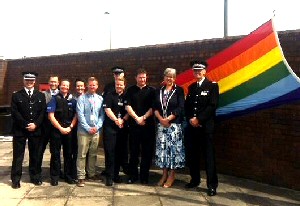 RAINBOW flags have been flown across Police Stations on Merseyside, over Friday, 16 May 2014, in support of the International Day Against Homophobia and Transphobia (IDAHO).
For the 6th consecutive year, Merseyside Police is flying the rainbow flag, which is sometimes referred to as the 'freedom' flag and has been used as a symbol of gay and lesbian pride since the 1970's.
On the 17 May 1990, the World Health Organisation finally removed homosexuality from its official list of mental disorders and IDAHO has been celebrated throughout the world ever since.

Temporary Assistant Chief Constable Darren Martland raised the flag at Merseyside Police headquarters in Canning Place on Friday, alongside partners from the Police and Crime Commissioner's office, Navajo, trans groups, SING and Citysafe, with Police Stations with flag poles following suit.

The ceremony sends out a strong message that the force will not tolerate crimes motivated by hate and prejudice, and will also champion Merseyside Police as being an equal opportunities employer.

Temporary Assistant Chief Constable Darren Martland, said:- "Flying the rainbow flag is a visible sign of our dedication to eradicating homophobia and homophobic crime. This forms part of our larger commitment to tackling hate crime in all its forms and we want the message to be clear to victims and offenders that offences involving disability, race, religion, sexual orientation or transgender will not be tolerated by Merseyside Police."

Merseyside Police is continually striving to raise awareness of hate crime in all of its forms. The force continues to encourage victims and witnesses of hate crime to report it to its dedicated 'SIGMA' hate crime investigation unit who will investigate each case with professionalism and sensitivity and provide ongoing support as the case goes to court.

T/ACC Martland added:- "The rainbow flag signifies pride and inclusivity. As we strive to be one of the best Police forces in the country we must continue to recognise and embrace differences while ensuring we treat all people fairly and equally. This will help to highlight Merseyside Police as one of the top employers for LGBT people and that we represent the diverse communities we serve on a daily basis."

Merseyside Police Commissioner Jane Kennedy, said:- "Tackling all forms of hate crime is one of my priorities. Flying the rainbow flag at stations across the Force is a clear and visible sign that we will not tolerate homophobia or transphobia here on Merseyside. I am proud that Merseyside Police is committed to recognising the specific needs, issues and barriers facing Lesbian, Gay, Bisexual and Transgender people across Merseyside. This was recognised when the Force was awarded the Navajo Chartermark last year. Nobody should suffer abuse, fear or intimidation because of their sexual orientation, transgender, disability, race or religion. As we raise the flag to mark IDAHO day, I want to reassure all LGBT people to know that here on Merseyside you will be listened to, supported and helped if you come forward following an incident."

DC Tracy O'Hara Chair of Police's LGB and T network, said:- "Showing our visible support for International day against Homophobia Biphobia and Transphobia clearly demonstrates our commitment to eradicate crimes perpetrated against Lesbian Gay Bisexual and Transgender people. We take all forms of Hate Crime seriously and our Sigma teams robustly investigate Hate Crimes in all its facets. Hate Crime continues to be under reported across all the strands and by flying our flag we are encouraging people to report all crimes and incidents to us. I work in the hate crime field and it is clear to me that by working with our partner agencies the PCC community engagement teams and the CPS we can bring offenders to justice we can provide support to victims and continue our work in the field. This is the sixth year we have flown the Rainbow flag and we do this to show our stance and to demonstrate that we are an inclusive diverse workforce where we can all be ourselves. I am proud to work for an organisation who has these values. In a world where some countries still deem it illegal to be perceived to be gay, IDAHO provides a platform for all of us to make a powerful statement to demand improvements for quality of life and human rights across the world in this international battle against discrimination and persecution."

Did you know that:- The colours on the rainbow flag symbolise diversity in the community with red representing life, orange healing, yellow sunlight, green nature, blue serenity and violet spirit. a

Hospital pioneers use of scanner to spot Alzheimer's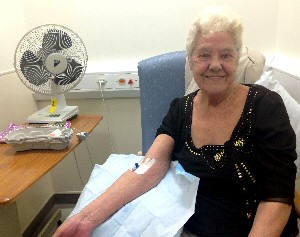 AN innovative technique that could prevent the misdiagnosis of Alzheimer's disease is being performed at the Royal Liverpool University Hospital. On 1 May 2014, the hospital became the 1st in the UK outside London to use a PET scanner to look for signs of the disease in patients.

Diagnosing Alzheimer's and ruling out other forms of dementia has been a major challenge for doctors, as no conclusive test exists. A recent study of US patients with an Alzheimer's diagnosis used Positron Emission Tomography (PET) scans to find that about one in five patients did not actually have the associated proteins in their brains, called beta amyloid plaques, so did not have the disease. Previous studies have also shown that one in five of those diagnosed with Alzheimer's during life were found not to have the disease during autopsy. This could mean those patients missed out on having more appropriate medication which could have slowed the effects of their disease.

The ability to see these plaques while the patient is alive has not been possible in routine clinical practice; until now. Amyvid, a radioactive drug developed by Eli Lilly given intravenously, allows beta amyloid plaques to be seen in the living brain via a PET scan.

The process already has the backing of Prime Minister David Cameron and on 1 May 2014, the Royal received its first patient to have the procedure, Joan Downey, 78, a widow from Hunts Cross.

She said:- "If the scan it is shown to work well and helps other people in the future I will be pleased. I've been doing crosswords and word searches to keep my brain active. My family say I haven't got any worse so the medication I am taking once a day seems to be working. I can't remember something that happened last week but I can remember things that happened 50 or 60 years ago. There's something going on there and hopefully the scan will help find out what."

Professor Sobhan Vinjamuri, consultant in nuclear medicine at the Royal, said:- "Using Amyvid solution and a PET scanner cannot be used to diagnose Alzheimer's alone, but it can reinforce a clinical diagnosis of Alzheimer's. We are delighted that patients in the North West have access to this technology. Sometimes patients and their families find it difficult to accept a diagnosis of Alzheimer's. This test should help them to come to terms with that."

Alzheimer's disease is the most common cause of dementia, affecting 500,000 people in the UK, and making up 62% of dementia cases. It is believed only 45% of people with dementia in the UK have a diagnosis. This figure is expected to increase as Alzheimer's becomes an increasing problem for an ageing UK population.

Professor Mike Hutton, chief scientific officer for neurodegenerative diseases at Lilly UK said:- "The availability of Amyvid in the UK is an important step towards helping patients. A negative scan can help rule out Alzheimer's disease as a cause of cognitive impairment, which is an important part of avoiding potentially inappropriate or even harmful treatments."

The first patients to be referred for the scan at the Royal have been recommended by 5 Boroughs Partnership NHS Foundation Trust.

Prof Vinjamuri and his team in nuclear medicine at the Royal will get feedback from the team at 5 Boroughs three months after a patient has been scanned to establish how useful it proved.

Ashley Baldwin, director of medical education and a consultant in later life psychiatry at 5 Boroughs, said:- "The Trust is committed to being at the forefront of the fight against Alzheimer's Disease and has a long tradition of supporting the development of preventative treatments. Equally critical is work that enables the early diagnosis of this often debilitating and distressing condition so that people can be supported to make choices about their future care in order to live independently as possible. We are proud to be working in partnership with Royal Liverpool and Broadgreen University Hospitals NHS Trust to deliver this ground breaking new test to patients in the heart of Merseyside."
Greens celebrate local elections success across the region
THE North West Green Party are celebrating after winning all of its target seats in the local elections. The regional party gained council seats in Liverpool, Wirral and Lancaster.

In Liverpool the Greens doubled their councillor numbers to four and are now the official opposition on Liverpool City Council. In Wirral, Pat Cleary gained the party's 1st council seat, in Birkenhead and Tranmere, with 48% of the vote. In Lancaster the Green Party gained 2 City council seats. New councillors, Abi Mills and Jack Filmore, bring their total to 10 of the council's 60 seats.

In Liverpool, St Michael's ward is now represented by 3 Green councillors. New councillor for St Michael's, Tom Crone, won with a majority of 1052 votes. In Liverpool's Greenbank ward the Greens gained their 1st seat with Lawrence Brown winning a majority of 367.

In Manchester the Green Party gained the 2nd highest City wide vote share, making them the most popular opposition party. Green Party candidates came 2nd in many wards. In Salford the Green Party vote doubled.

Kendal Green Party, which has only been active for a few months, gained a 20% share of the vote in its target ward of Kendal Fell. The Party came second in three of the Kendal wards in South Lakeland District Council.

North West Green Party's Regional Co-Ordinator, Emily Heath, said:- "We're delighted that we won all of our targets in the North West. It shows that when we target our resources, and engage with people in those communities, they put their trust in us to represent them. In Liverpool we have doubled our councillor numbers, with large vote shares, and will now be the official opposition on the council. We've been very close to winning in Birkenhead at previous elections and it's fantastic that we made the breakthrough this time. Across the region we've seen an increased level of support for the Green Party."