Free school meals at the click of a mouse
PARENTS and carers in Liverpool who think their children could be entitled to free school meals can now do so at the click of a mouse. Yes, Liverpool City Council's Benefits Service has introduced a new online application and eligibility checking service. It's quick, easy and those who apply receive instant confirmation. Free school meals are worth up to £3 per day; or a tasty £390 per year. As well as boosting young people's health and helping cash strapped families, registering also helps boost schools' coffers; regardless of whether pupils have a meal or not. Under the Government's Pupil Premium model, school funding is based upon the number of pupils that are eligible; so if more families register, schools can benefit to the tune of thousands of pounds. Each primary school gets £1,300 per pupil, at secondary level it is £935 and if a young person is looked after looked after or adopted it is £1,900 per year. Councillor Jane Corbett, Cabinet member for education, said:- "It's vital that our young people eat a good, healthy meal during the school day and we know that some parents and carers aren't aware they are eligible. On a day to day basis, it can help improve concentration and learning, and in the longer term it helps young people develop into healthy, happy young adults. Modern school menus are healthy, nutritious and tasty, with a wide range of choice, and we don't want any young person to miss out. At a time when food bills are rising and benefit entitlement is being reduced, it is crucial that families do claim if they think they might be eligible. Most schools operate systems where no-one knows who is paying and who isn't, so other pupils won't know your child is getting free meals. It also provides a financial boost to schools, because they get additional cash for teaching each pupil that gets a free school meal." To apply, log on to:- liverpool.gov.uk/free-school-meals.
Are Merseyside Fire Stations to close "even more regularly" as service refuses to pay firefighters nationally agreed rate?
THE refusal of Merseyside Fire and Rescue Service to pay the nationally agreed rate for overtime will ensure that local Fire Stations will close for even longer periods of time, firefighters have said. The Fire Brigades Union has revealed that after a decade of cuts, local stations are already regularly closing for long periods on an almost daily basis, but the Union says staff shortages provoked by the pay reduction will dramatically worsen the situation. Negotiations between local Fire Brigades Union officials and Merseyside Fire and Rescue Service ground to a halt this week after 18 months when employers walked away from discussions and said they would unilaterally impose a ⅓ cut in overtime payments. Mark Rowe, Brigade Secretary for the FBU in Merseyside, said:- "Are Merseyside firefighters worth less than our colleagues elsewhere in the UK? The Fire Service is paid for by the public and the public demands that their Fire Engines are available 24/7. In this time of austerity, we understand the constraints local Fire Services are under, but the Fire Service should not prioritise saving money over saving lives." The FBU says that by 2016 firefighter numbers in Merseyside could have fallen by almost half in just over a decade from 1,200 to 680, and that Fire Stations in Kensington, Crosby, West Kirby, Allerton, Whiston and Aintree had all experienced closures as a result of staff shortages. For the last 18 months, firefighters have been working overtime at the reduced rate as a "goodwill gesture" to prevent stations being closed, and had offered to continue the arrangement during their suggested 30 extension of discussions. The FBU had hoped that any agreement could then be backdated for that period, but the Fire Service has now said that it will "never" abide by national agreements on pay. As a result, local union officials voted to reject the Service's proposals at a meeting last week, calling the service's decision:- "ideologically driven" and "unnecessary." The Union also said that:- "as well as working overtime for flat rate; local firefighters had recently agreed to a change in shift patterns, agreed to implement those shift changes immediately and as a consequence 'nearly doubled their productivity' as a result of such a rapid reduction in staffing."

Go over the Edge to Eradicate Poverty!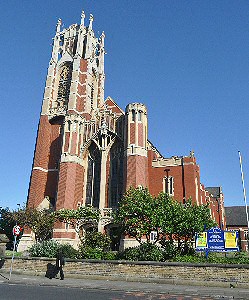 GET sponsored to go over the edge in this fun abseil and help to end poverty. By taking part in the Christian Aid Abseil in Southport on the 28 June 2014, you will be making a difference to the lives of some of the world's poorest communities. 2 of the local Scout leaders taking on the abseil will be facing a slightly different challenge than usual as they swap camp craft for heights. Laura Monahan has been a scout leader at 1st Ainsdale scout group in Southport for 5 years. Laura, along with many other leaders volunteer on a weekly basis to help change young children's lives and make a positive impact on the community. Laura has seen the big difference that scouts can make in the community, which has been long lasting. It is for this reason why Laura has decided to help raise money for other charities as well as the scouts to help people wherever she can. Laura has never done any fundraising for Christian Aid before, but after finding out about the abseil at Holy Trinity Church and researching the charity, Laura has been very impressed by what they do. Another Scout leader, Mark Furness, will also be joining Laura.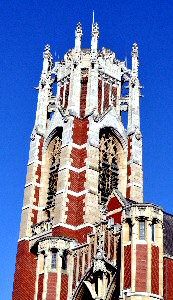 Laura said:- "I want to encourage people to do their bit for charity and what's better than promoting 2 charities at the same time? I apologise for the residents of Southport if you hear a scream on Saturday, 28 June 2014!"

Money raised will go towards helping people like Anoon Aleu, who faced a challenge of survival and fled her community in South Sudan when militias set fire to her house, killing most of her family. Christian Aid's partner Hope Agency for Relief and Development (HARD) heard about the family's desperate situation and provided them with protection, basic equipment and the money to build a brick home. She says:- "We can now live together safely. We can now begin to forget." Anoon's challenge was overcome with help from Christian Aid and our partners. North West Regional Coordinator, Eirlys Jessop, highlights the huge benefit of this event:- "Raising funds for the survival of people all over the world is pivotal. The difference it makes is evident and this event is a fantastic opportunity to face and enjoyable challenge whilst helping others in similar situations to Anoon. Give it a go and make a difference!" So ask yourself... "Do you like a challenge? Want to make a difference?" If "Yes!" Then why not challenge yourself with this abseil and do something different this June? If this has inspired you, sign up now to secure your place! The abseil will take place on Saturday, 28 June 2014, at Holy Trinity Church, Hoghton Street, Southport. Registration fee:- £15 and Minimum sponsorship: £60. Places are limited and allocated on a 1st come, 1st served basis. If you would like further information please contact Holy Trinity Church, Southport. Also more details are on:- christianaid.org.uk and on:- actalliance.org.