ChildLine says:- "thank you" to its 'Volunteer Heroes' in Liverpool and calls for more local people to get involved
2 Liverpool volunteers are among a number of people being recognised as Volunteer Heroes during Volunteers' Week that ran from 1 June to 7 June 2014 for their efforts to support the ChildLine Schools Service. Both Ann Moore from Grassendale and Pat Boyle from Allerton in Liverpool are active volunteers for the ChildLine Schools Service volunteers and are just 2 of more than 10,000 plus team of people who regularly undertake a wide range of activities on behalf of the charity.

ChildLine is now appealing for more local people in Liverpool to come forward and volunteer for the Schools Service which aims to help younger children's understanding of abuse and how they can stay safe. By using assemblies and workshops delivered by trained volunteers ChildLine helps children recognise situations where they may need help and tells them how to access support, and all sessions are sensitively tailored to ensure topics are covered in a way which is age appropriate.

Retired grandmother of three Ann Moore has been volunteering her time as for the ChildLine Schools Service for the last 12 months. Commenting on her volunteering role for the service, Ann, 59, said:- "After a long and happy carer working in the education sector, I was looking for a volunteer role that would keep me in touch with schools, but also give me the flexibility to spend more time with my family, so getting involved with the ChildLine Schools Service was perfect. Throughout my career I have been passionate about ensuring the welfare and wellbeing of children, and this service helps do just that, by educating children about the issues of abuse, and how they can keep themselves happy and safe. Being a volunteer is a very rewarding use of my time. I love going into the schools and working with the young people, helping them think, reflect and respond honestly and sensitively when taking about different forms of abuse. The role is flexible, you don't have to be tied down to a particular time or day of the week, so its fits in with other commitments, and we get full support and training from ChildLine throughout. I enjoy being part of the volunteer network, making new friends learning new skills, delivering important messages to children and helping make a difference. To anyone thinking about it I would say get in touch with ChildLine; you'll find it really worthwhile."

Another volunteer from Allerton is Pat Boyle, a 63 year old retired pharmaceutical hospital sales executive who has been volunteering for the ChildLine Schools Service for the last eight months. Pat said:- "As a volunteer for the ChildLine Schools Service I visit primary schools and present assemblies and workshops to children in years 5 and 6 in order to help children understand the issues of abuse, making children aware of what is okay & what is not okay. I believe every child should have a voice and all children deserve to be happy and safe, so I'm pleased through this role I can help make a difference to some children's lives. I would encourage anyone to get involved in volunteering; not only do I enjoy the interaction with the children; I have learnt a great deal, have fantastic training and support from the ChildLine team and also have lots of fun!"

ChildLine Area Co-ordinator in Liverpool, Helen O' Sullivan said:- "Our volunteers really are heroes to us and more importantly to the children that we work to protect, and so we wanted to celebrate them and the fantastic things that they do to make our work with vulnerable children possible. Ann and Pat's support has been invaluable and we would like to appeal to other local people to become ChildLine Schools Service volunteers."

To find out more about the volunteering opportunities with the ChildLine Schools Services, contact Helen O' Sullivan, ChildLine Schools Service Area Coordinator for Liverpool via:- email.

The service are also looking for primary schools interested in hosting an assembly and workshop to get in touch. Please visit:- nspcc.org.uk/schoolsservice or contact Helen O' Sullivan if you would like to chat about the Schools Service coming into your school.

Helen added:- "Even if you're not able to become a Schools Service volunteer, but you can spare maybe an hour a month, or even just one day to help the NSPCC, we would love to hear from you. We have numerous volunteering opportunities ranging from helping at a collection in your local shopping centre, to taking part in the London Marathon, or becoming a volunteer driver at one of our centres; however you can help, please do get in touch."

The ChildLine helpline in Liverpool are also on the lookout for volunteers to support children and young people either by phone or via its online service and the base on Great Homer Street are calling on people to give up their time to help children by becoming a ChildLine counsellor. They are hoping to double the number of volunteers so more children's cries for help can be answered.

Stephanie Kelly, ChildLine volunteer coordinator in Liverpool said:- "A child can feel even more alone if they have plucked up the courage to contact ChildLine and can't get through. More counselling volunteers are urgently required in Liverpool to help ChildLine reach more children and young people who are in need of help and support. "

Children contact ChildLine about a wide range of issues including bullying, sexual and physical abuse and breakdowns in family relationships. Counselling volunteers offer free confidential advice and support to these children 24 hours a day, either over the phone, by email or via one 2 one chat. They help children, listen to the child and offer advice and support that is relevant to them. They also help children talk through their problems and encourage them to speak to someone they can trust.

Stephanie continued:- "We're looking for people who genuinely care about children and young people, are open minded, non judgemental and respectful, can listen to distressing and painful feelings and problems. ChildLine is a lifeline for many children who have nowhere else to turn so we must make sure we have enough volunteers to answer every child who contacts us. To find out more about the volunteering opportunities at the ChildLine base in Liverpool, please visit:- nspcc.org.uk/volunteer or contact ChildLine in Liverpool on:- 0207 456 7724."

During 2012 to 2013, the NSPCC's 10,000 volunteers achieved some amazing things for the charity:-

► 1,332 ChildLine volunteers answered more than 1.4 million contacts from children and young people.

► 22,142 children and young people took part in activities, including staff recruitment, government consultations, and writing for the media.

► 7,000 volunteers raised more than £4m by staging local events and activities.

► 2,800 people gave up their time to run, cycle and trek for children, and raised £2.7m in the process.

► 500 volunteers did everything from cheering on our participants in running events to giving our London Marathon runners a post race massage.
Can you help the investigation into a fatal RTC on the Perimeter Road, Bootle?
MERSEYSIDE Police are asking for an off-duty doctor to come forward who officers believe may have vital information about a fatal road traffic collision in Bootle in the early hours of yesterday, Sunday, 1 June 2014. The incident happened on the Northern Perimeter Road, around 0.20am to 0.30am. Emergency Services attended and found a 19 year old man who was being cared for by an off duty Doctor who left before patrols had an opportunity to speak to him. Sadly the 19 year old was pronounced dead by paramedics a short time later. Subsequently, a 23 year old man from the Bootle area voluntarily attended at a Police Station. He was then arrested on suspicion of causing death by dangerous driving. They also added that a 23 year old man, from the Bootle area, was arrested on suspicion of causing death by dangerous driving has since been released on Police Bail pending further enquiries. Merseyside Police said on the last update we have had on this RTC that:- "It's believed that the 19 year old had been in collision with a car which failed to stop at the scene. Officers from Merseyside Police believe that the Doctor may have information which could help with their enquiries and are appealing to him to get in touch. This person, or anyone else with information about the incident, is urged to call officers from the Matrix Serious and Organised Crime Roads Policing Unit on:- 0151 777 5747 or via the Police Non-Emergency:- 101 number. An investigation to establish the full circumstances surrounding the incident is continuing."

Just 2 weeks Until the Art Prize Winner is announced!
Photographs on this report by McCoy Wynne.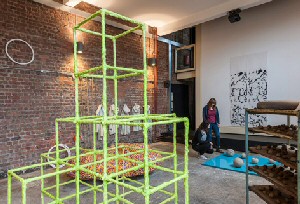 IT is now only 2 weeks until this year's Liverpool Art Prize winner is announced, which will take place at a special awards ceremony on Thursday, 18 June 2014, at Edge Hill Station, in which one finalist will walk away with the main prize of £2000 and an invitation to create a solo exhibition at the Bluecoat in 2015.

Returning to the City for its 7th successive year, the exhibition opened on 9 May 2014, at Edge Hill Station and is running until 21 June 2014; presenting work of the 3 shortlisted finalists Brigitte Jurack, Tabitha Jussa and Jason Thompson.

Managed by Metal, the Art Prize celebrates and nurtures the creative talent of artists based or born in the Liverpool region and each of the finalists have created new work in response to being shortlisted for the prize.

Wirral based Brigitte Jurack's sculptures and installations seek to trigger memories of being, in place and in time. For her entry she has prepared a new body of work named:- 'The Explorers Are Gone for Tea'. In this work, her interest in orienteering, map reading, interpretation and re-evaluation will be played out.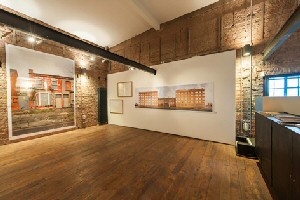 Tabitha Jussa's socio political photographic work has captured match day crowds and abandoned social housing estates. Her recent large scale compositions examine whether physical spaces and buildings define who we are.
For the Liverpool Art Prize she presents us with three large scale photographs of high profile, controversial examples of regeneration projects to highlight the triumphs, failures and short sightedness within society of the treatment of people and place.

The final entry, Jason Thompson's paintings take inspiration from mechanical, botanical and anatomical diagrams. Their repetitive patterns are made by copying, mirroring and echoing other parts. Structures are formed by this feedback process and it is as though the painting begins to paint itself, like a natural evolutionary process.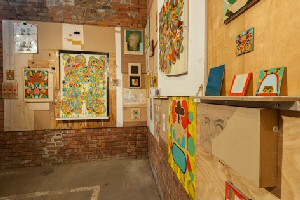 Each competing for the coveted main prize of £2000 and an invitation to create a solo exhibition at the Bluecoat in 2015, the winner is selected by a panel of expert judges:-
► Pavel Büchler, a Czech born, UK based artist, teacher and occasional writer, Francesco Manacorda, Artistic Director of Tate Liverpool.
► Simon Poulter, new media artist and Metal's Associate Curator.
Visitors will also get the chance to vote for their favourite piece resulting in a People's Choice Award of £1000.
There will be a special awards ceremony on 18 June 2014, announcing the winners.

Last year (2013) Tabitha Moses became the 1st artist to win both the People's Choice and the overall prize in the same year. She will be presenting a solo exhibition of her work at the Walker Art Gallery during 2014.

Metal are also delighted to announce a fantastic opportunity for artists to win residency opportunities:-
► The 1st being a yearlong studio residency at Metal's Edge Hill Station open to any UK based artist.
► The 2nd, a month long residency to China in partnership with Shanghai Art School which is open to any North West based artist.
The closing date for both applications to be considered is 6 June 2014, and the lucky winners will be announced at the awards ceremony on 18 June 2014.
Application details are available on Metal's website. Also more information can also be found at:- liverpoolartprize.com.
Freshfield wins Merseyside Pub of the Year for the 2nd time!
THE Freshfield on Massams Lane in Formby has been named for the 2nd year in a row, the Merseyside pub of the year by the Campaign for Real Ale (CAMRA).

Managers Steve Gregory and Simon Cox and their team, won the accolade thanks to positive feedback and reviews from CAMRA members who are customers of the pub. The pub was acknowledged for the team's friendliness and knowledge and its welcoming atmosphere.

"The Freshie" has now been awarded seven CAMRA awards; most recently, the Southport and District pub of the year and it is now in the running to win the Merseyside and Cheshire pub of the year. If successful, it will make its way into CAMRA's top 16 pubs in Great Britain.

The Greene King pub is renowned for having one of the largest cask ale bars in the region, with 14 beers on tap every day, combining Greene King's quality cask ale brands with other interesting and exciting brands from all over the country. From 21 July to 27 July 2014, Steven and Simon will be celebrating their 2nd anniversary at the Freshfield with the pub's biggest beer festival to date, showcasing over 100 beers during the week.

CAMRA's regional chairman for the North West, Ian Garner and Stockport chairman, Doug Macadam are to visit the Freshfield to congratulate the team and present them with a certificate on Tuesday, 10 June 2014.

Steve Gregory, joint manager of the Freshfield, said:- "To win CAMRA's Merseyside pub of the year last year was such an honour, but to win it 2 years in a row makes Simon and me so very proud. We try to keep customers happy by ensuring we introduce new micro-breweries onto the bar, as well as keeping our bar current. We started to serve craft ale this year and were one of the first Greene King pubs to stock the brewery's brand new craft ales. As ever, it is our team and customers we must thank; without them, we simply could not keep doing what we do and enjoy it so much."

Jonathan Webster, managing director for Greene Local Pubs, said:- "Receiving CAMRA's Merseyside pub of the year award is an excellent achievement for Steve, Simon and the team at the Freshfield. It is very important to us that our customers receive excellent value, service and quality and it is great when our teams are recognised for providing this. The team should be very proud of themselves and the awards they have received in such a short time."