North West men oblivious to prostate cancer danger as they fail to recognise major risk factors for disease
2 in 5 men in the North West are unaware of all 3 of the major risk factors for prostate cancer and could be failing to have vital conversations with their GPs about their risk of the disease according to new research from the health charity, Prostate Cancer UK. It means thousands of men may miss out on being diagnosed at an early stage, when treatment for the disease is most effective.

Men at increased risk of prostate cancer include men with a family history of the disease in a father or brother, men over the age of 50 and black men. The disease kills over 1,100 men every year in the North West and over 4,400 are diagnosed with the disease in the region. The majority of early cases are symptomless, and a lack of accurate tests for life-threatening forms of the disease means there is no national screening programme. As a result, speaking to a health professional about your risk is a man's chief defence against it.

Alarmingly, the survey (i), conducted by YouGov on behalf of the charity, showed that 2 in 5 (39%) men in the North West are not aware of any of the known risk factors which could increase their chance of developing prostate cancer. And in the region, three quarters (75%) of all men admit that even if they were aware they had a higher risk of getting cancer than the average person but didn't have any symptoms, they wouldn't speak to their GP about it...

Owen Sharp, Chief Executive of Prostate Cancer UK, which launched its flagship Men United v Prostate Cancer campaign earlier this year in a move to engage men in the fight against their shared risk of prostate cancer, says:- "Black men, men who are over the age of 50 or those with a family history of the disease, must wise up to the cruel fact that they face a higher than average risk of prostate cancer than other men. They need to know this so that they can instigate potentially life-saving conversations with their GPs about the next steps. This isn't happening and as a result men are walking around like ticking time bombs, completely oblivious to the danger they face."

However, the problem doesn't just lie with a lack of awareness of risk. Existing diagnostic tests can be inaccurate, meaning that on one hand, some men receive unnecessary biopsies, while on the other the tests available may fail to detect lethal cancers. In addition, there is no way to easily distinguish between deadly and harmless forms of the disease at the point of diagnosis.

In response, Prostate Cancer UK wants to transform the way that risk is calculated so that the most vulnerable can be diagnosed early enough to survive, whilst those at low risk are spared invasive testing or sometimes unnecessary treatments which can have life changing side effects. Today, the charity announces plans to fund research that it hopes will revolutionise the diagnosis landscape. Calling on its growing Men United network, it is raising funds to develop a new tool for GPs to calculate a man's overall risk of prostate cancer and to determine what tests he needs to undergo.

Sharp continues:- "The inaccuracy of the current diagnostic process and its inability to distinguish between aggressive and non aggressive forms of the disease means that GPs face an ongoing challenge in deciding whether or not a man should be tested. Should they risk missing a man's cancer altogether, or put him through invasive procedures? There's a desperate need for a simple and effective tool with which GPs can assess a man's overall risk to guide whether he should undergo further tests. In the run up to this Father's Day we are calling on everyone to support Men United by helping to revolutionise how we detect the most common cancer in men. Father's Day is an ideal time to talk about this 'dad's disease' and risk. Ask the serious question; 'How's your father' this Father's Day and you could help him save his life."

Men United Gaffer, Bill Bailey, the face of the campaign says:- "It may have escaped your notice, but Father's Day is almost here. And that's as good a time as any to remind ourselves that prostate cancer kills over 10,000 men in the UK every year. Not just dads, but brothers, granddads, sons, uncles and nephews too. So we've put a team together to beat it. Men United. Since kick off in January, nearly 200,000 people have signed up. Join them and join the fight, and help fund essential research to find a way to calculate every man's risk of getting a disease that kills one bloke every hour. So go on, help score Men United's 1st win and give a Father's Day Fiver. Score a real win today."

The charity is launching the latest wave of its Men United campaign, which has built urgency and momentum around prostate cancer. The activity will be running for 2 weeks in the run up to Father's Day. As well as fundraising it will also aim to heighten awareness of known risk factors so that men can start managing their risk today.

Anyone with concerns about prostate cancer can call Prostate Cancer UK's confidential Helpline on:- 0800 074 8383 or visit:- ProstateCancerUK.ORG. The helpline is free to landlines, staffed by specialist nurses, and open from 9am to 6pm, Monday to Friday, with late opening until 8pm on Wednesdays.

Fact file:- Information about the survey was gained via figures are from YouGov Plc. A total sample size was 2864 adults, of which 190 were men from the North West. Fieldwork was undertaken between 13 January and 4 February 2014. The survey was carried out online. The figures have been weighted and are representative of all UK adults (aged 18+).

Additional stats quoted about is from National Cancer Intelligence Network (NCIN), UK Cancer Information Service (UKCIS), accessed June 2013, Cancer Mortality in Males, ICD10 C61 - Prostate, 2009 to 2011. and also from UK Cancer Information Service (UKCIS), accessed June 2013 study, Cancer Incidence, Males, ICD10 C61 - Prostate, 2008 to 2010.

Merseyside Media Business Wraps Up Santander Bus Campaign for IFB!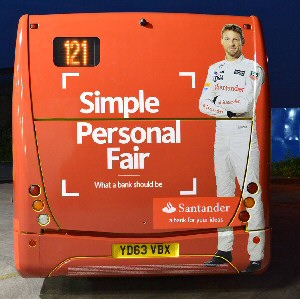 SOUTHPORT based PSV Media have just sealed a deal to promote banking giant and key festival partner of the International Festival of Business, Santander across major City Bus Routes. The campaign set to begin this week, will see a high profile fleet of fully wrapped buses zipping around the City centre and surrounding areas during the ground breaking 50 day festival. Agents for the Santander brand approached local business PSV Media for the campaign to enhance the sponsorship of the festival and support their overall strategy to become the SME bank of choice. Paul Lyon, PSV Media Managing Director said:- "The deal provides an important addition to the Santander sponsorship strategy and we are delighted that they chose to select a local company. The campaign creative looks great, we are delighted that they are on board and look forward to seeing the successful results that the Festival and campaign will bring."
Masts, music and Mersey merriment
LIVERPOOL'S hugely popular maritime festival is just days away and offers a packed programme of fabulous free family fun. The International Mersey River Festival and Music on the Waterfront take place from Friday, 13 June to Sunday, 15 June 2014, and will see tens of thousands of people head to the waterfront. Highlights include a fleet of vessels which will be open for visitors to explore at set times across the weekend; these include 2 year old naval vessel HMS Dauntless, the Tall Ship Mercedes, tug Daniel Adamson, historic schooner Kathleen and May, the University of Liverpool Research Vessel, the Border Force's customs cutter Vigilant and the square rigger Zebu. The Merseyside Adventure Sailing Trust will be bringing along four Tall Ships crewed by young people aged from 14 to 25 years who are learning all about life on the seas aboard the Lady of Avenel, Maybe, Pelican of London and 2041; The Yacht. On top of that there will be around 12 Dutch barges to admire as part of a special rally that will see the largest convoy on the Leeds to Liverpool canal for many years. Walking tours, Yakovlev Air Shows, model boat displays, flyboarding, Zap Cat racing, 'Have A Go' water sport sessions, the 25th International Canoe Polo Tournament, a special Brouhaha parade, field gun displays… there really is something for everyone! And if that wasn't enough, live music across the weekend will provide the perfect soundtrack thanks to the Music on the Waterfront line-up. Starting on Friday evening with a homecoming DJ set from Craig Charles, there will be performances across the weekend from The Christians, Rhydian, Jaki Graham, Esco Williams, the Band of HM Royal Marines Scotland and Rat Pack Live. Russell Watson will also perform as part of the River Festival itself, on board Tall Ship Mercedes. For the full programme of all events, times and locations, and to download a copy of the brochure on the event's website.

Assistant Mayor and Cabinet Member for Culture and Tourism, Councillor Wendy Simon, said:- "Liverpool excels when it comes to putting on events, but there is always something special about those activities which focus around our docks and on the River Mersey. There is a packed programme of events across the weekend which will bring our beautiful waterfront to life and we're expecting thousands of visitors to descend and make the most of everything on offer. There is so much going on, that whether you're a maritime fanatic, music fan or generally just looking for a great couple of days out; the International Mersey River Festival is the place to be. And best of all, it's completely free."

Peter Cronin, director of development and marketing for Albert Dock Liverpool, said:- "The Mersey River Festival is one of the city's great success stories, and once again Albert Dock Liverpool is delighted to be working closely with the City Council to create a truly spectacular event. We look forward to being at the heart of the action and to welcome people from all over the world to experience our historic waterfront at its very best."

There are still a few spaces left for the raft race on Sunday, 15 June 2014, which will see groups of friends, families, work colleagues or community groups build what they hope will be water worthy rafts, don eye catching costumes and be part of one of the most entertaining events of the festival.
To register to take part, or for more information, email the race organiser Major Mike Jessermino.