Replica Cannabis Farm set alight to demonstrate danger to the Public
A live demonstration of a Cannabis Farm hidden in a house, catching fire due to criminals tampering with the electricity and putting neighbouring family homes at risk has been conducted by Merseyside Police, Merseyside Fire and Rescue Service and Crimestoppers.

The demonstration took place in a specially built area, replicating a room in a house, where a sophisticated cannabis farm has been set up, then catching fire as a result of the dangerous wiring used to bypass the electricity meter.

This was done to show how quickly the fire can take hold, and the risk to others, as the extensive damage of a fire like this will quickly jeopardise the lives of anyone who lives in neighbouring homes.

The emergency services hope the graphic demonstration will hit home the message that it is in everyone's interests to report these dangerous and illegal drug factories and not allow criminal gangs to profit from putting innocent lives in danger.

The move comes as part of the National crime fighting charity Crimestoppers joins forces with the Police and Fire and Rescue Service, to educate people about the tell tale signs of a cannabis factory operating where they live, along with to report it anonymously. Last year's campaign led to a 28% increase in reporting to Crimestoppers.

Thousands of scratch and sniff flyers are being posted through people's doors and handed out in hotspot areas where someone can smell what grown cannabis, as opposed to cannabis smoke, is really like.

New figures, released by Merseyside Fire and Rescue Service show that between 1 January 2011, and 31 December 2013, firefighters extinguished 73 fires involving cannabis farms, including 46 in Liverpool resulting in 6 people being rescued by firefighters. Of the 73 fires, the ignition source for 19 of them was the electricity supply including wiring, cabling, plugs, batteries, generators and apparatus. 8 of these fires were due to electrical lighting being the ignition source. During that time period, in non-fire-related incidents, Firefighters discovered cannabis at 23 different locations they attended between 1 January 2011 and 31 December 2013. Also between 1 January 2014 and 31 May 2014, firefighters in Merseyside attended 12 locations where cannabis was located, including 8 fires that were extinguished by fire crews.


Detective Chief Superintendent Paul Richardson from Matrix Serious Organised Crime, and who commands the Force's specialist cannabis dismantling team (the only dedicated team in the country), said:- "Cannabis is not a harmless drug and its production is large in scale and large in profit here in Merseyside as well as elsewhere in the country. The quantities that it is being grown in here means it is rarely people doing it to feed their own casual habit; it is organised criminal gangs who are setting them up and controlling them. This is bringing associated problems such as violent crime and gun crime to the streets of our communities as these criminals seek to steal each other's crops and money. We are determined to put a stop to this and we are discovering so many cannabis farms now that we have a dedicated team whose job it is to dismantle every one we find and capture the evidence the criminals leave behind. Sadly, these farms are being set up in residential areas where innocent people live and they are putting people's lives at risk. Cannabis farms are a serious fire risk in that the electricity meters are almost always tampered with to steal electricity, hot lamps will have been rigged up to simulate ideal growing conditions, and a watering system will also be in place. Electricty and water are never a good combination and these criminals care little about the people their crude handiwork may harm. There have been dozens of times recently where the fire service have been called to a house fire only to discover a cannabis farm alight inside and it is only thanks to their swift response that the fire has not spread to a house next door where innocent people live. The public can help us stop it reaching this stage by telling us where these cannabis farms are and who is responsible for them. The Crimestoppers campaign is an innovative way of spreading the message about the signs to look out for and how to report anonymously. I would encourage people to look at the damage a fire like this could cause if you lived next door to a drugs farm and do the right thing for your own safety and call the police or Crimestoppers."

Myles Platt, Merseyside Fire and Rescue Service Area Manager for Prevention and Protection, said:- "Cannabis farms and locations where cannabis is grown are simply dangerous. The farms and fires pose a great risk to members of the public and firefighters alike with many not have working smoke alarms in the properties or any means of fire detection. As a result of tampering with the electrical supply and tampering with the wiring installation, often by self taught 'experts', the supply to the property may not be properly earthed and the cabling not secured. This could cause metal items within the property to become 'live', posing a risk of electrocution to members of the public and firefighters and potential for getting tangled in the cables in heat and smoke. We have seen the number of fires at locations where there is cannabis increase from 18 in 2011 to 28 in 2013 and firefighters are regularly discovering cannabis farms at locations they attend."

The demonstration was based on a Fire that emergency services had been called to on Thursday, 5 June 2014. The photos on this report are the photos of the damage from that fire at a mid-terrace house, in a side street off Breck Rd in Anfield.

At that incident the Fire Service was initially on scene after receiving call from a neighbour reporting a house fire. Police alerted before cannabis farm discovered as MFS concerned there might have been people trapped inside (the house is a rented property that up until Xmas had been rented to a young family and before that an elderly gentleman). Fire extinguished in around an hour. Once firefighters went inside they discovered a cannabis farm in an upstairs bedroom. Fire had been so fierce that it burnt a hole in the floor boards, leading to fire and smoke damage in the downstairs living room.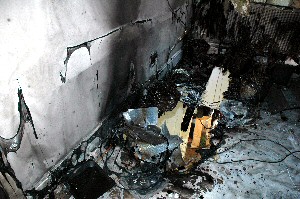 A Scottish Power Electrician embedded with Police's Cannabis Dismantling Team examined the meter and wiring and found it had been bridged, effectively rendering the electricity supplier unable to tell how much electricity was being used and allowing the criminal to use as much electricity they wanted, without it being detected. (its estimated that this theft of electricity amounted to tens of thousands of pounds if the farm had been in operation for 1 year)

A total of 130 plants were found in the house, including cannabis being dried in the bathroom, and grown in tubs in upstairs bedroom. Also in the property were 24 hot lamps and transformers and various fans and heaters.

130 plants are capable of producing around £1,000 worth of drugs per crop (12 week cycle). If the plant is then replaced with a new plant in the same space in the growing room, another £1000 worth of drugs can be grown. 12 week cycles means four yields per year. So a 130 plant sized farm could in theory, if it goes undetected, produce £520,000 worth of cannabis per year.

No-one has been arrested in connection with this crime, but investigations are still on going.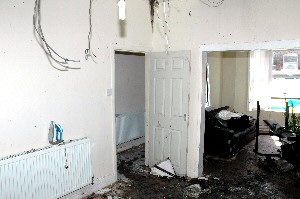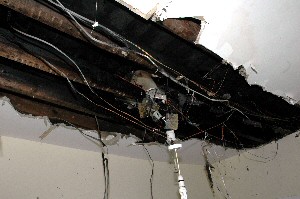 Other resent examples for fires started this ware are as follows:-

Firefighters found 51 cannabis plants after they were called to a fire in a flat at a block of flats. Merseyside Fire and Rescue Service was called at 6.21am, on Tuesday, 11 February 2014, to Jason Street, Everton. Firefighters wearing breathing apparatus extinguished the fire and searched the flat to make sure no one was inside. The fire was extinguished by 6.52am. The fire involved a flat on the 14th floor of the building. 2 fire appliances from Kirkdale Community Fire Station and 1 from Liverpool City Community Fire Station attended the call out.

Firefighters discovered around 100 cannabis plants when they were called to a fire at a property in St Helens, which had no smoke alarms. Merseyside Fire and Rescue Service was called at 10.30pm, on Monday, 27 January 2014, to a property in Morris Street, St Helens. By 11.12pm firefighters were ventilating the property and tackling fire hot spots in the building. 2 firefighters wearing breathing apparatus used a hose jet to extinguish the fire in a 1st floor bedroom. There were no smoke alarms in the building where the fire took place. The suspected cause of the fire was an electrical fault.

Firefighters have extinguished a barn fire and discovered a cannabis farm with around 100 plants. Merseyside Fire and Rescue Service was called at 9.32am, on 22 November 2013, to the unoccupied 2 storey barn at The Green, Raby, on the Wirral. When firefighters arrived they found the upper right hand floor involved in fire. The fire was extinguished by 10.42am and firefighters checked for any further fire spread and hot spots. Firefighters discovered a cannabis farm at the location. The suspected cause of the fire was accidental due to cannabis cultivation equipment.

Firefighters discovered a cannabis farm after being called to a collision involving 2 cars. Merseyside Fire and Rescue Service was called at 12.34pm, on Tuesday, 31 July 2013, to Rathbone Road in Old Swan. 1 of the cars involved in the collision had damaged a gas pipe on the exterior of a property. Firefighters used dammit paste to stem the gas leak from the damaged pipe and isolated gas supplies to two nearby flats. Firefighters also requested a structural engineer to check the building for damage. A gas engineer was also requested to attend. When firefighters entered a flat on the road to isolate the gas supply to the first floor of the building they found the cannabis farm, which included around 100 plants. Police were on scene and took charge of the location.

If you know or think you have seen a cannabis farm, please report it to Crimestoppers on:- 0800 555 111 or to the Police via:- 101 and help to keep our area crime free and safe.