A living wage for all can help rebalance our economy
THE Green Party has welcomed the Living Wage Commission's report, which calls for the government to pay public sector workers the living wage.

The Green Party considers a living wage for all; not just public sector workers; to be an essential 1st step on the road to a fairer economy, an economy that prioritizes people over corporations' profit.

The Living Wage Commission, an independent body bringing together business, Trade Unions and Civil Society, has today recommended that the government should pay its own workers a living wage. In 2014 the UK living wage rate stands at £7.65 an hour, and the London living wage is set at a higher rate of £8.80 per hour, to take account of the higher cost of living in the Capital. The national minimum wage currently stands at £6.31 an hour.

Natalie Bennett, Green Party Leader, said:- "The majority of people in poverty in the UK are now in working households. In-work poverty is a disgrace and the Coalition government cannot continue to bury its head in the sand and ignore this growing problem. We need to rebalance our economy so that it is not so heavily tilted towards corporate interests and the ultra-wealthy. We need jobs people can build a life on. While wages lag well behind the cost of living, as they do today, too many are struggling to buy everyday essentials, to make ends meet. A living wage for all would transform the lives of millions of people in low paid households. That's why Greens at all levels of government will continue to fight tirelessly to see a living wage for all instituted."

In Brighton and Hove, the Green administration introduced the Living Wage for its employees immediately after its election in 2011. It was one of the first Councils to do so, and is now Living Wage Foundation accredited. The Green-led Council, with the support of the local Chamber of Commerce, also set up a voluntary Living Wage Campaign to encourage businesses to pay their staff a living wage. More than 100 employers, large and small, have now signed up.

At a European level, Green MEPs including Jean Lambert (London), Molly Scott Cato (South-West) and Keith Taylor (South-East), are fighting for a directive on a European minimum income and Europe wide maximum pay ratios for any one company.

The Low Pay Commission's research shows that there are currently 712 employers across the UK accredited as paying a living wage.

According to YouGov polling 85% think companies, who can afford it, should pay their staff at least the Living Wage.
But as many have tried to point out, if you increases wages, prices go up and we will effectively price ourselves out of the international markets, thus loosing jobs and also yet another rise will be required.

YORKSHIRE BUILDING SOCIETY HELPS TO RESTOCK SOUTHPORT FOODBANK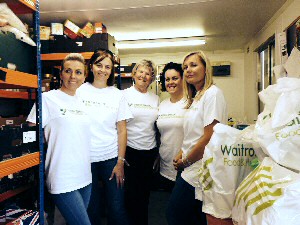 BUILDING society colleagues helped to restock the shelves at Southport Foodbank after generous branch members donated enough food to feed a whole family for a week.

For the past few weeks Yorkshire Building Society's Southport branch, on London Street, has been collecting tins of tomatoes, packets of pasta and cartons of long life milk for families in need. And on Saturday, 21 June 2014, a group of colleagues went along to the foodbank which is based at Lakeside Christian Centre, on North Promenade and part of the Trussell Trust national network of foodbanks.

The activity was part of Actionteering; the Yorkshire's volunteering scheme which allows every colleague 14 hours' paid leave to help out a local charity or good cause.

Joanne Delooze, Customer Consultant at the Southport branch, said:- "The Southport Foodbank is a very deserving cause and helps a lot of families who without its support would go hungry. I would like to thank everyone who came into the branch to donate food. We managed to collect a good amount of food which will make a huge difference to a lot of people. We also spent time meeting volunteers at the foodbank and helping to process the food and pack parcels for individuals, small families and large families."

In the past 12 months Southport Foodbank has provided 3 days of food to more than 3,000 adults and children who have been referred by more than 85 different agencies. There are 7 foodbanks around the Southport, Banks and Formby areas with Lakeside acting as a central hub. Last year the Yorkshire also donated £100 to Southport Foodbank during Make A Difference week.

"Southport Foodbank was pleased to receive the kind donation of food from Yorkshire Building Society, enough to feed one of our clients for a week. Without the support of national organisations such as the Yorkshire, together with local businesses, churches, community groups and individuals we would not be able to reach out to those in our community who are suffering from food poverty." said John Sullivan, manager of Southport Foodbank.