"Top 10 for Number 10" - A Public Health Manifesto developed in the North West
THE 1st Manifesto for Public Health has been developed by Directors of Public Health in the North West.

The public health manifesto called:- "Top 10 for Number 10", will raise awareness of important public health issues, both nationally and in the North West. This document can be used as a constructive evidence based aid to policy development locally and nationally in time for the development of cross party political manifestos ahead of the General Election in May 2015.

Not only will the document be used to help leaders from across the political spectrum to understand important public health priorities, but it will be used locally to shape public health work in the North West now and for the future. Local members of the community, groups and local politicians are also being asked to get involved and put their name behind these priorities.

Abdul Razzaq, Chairman of the North West Directors of Public Health Group (NWDsPH) said:- "We have a real chance now to help our political leaders understand and make plans to tackle these important public health issues, issues that really affect every one of us in the North West. But, we aren't only asking politicians in the Capital to read and sign up to this document, all of us within our communities; individuals, groups and our local politicians, now have the chance to help us have an impact on the public health agenda locally and nationally. Hopefully the information and quite frankly, startling statistics, should result in some interesting conversations starting."

The public health manifesto contains the ten highest priorities as identified by the North West Directors of Public Health, supported by a summary of the evidence around each issue.
"Top 10 for Number 10" includes priorities that look at the whole public health spectrum, from food packaging and marketing to children to raising the living wage and tackling personal debt.
The full list of ten priorities can be seen here:-

► Introduce a minimum price of 50p per unit of alcohol to tackle alcohol related harm.

► Introduce a sugar sweetened beverage duty at 20p per litre to reduce poor dental health, obesity and related conditions.

► Commit to the eradication of childhood poverty to meet targets set by the Child Poverty Act 2010.

► Work with employers to increase payment of the living wage to benefit both businesses and employees, and introduce a higher minimum wage.

► Ban the marketing on television of foods high in fat, sugar and salt before 9pm to reduce children's exposure to unhealthy food advertising.

► Implement the recommendations contained within the "1001 critical days" cross party report to ensure all babies have the best possible start in life.

► Implement tougher regulation of pay day loan companies to prevent people ending up with unmanageable debts

► Require all schools to provide a minimum of 1 hour of physical activity to all pupils every day in line with UK physical activity guidelines for 5 to 18 year olds.

► Introduce policies to encourage active travel and use of public transport to increase physical activity, reduce emissions, increase road safety and reduce pollution.

► Require compulsory standardised front of pack labelling for all pre-packaged food and beverages (including alcohol).

Abdul Razzaq continued:- "We know these are tough challenges but we cannot ignore them, or let this chance to raise awareness with our political leaders pass us by. We really need the public, local groups and our local politicians to get behind these priorities and help us make changes needed to make a difference."  

'Top 10 for Number 10' - A Public Health Manifesto was launched on 1 July 2014, at the Festival of Public Health UK hosted by Manchester University. The Manifesto is available to download and people can also sign up to support the priorities by clicking on here.

Awarded Top Performing Hotel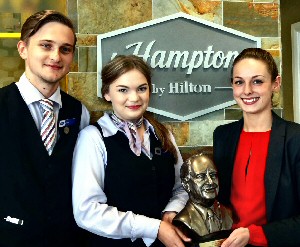 HAMPTON by Hilton, by Liverpool John Lennon Airport has received its 2nd award of the year, having been recognised by Hampton Hotels as its top performing property in the UK for its excellence in service and growing customer loyalty with the prestigious Connie Award. The Connie Award is named after Hilton Worldwide's founder Conrad Hilton and winners are selected based on their Total Quality Scorecard (TQS), the hotel's loyalty score via SALT (Hilton's Satisfaction and Loyalty Tracking) and the quality assurance (QA) score. The successful properties receive a monetary award to host a celebratory event for Team Members and a trophy, which will be displayed in the lobby. This latest award follows news earlier this year that the hotel was voted the UK's number one Airport Hotel by customers of LateRooms.com, the UK's leading hotel booking specialist. Katie Park, deputy general manager, Hampton by Hilton Liverpool/John Lennon Airport, said:- "We are honoured to be recognised by Hampton Hotels with the Connie Award. Our team works each day to spread 'Hamptonality' to our guests by providing excellent customer service. It is because of that commitment we are able to accept this award." Hampton by Hilton fosters a unique culture of hospitality; called:- 'Hamptonality,' a term that describes each hotel's approach to friendly customer service, anticipating guests' needs and providing travelers with helpful suggestions about area attractions, historical facts and fun things to do around town. Robin Tudor, Head of PR for Liverpool John Lennon Airport added:- "Hampton by Hilton Liverpool/John Lennon Airport is a tremendous asset for the Airport, giving passengers all the convenience of being able to stay onsite at the Airport in high quality accommodation with excellent service and at tremendous value for money. It's no surprise to us that they have won this latest award, knowing the levels of positive feedback from our passengers when they stay here."
Chancellor unveils over £39 million of new science and transport funding for Liverpool
THE Chancellor of the Exchequer, the Rt. Hon George Osborne MP, will visit Liverpool today to announce a package of measures to support the city's science and transport infrastructure. He will reveal that the University of Liverpool and Liverpool John Moores University have been successful in their bid to create one of four University Enterprise Zones, with £5 million match funding from government.

The £15 million facility will house and support new high tech businesses around 'sensor technologies'. Sensors are the crucial link between technological devices and the world around them, capturing data on a whole host of areas such as temperature, humidity and pressure. They can be used in everything from home security systems to medical technology and high value manufacturing. 'Sensor City' will help inventions go from the lab to the factory floor even faster, and act as a shop window for foreign investment into the City's high tech start ups.

Later the Chancellor will also unveil a £34.4 million transport package as part of the Atlantic Gateway project, which is building greater connections between Liverpool and Manchester and aims to create 250,000 jobs by 2030.

Today he will announce:-

► A £10.4 million upgrade to the Halton Curve rail line to improve connectivity between Liverpool, Cheshire, Warrington and North Wales.

► £5.6 million to improve access and road safety around Knowsley Industrial Park.

► £4m of improvements to A5300 Knowsley Expressway to maximise the benefits of the New Mersey crossing and access to Liverpool Airport

► A £14.4m upgrade of the car parking and public transport connections on the Newton-le-Willows rail interchange link to Parkside