Hospital chuffed with £19,500 steam fair gift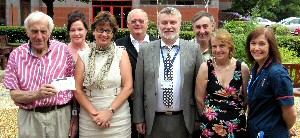 ORGANISERS of the successful Steam and Vintage Fair have donated £19,500 to help patients who use the Medical Day Unit (MDU) at Southport and Formby District General Hospital. A cheque for the money was presented to Chief Executive Jonathan Parry and unit manager Sister Julie Marshall by three of the event organisers, William Hunter, John Johnson and George Harrison. Jonathan said:- "This is a very generous gift and will be put to good use in what I know is very highly valued unit."" The Riverside Steam and Vintage Fair is held annually in April at Banks, near Southport, and all the money raised goes to local charities and good causes. This year £37,500 was raised and altogether the fair has raised £206,885 over the past 6 years. The medical day unit provides therapies and treatments, including chemotherapy, to patients across Southport, Formby and West Lancashire.
CLA supports calls for improved food security
THE CLA has welcomed recommendations to improve food security in a report published on 1 July 2014, by the House of Commons Environment Food and Rural Affairs Committee. CLA North Regional Director Dorothy Fairburn said:- "Our changing climate is likely to reduce the availability of productive agricultural land so every hectare will need to produce more. We need to be able to produce more food to feed a growing population and we welcome the positive stance in today's report on innovation and technology, particular on GM. As the report rightly states, the EU decision making process is too restrictive and will leave the UK and the EU trailing behind the rest of the world. The report supports our view that farmers should have access to longer term weather forecasts to enable better preparation for extreme weather. The anticipated reduction in summer river flows could severely restrict availability of water for food production, which would have a devastating economic impact on food businesses." The CLA is backing the call made in the report for a more co-ordinated approach to food security within UK government. Miss Fairburn said:- "Producing sufficient food to feed our growing population is a huge challenge and it is encouraging to see the committee identify that there is much more that can be done to achieve better yields. More sustainable farming will only be possible through a more equitable share of risk and profit along the food supply chain, rather than farmers being continually squeezed." The EFRA Committee report can be found online.
Tax credits online renewal form launched
WITH the tax credits renewal deadline of 31 July 2014 less than 1 month away, HM Revenue and Customs (HMRC) has launched a new online service for the vast majority of claimants to use. Just over 1.5 million claimants still need to renew their claims by the 31 July deadline, or their payments might end. Last year more than 650,000 failed to renew on time. This year, as well as being able to renew by post and phone, claimants can renew online, on GOV.UK, or via the HMRC app. So far 135,000 people have submitted their tax credits renewal online, with a consistent 96% satisfaction rate. Nick Lodge, Director General of Benefits and Credits, HMRC, said:- "Loads of people have already renewed their tax credits claim online, and have found it quick and easy to do. We've now made it even better and are encouraging everyone to renew online if they can, at a time that suits them. The most important thing is to renew before the 31 July 2014 deadline, so as not to risk losing your money." HMRC asks all claimants to check the accuracy of the information in their renewals pack, and to inform the department about any changes to their circumstances that they haven't already reported, such as to their working hours, childcare costs or pay. Our newsroom would like to hear your views on Tax Credita and if you have any issues regarding Tax Credit renewals. Let us know your views by emailing us to:- news24@southportreporter.com.
A firearms has been discharge on Percy Street in Bootle
MERSEYSIDE Police have issued an appeal for information following a firearms discharge in Bootle in the early hours of Wednesday, 2 July 2014.
Merseyside Police have told us that:- "Following a call reporting that shots were being fired at a house we sent patrols were sent to Percy Street, in Bootle, at about 1.30am. Upon arrival our Officers found damage to the front of the house and upon examination by Crime Scene Investigators, found the damage consistent with that of a shotgun discharge. A man who was in the house at the time received minor injuries following the incident and received treatment at the scene for cuts caused by glass. Forensic examinations of the area have been carried out and CCTV from the area is being checked to identify the individuals responsible."
At this stage the Police say they:- "We believe that the house was targeted and an investigation into the full circumstances of the incident is underway."
Chief Inspector Helen Corcoran, add:- "We take incidents of this nature very seriously and thankfully no one in the house was seriously injured. I would like to reassure the community that officers are working to identify those responsible for this wreckless act and searches of the area are being undertaken. I would appeal to anyone with information to contact police. We look into all information provided to us, no matter how small you might think it is, the information could be really useful for our enquiries."
Anyone with information is asked to call the Matrix Serious and Organised Crime team on:- 0800 230 0600 or Crimestoppers, anonymously, on:- 0800 555 111.

Help find Charity Ride Stolen Bikes
MERSEYSIDE Police are continuing to appeal for information about the theft of 5 bikes stolen from a van parked near to Anfield football stadium on Saturday, 28 June 2014. The bikes had been placed in the van pictured below, as a group of charity fundraisers during a visit to Anfield Football Stadium.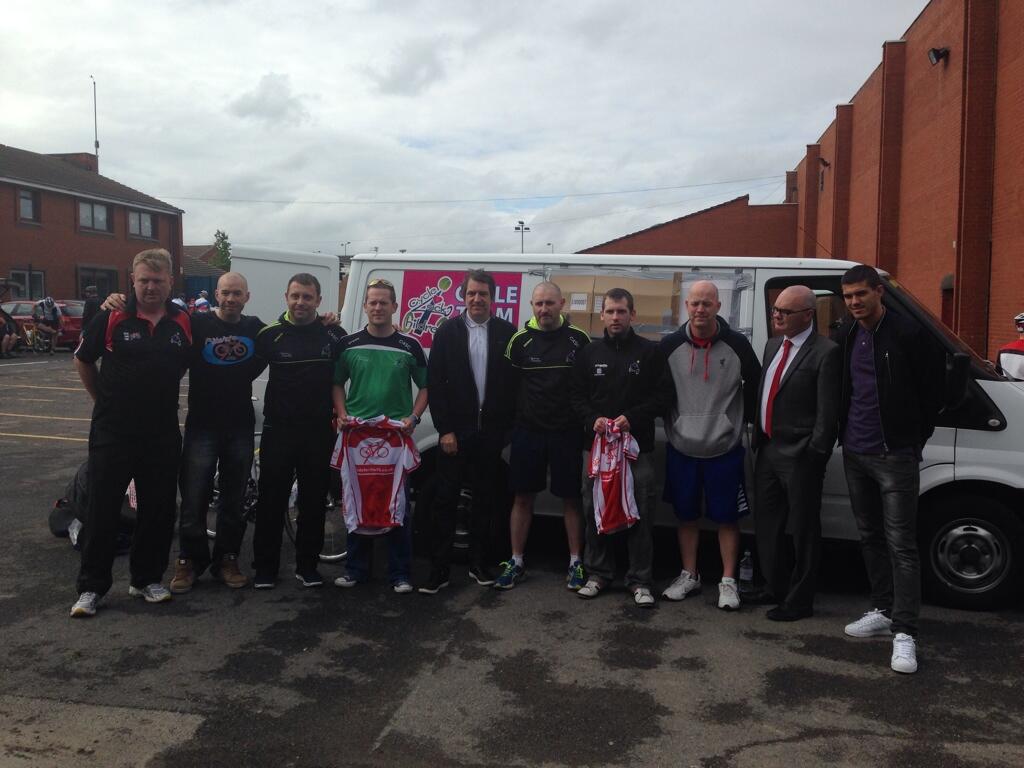 Above JFT96 @DebiMcMillan96 posted on Twitter this photograph of the lads outside the broken-in van just before start of @rideforthe96.

The 5 cyclists from the Justice For The 96, Hillsbough campaign group had the white van parked at the Walton Breck Road End of Venmore Street, at around 10.15am while they went on a tour of the stadium. Sadly when they returned to the vehicle shortly, at around 12 noon, they discovered that a window had been smashed and the driver's side door was forced open.

The offender/s stole 5 bikes that the group had brought over from Ireland in order to take part in the 'Ride For The 96' charity bike ride, that took place the following day, on Sunday, 29 June 2014. Also stolen were the group's luggage, including a number of t-shirts with the charity's name on them, passports, the van's Sat Nav and a quantity of cash.

Full descriptions of the stolen bikes and other items have been circulated to all mobile and foot patrols in the area and Officers are appealing for anyone who is offered bikes or belongings matching the following descriptions to call the Police immediately.

► Red and black Verenti bike.
► Black, red and white Giant 'Defi X2'.
► Red and white Giant 'Defi X2'.
► Blue and white Giant composite.
► Pink and black Turas with the name "Sophie" on the frame.

Crime scene investigators have also examined the vehicle and detectives are carrying out CCTV enquiries from the area.

Chief Inspector Chris Hitchell from Liverpool North command team, said:- "This is an absolutely terrible thing to happen to anyone visiting our city but it is made worse by the fact that this group are here to raise money for charity and a cause which is dear to so many Liverpudlians' hearts. Everything possible will be done to identify the offenders responsible for this despicable theft and I would call on people within the local area to help us get these bikes back quickly. All 5 are very distinctive and I would urge anyone who knows where they are being hidden or offered for sale to do the decent and honourable thing and call the Police or Crimestoppers. The victims have travelled all the way over from Ireland to raise money for the families of the Hillsborough victims and they are understandably distraught at what has happened."

Stuart Fitzgerald commented on Twitter:- "Still fuming over this. 6 bikes disappearing that quickly with nobody noticing... My ****!"

Lets help them catch the one or ones responsible for the 6 bikes disappearing bikes. Call St Anne Street CID on:- 0151 777 4065 or Crimestoppers on:- 0800 555 111.

Photographs of 4 of the missing bikes, that have been supplied by Merseyside Police to the media are below:-