Construction team in Blackpool complete gruelling challenge to support charity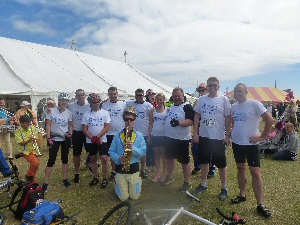 THE construction team building The Harbour, a £40m mental health facility in Blackpool, have completed a 60mile bike ride and raised more than £3,000 for local charity Lancashire Mind.

The challenge covered a route from Manchester to Blackpool on the 13 July, with over 7,000 cyclists taking part.

The popular event began at Manchester United's football ground at Old Trafford where keen cyclists rode on country lanes before finishing on the Blackpool promenade.

The weary cyclists celebrated the completion of the ride with a barbecue whilst enjoying live music.

John Curphey, Commercial Manager from VINCI Construction UK, said:- "It was a tough challenge but worth the effort, knowing the money raised is going to a great cause. Well done to all the people who took part and helped support our journey."

Lancashire Care NHS Foundation Trust appointed IHP, a joint venture between VINCI Construction UK and Sir Robert McAlpine, to construct a 154 bed mental health inpatient unit known as The Harbour.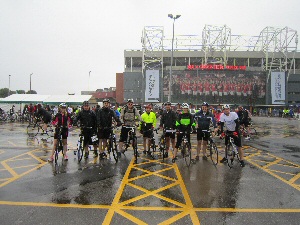 The facility will be completed in November 2014 and will provide dementia, advanced care, psychological intensive care units and adult functional wards.

Alistair Rose, Project Director at Lancashire Care NHS Foundation Trust said:- "Congratulations to the team for their brilliant achievement and supporting such a worthwhile cause in Lancashire. They have done an excellent job throughout the construction of The Harbour and we are looking forward to it opening in Spring 2015."

Stewart Lucas, Chief Executive Officer at Lancashire Mind commented:- "Lancashire Mind is the county's leading mental health charity. We enable people all over the county to manage, maintain and improve their mental wellbeing as well as provide support to people experiencing a mental health condition. As a registered charity we are reliant upon people to raise money, organising and taking part in events such as this bike ride is truly an amazing way to support our vital work. We cannot thank the team from VINCI Construction UK enough for all their efforts."

Lancashire Mind is the county's leading mental health and mental wellbeing charity.

Youth and play centres set to remain open
5 youth and play centres in Liverpool are set to remain open after the City Council reached agreement with organisations willing to take them over.

The City Council needs to save £156 million over the next 3 years due to cuts in Central Government funding, and the youth and play service is facing a 50% reduction in its budget.

A report to the Cabinet on Friday, 1 August 2014, is recommending that:-

► Mab Lane Youth and Play Centre is taken over by Merseyside Society for Deaf People, who will locate their youth and play provision at the site

► Knotty Ash Youth and Community Centre becomes the northern regional office for the Duke of Edinburgh Awards and will be an open centre for young people who want to complete the award

► Childwall Youth Centre will be taken over by Childwall Valley Estate Management Board, who intend to continue to operate youth and community activities

► ZAP Play Centre will be transferred to Daisy Inclusive UK - who support young people and adults to participate in sport, arts, educational and community activities

► Epsom Street Play Centre will be operated by Nugent Care. It will retain play and youth services as well as becoming a community volunteer centre to train local young people

No expressions of interest were received for Walton Adventure Playground and Centre, and this building will be retained until an alternative use can be identified.

Councillor Steve Munby, Cabinet member with responsibility for the youth service, said:- "These are tough and challenging times for the Council but we are determined to do what we can to find alternative ways of keeping services going. I am pleased that we have been able to attract the interest of a number of well respected organisations in taking over five of the buildings. They have come up with some exciting proposals which will secure the future of the centres and will see additional investment. We don't have any control over the money available to use from the government for spending on services. The challenge for us, partners and the local community is to find a way to deliver services better and more cheaply. This is a great example of how working with the voluntary sector, and by transferring assets to them, we can protect essential services and also help their work."
Fake Tax Email Carries Virus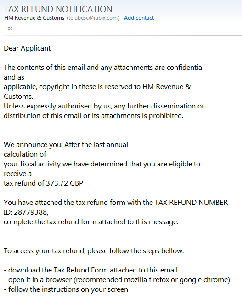 A warning has been issued over a fake due to a email that is reporting to be sent from HMRC. The email carries a virus that if opened will infect the users computer. If you get an email that is marked:- "TAX REFUND NOTIFICATION", and it has an attachment on it, do not open it! The email appears to be sent out from csk-group.ru. If you do get any emails that say they are from the HMRC, that could be fake, email them a copy to:- phishing@hmrc.gsi.gov.uk and delete it. Never open any attachments or click on the links!