BIG HEARTED BUILDERS AND SUPPLIERS CLUB TOGETHER TO SORT LIVERPOOL MAN'S KITCHEN NIGHTMARE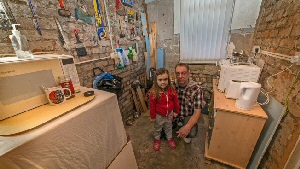 FOR 2 years single dad Paul Currie has been struggling to look after his 4 year old daughter, Claudia, in a house with no proper cooker, no kitchen units, no fridge and no washing machine… and it looked like that was never going to change. The 46 year old from Macdonald Road, Wavertree had lost his job and cash was short. He desperately needed a new kitchen, but he simply couldn't afford it. Then he spotted an online opportunity and posted his story as part of Britain's Worst Kitchen competition on MyBuilder.com, the tradesman's website. The prize was a £3000k+ kitchen makeover. Paul made it to the last 12, securing nearly 2000 of the 13000 votes cast overall in the competition, but sadly in the end he didn't win. He was devastated as were his friends and family. The website team felt strongly about Paul too and decided they couldn't just walk away. Having put aside some additional cash, they linked up with some of their local tradesmen and local building suppliers and pretty soon a runner up kitchen plan had been put in place.

Last week Paul used his new kitchen for the first time, thanks to some big hearted tradesmen and suppliers. How did Paul get into trouble with his kitchen in the first place?

At the root of Paul's problems lies his mental health, which led to a family breakup and unemployment. Trained as a journalist, Paul is dogged by a long term form of depression called Dysthymia. It's hard to understand if you don't suffer from it, but the illness saps you of all confidence and motivation. It also causes anxiety and the smallest of hitches can create great distress.

Financial worries caused by unemployment led to tensions in Paul's relationship and eventually he had to leave the house he was sharing with his partner and the mother of his young daughter. Paul Currie said that:- "The financial burden of not having work took its toll on my relationship; I had to move back into my old house, which was only partially renovated. I have Claudia, my four-year-old daughter from Monday to Friday because her Mum works. Luckily kids tend to accept things as they are and whilst the kitchen is bad, the bedrooms and bathroom are OK!"

Paul bought and started renovating his house in Macdonald Road when he was employed. His plan was to cover the mortgage by renting it., but the housing crash had left him in negative equity and an undiagnosed leak in the kitchen destroyed all the furniture and plaster. "It is a Catch-22..." he said. As a homeowner he gets less state support than socially housed tenants. He can't get rid of his house because he has too much debt. Bailing out isn't an option because that would also mean he'd made himself intentionally homeless. "No money, no repairs, no kitchen... and no time!"

Poverty takes time, he explains. To get the best possible food for Claudia, he had to shop around. With no kitchen everything had to be fresh and eaten quickly before it perished. Says Paul Currie:- "Without a kitchen, normal jobs take longer. For example, I had to run up and down the stairs to get water from the bathroom just to boil a kettle or wash up and you have to shop every day for fresh food because you can't store anything. When you do shop you have to be so careful with your money that you can't just shop at one shop, you have to go everywhere to get the best deal. For instance, if a loaf of bread is 20p cheaper at Iceland you'll go there and check everywhere else out as a comparison. Household fuel's another big thing. If you can't afford to pay quarterly you have to get a meter and you actually pay more for the rental of a meter. So the poorest people are paying the highest price for fuel."

Everyone's hoping the new kitchen will mark a watershed in Paul's life. On the night work started on the kitchen he wrote a blog titled:- "BROKEN - A blog about living with Mental Illness and getting a new kitchen. Confused? Read on! It fills in most of the blanks in this story and it's written from the heart..." Paul Currie wrote on it... He also sent a text sent to MyBuilder.com on after the kitchen was finished. "To MyBuilder - Claudia just said to me 'I think this is the best day of my life.' When I asked why she said 'Because we have got a new kitchen!'"

Who helped with Paul's makeover?
Plasterer GED PARSLEY from WOOLTON PLASTERING AND RENDERING Kitchen maker/manufacturer JUSTIN WHITTAM from BLACKCAT BESPOKE WOODWORK AND JOINERY Gas fitter JAMES COBURN from JWC PROPERTY SERVICES FRANK DINELEY from Merseyside Carpets TRAVIS PERKINS (Huyton) Branch Manager GAVIN LEDDER provided plastering materials CO OPERATIVE ELECTRICAL SHOP donated a cooker, extractor hood, gas hob, electric oven and undercounter fridge.....But perhaps the most eccentric gift of all comes from posh dentistry practice, SMILEWORKS. The practice not only donated a new sink and taps but dentist MJ ROWLAND-WARMAN is also giving Paul some much needed dental treatment for free.

To see the video and also the make over photographs, click on here now...

MERSEYSIDE RELEASE SUMMER DRINK DRIVE CAMPAIGN RESULTS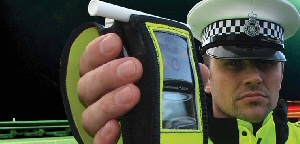 A month long drink and drug drive campaign in June reveals that 98% of motorists in Merseyside are driving responsibly. A total of 5,527 drivers were stopped in Merseyside and breath tested. Police also conducted 51 impairment tests on drivers suspected of taking drugs, resulting in 10 arrests. 6 of these were cannabis related. Overall, 124 arrests were made for failing or refusing a breath test (2.1%), which is down from 2.9% in the last Christmas campaign and 2.4% in the last year's summer drink drive campaign.

Chief Inspector John Hogan, Head of Merseyside Police's Roads Policing Department said:- "What these figures show is the determination that Merseyside Police have to deter and detect those drivers who drink and drive and who take drugs and drive. They are very encouraging and I would like to recognise that the vast majority of drivers are responsible road users who are heeding our advice. However, 1 in 50 of those drivers we tested are not and either failed or refused to provide us with a breath specimen. By drinking and driving, people not only risk their own life, but those of their passengers and others on the road. Figures show that the number of drivers failing a breath test after a collision rises to 6.4%. I would like to reassure the public that we will continue to carry out enforcement throughout 2014 and will seek to engage with road users to educate them about the dangers that alcohol and drugs pose."

Merseyside Police is currently taking part in a 3 year trial, using a Drager cannabis testing device in each of their 5 custody suites. The devices, which test for the presence of Tetrahydrocannabinol, the psychoactive element of the drug, have the potential to reduce the length of time police officers spend off the streets. In a recent case, a cannabis impaired driver was booked into custody, processed and a blood sample obtained, all within 1 hour and 30 minutes.

Sgt Paul Mountford, the Force Lead on drink and drug driving stated:- "We have invested heavily in training our officers to recognise the signs of drugs in drivers and have consistently achieved good results in campaigns over the past four years. We are well aware of the increasing use of cannabis and the threat that it and other drugs pose to drivers. The Drager devices should further enable us to become more efficient and achieve even better results in the future."
Southport Town And Country Fair is heading back over 23 August to 25 August
THE Southport Town And Country Fair will take place over 23 August to 25 August 2014, at the Leisure Lakes, Mere Brow, PR4 6JX. The event organisers have said that the following events are on Every Day at the fair (unless otherwise stated).
- Main Attraction -
Monday - Jason Smyth's "The Adrenaline Tour" Flying High Quad Bike Jumps
- Other Attractions -
► Animal Racing- Pig Racing and Indian Runner Duck Racing with Honest Joe the Bookie
► Horse Carriage Driving (Sat)
► Shopping Mall & Craft Marquee
► 80 + Trade Stands
► Liverpools very own H+M Dog Display Team (Sun Only)
► Childrens Entertainment
► Fairground, Trampoline
► Side Saddle Demos (Sun)
► Bouncy Castle
► Bug House (Tarantulas, Millipedes, Stick Insects)
► Reptiles, Snakes & Lizards (Reptile House)
► Fun Dog Show - enter your own dog @1pm (Sun only, 1 Free entry in any class)
► Siberian Huskies (Hug a Husky)
► Equestrian Acts
► Dog Tricks Act
► Shetland Ponies
► Racing Pigeon House
► Pig Racing with Fun Betting
► Musical Horses and Ponies
► Northwest Stickmakers
► Alpacas Display - (Mon)
► Donkey Rides (Sat & Sun)
► Gun Dog Demos (demos & Scurry by MereBrow Gun Dogs)
► Air Rifle Shooting - Have a go
► Southport Stamps & Postcards
► Bar & Catering
► Flyball | Scurry
► Ford Side Valve Motorcars (Mon only)
► Ferret Racing
► Amphibian and Reptile Group of South Lancashire

Prices are as follows:- Saturday and up to 12pm and Sunday... KIDS GO FREE! Adult:- £6 - Child:- £2 - Senior/Disabled:- £5 - Family:- £16. For more information go to:- garden-festivals.com or call:- 01704 212734.