Sailor humbled to be wreath bearer at national commemoration marking the start of First World War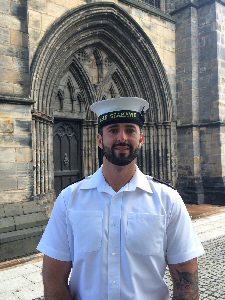 A young sailor from Southport was humbled to play his part at the UK's Commemoration Service to mark the start of World War 1 on Monday, 4 August 2014. Taking place at Glasgow Cathedral, followed by a wreath laying ceremony in George Square in the heart of the city, the service was attended by His Royal Highness The Duke of Rothesay, as The Prince of Wales is known in Scotland. He was joined by leaders from across The Commonwealth, including Prime Minister David Cameron. Able Rate Anthony Pyke was selected to take part in the memorial as a wreath bearer to Chief of the Defence Staff, General Sir Nick Houghton, at the Cenotaph in George Square.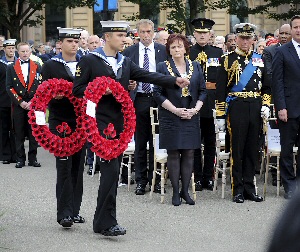 Working as a naval airman aircraft handler, the 26 year old former student of Christ The King High School is currently based at Royal Navy Air Station (RNAS) Culdrose in Cornwall, but will join the Commando Helicopter Force at RNAS Yeovilton in September, where his duties will include maritime aviation fire and rescue, aircraft marshalling and co-ordination of aircraft ground movements. "I am proud to have been selected to take part at this ceremony in Glasgow. It is very important to me that I have been able to make even this small tribute in memory of all those who fought for our country, many losing their lives." said Anthony. Joining the Royal Navy in October 2013, Anthony's posting to Yeovilton is his 1st job within the service. Although now living away from home, Anthony still finds time to return to Southport when he can to visit his mum and dad, 2 brothers, sister and friends.
Coronation Street take note as the star to attend Southport Flower Show!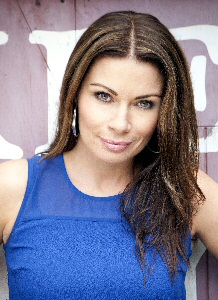 FANS of ITV's Coronation Street take note as the star, Alison King, has joined the star line up at the 2014 Southport Flower Show. Alison, who plays Carla Barlow in the ITV soap, will bring some Weatherfield glamour to the seaside festival as she meets visitors among the famous floral displays. The popular actress has been at the centre of a string of major storylines since joining the Street over seven years ago, most recently as a suspect in the death of Tina McIntyre. Her acclaimed performances as unlucky in love businesswoman Carla have led critics to hail Alison as the new Elsie Tanner. She will appear at Southport on Saturday, 16 August 2014 and is the latest celebrity guest confirmed in the line up at this year's show. The show will be opened on Thursday, 14 August 2014, by Strictly Come Dancing star Anton Du Beke with another Strictly favourite, actress Lisa Riley, the star turn at Ladies Day on Friday, 15 August 2014. TV baker Mich Turner will be passing on her cake design tips while gardeners and broadcasters Carol Klein and Christine Walkden will also be on hand to share their expertise. Plus show patrons Professor David Bellamy OBE, Professor Stefan Buczacki, Sir Roddy Llewellyn, Matthew Wilson complete the celebrity cast at Southport 2014. Alison said:- "It will be my first visit to the Southport Flower Show but I have heard so much about it from friends and colleagues. I'm sure it will be a wonderful day out and I'm looking forward to meeting everyone at the show." The 2014 line up at Southport also features the Grand Floral Marquee with over a million blooms on display, the North West Food Festival, amateur growers' competitions and entertainment for all the family. Southport Flower Show, which last year attracted over 70,000 visitors, runs from Thursday, 14 August to Sunday, 17 August 2014. Advance tickets are available for just £17 per person. For more up to date information on the show, celebrity appearances, details and ticket bookings visit the show's website.
Galloway's and Workers Educational Association team up to deliver 6 Week Craft Course
LOCAL sight loss charity, based on Wright Street in Southport has teamed up with the Workers' Educational Association (WEA) to provide a 6 week Craft Course for local blind and visually impaired people living in Lancashire and Sefton. The course is due to start on Monday 8 September, 10am to 12noon and will be held at 22 Wright Street, Southport. Lunch will be available after each session, followed by an afternoon activity. Adrian Lee, Vision Services Coordinator for Southport told us 'This is a fantastic opportunity to meet new people, learn new skills and experience just some of the services Galloway's offers to local blind and partially sighted members of the community, helping them maintain their independence and regain their confidence." The course will cost £6.00 per week, however may be free for people on certain benefits. To find out if you qualify for the free course or to find out more about what the course includes please email Adrian and Carl or call them on:- 01704 534555.

UK MUSIC EXPORTS HIT A HIGH NOTE WITH GOVERNMENT SUPPORT
LIVERPOOL band The Wombats is 1 of 15 talented British music acts to receive financial support for touring overseas. British music companies behind some of the UK's most hotly-tipped artists are to receive Government funding to support the promotion of the nation's music around the world. Liverpool band The Wombats are amongst the artists signed to independent labels who will benefit from funding being made available through the Music Export Growth Scheme. The Music Export Growth Scheme has been established by UK Trade & Investment (UKTI) and the BPI (British Recorded Music Industry) to help small and medium sized independent music companies increase international sales. UKTI Chief Executive Dominic Jermey said:- "The British music scene is brimming with talent and around the world UK acts are helping to sell out festivals this summer, from London Grammar at South by South West in the United States to Portishead at Melt! in Germany to Tom Jones back home at the British Summer Time festival. Through the Music Export Growth Scheme we are helping a new generation of upcoming British talent to capitalise on this success and make their mark in countries around the world, bringing jobs and growth to the UK economy. I am pleased that acts who we have already supported such as Public Service Broadcasting and the Crookes are really benefitting from our support and growing their international fanbase."

The announcement comes as new figures released by the BPI show that independent companies continue to enjoy great success in the recorded music market. In the first half of this year, independent artists accounted for more than a quarter (27.4%) of all album sales, up 2% year on year on the 2013 figure (25.4%). This follows on from a strong year for independent repertoire in 2013 where the share of album sales from indie labels tallied 25.1%l the sector's highest level in many years; thanks to the popularity of acts such as Arctic Monkeys, Passenger and London Grammar. Clive Drinkwater, Regional Director, UKTI North West said;- "The North West; including Liverpool of course; have a strong creative sector, and a proud history of producing great music, so I am delighted that The Wombats are 1 of the acts that will benefit from the Music Export Growth Scheme. UK music is popular around the world, and it isn't just the huge names with major labels that can find an audience overseas. The Music Export Growth Scheme will help more artists from the independent sector to grow and to find fans worldwide."

Chris Tams, BPI Director of Independent Member Services, said:- "Landmark albums and popular records from the canon of British music continue to form a strong core of UK music sales around the world. And in recent years we have started to witness more artists from the independent community top the charts and perform sell-out shows on the international circuit. The Music Export Growth Scheme has a role to play in this success and we are already seeing an encouraging return on the investment made by the Government, as bands embark on tours with iconic bands like The Rolling Stones and the Manic Street Preachers. It's great to see our 1st 2 Northern Irish acts make the short list in this round of funding and we are calling on more great talent from across the nations to apply. It's an invaluable funding opportunity for developed UK acts and one which can help to springboard them from a local name to global fame."

Just over £250,000 will be provided to independent music companies representing artists who span a cross-section of genres including alternative/rock, electropop, dance, hip hop and soul music:-

► Antlered Man (from London), and Black Moth (Leeds) (touring jointly), signed to London based New Heavy Sounds.

► Dry The River (London), signed to Stephen Budd Management (London).

► Fearless Vampire Killers (London) signed to Wiseblood Management (London).

► Fenech-Soler (Kings Cliffe, Northamptonshire), signed to Fwinki Music (London).

► Fink (Brighton), signed to ATC Management (London).

► GHETTS (London), signed to Disrupt LTD (London).

► Hadouken (Leeds), signed to ATC Management (London).

► Imogen Heap (Essex), signed to Megaphonic Ltd (Essex).

► Max Cooper (originally from Belfast), signed to Agency X Artist Management (London).

► Smoove & Turrell (Newcastle), signed to Jalapeno Ltd (Brighton).

► The Answer (Belfast), signed to TAP Music Ltd (London).

► The Heavy (Bath), signed to Redlight Management (Bristol).

► The Wombats (Liverpool), signed to SB Management (London).

► The Wytches (Peterborough), signed to Raygun Music (Brighton).

► Waylayers (London), signed to Merrington Music Management (London).

The financial assistance has been provided by UKTI and forms part of efforts to get another 100,000 businesses small and medium sized businesses exporting. The creative industries have been identified as one of the fastest growing sectors of the UK economy with the music industry contributing £3.5 million to the Exchequer per year. Earlier rounds of funding from February and May 2014 have seen more than £500,000 distributed to support the careers of Metronomy, Young Fathers, Slow Club, Public Service Broadcasting and Holy Mountain. As a result of the grant, bands have been able to secure touring slots with The Rolling Stones and Manic Street Preachers while others have gone on to agree publishing, sync, and distribution deals around the world. John Kennedy, Chair of the Music Export Growth Scheme, said:- "As we announce the results of our recent round of funding and move to our new invitation for applications we are beginning to see the results of this commitment by the government to our industry. We are seeing the money being successfully used as seed money to launch or build on international careers, whether by way of sales or synchronisation licences, live appearances, expanded profile or strategic promotional activities; indeed the variety of uses that successful applicants are making of the funds is itself a testament to the innovation that these grants can drive, enhance and encourage."

The initiative will make up to £2.5 million of grants available over a two and a half year period. It was announced in October 2013 at a Number 10 meeting with music executives chaired by the Prime Minister David Cameron. The Scheme will re-open for applications on Tuesday, 12 August 2014.