STORM Consultancy Proudly Celebrates 5 Years
Photograph by Patrick Trollope.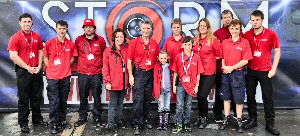 SOUTHPORT based STORM Consultancy UK have just marked 5 years in business with the successful delivery of the Liverpool Pride 2014 event for the 4th year running.

STORM Consultancy UK specialises in high risk health and safety and large event management, working round the clock to provide complex services to clients ranging from large music festivals to air shows, even US Presidential visits!

Last weekend's Glam Fairy Tales themed bash started with the iconic Pride parade from St George's Plateau before marching to the Pier Head and Stanley Street. The event attracted over 50,000 and adds to a growing portfolio of events in 2014 that already include The Liverpool International Tennis Tournament, St Mary's Proms in the Park and the Southport Flower Show on Victoria Park, in their home Town.

The STORM concept was founded by decorated ex-army major Jonathan Cunningham MBE whose vast experience and knowledge of the industry led him to open up his own company. After serving in areas across the world and leading over 10,000 staff in his final UK posting, Jonathan left the army in 2009 after 16 years with a plan. The result - a unique and innovative service offering that helps hundreds of organisations and business to deliver events and carry out day to day business with health and safety as a top priority.

"Live events such as Pride present a very specific set of risk exposures requiring the close management of massive movements of the public and staff. The complex logistical operations are reliant upon strategic partnerships with many organisations and agencies and require months of advance planning. These projects draw directly on so many military skill sets and it is here that our ability to strategically plan, adapt to change and maintain a global and very real perspective come right into play." explained Jonathan.

Today, with a permanent staff of 9, STORM also employs a number of apprentices, hundreds more contractors and actively seeks volunteers where possible to gain valuable experience on unique project and events.
LIMF and security arrangements
Photograph by Patrick Trollope.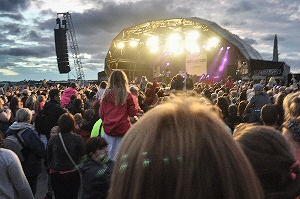 THE following is a statement by the Mayor of Liverpool, Joe Anderson, about the Liverpool International Music Festival and G4S. "Following representations made to me at the meeting of the City Council's Cabinet last week, I have carefully considered the concerns expressed in relation to the engagement of G4S plc in relation to the Liverpool International Music Festival. In appointing G4S as our security contractor for the festival, the City Council has followed the required legal and formal procurement processes. In addressing the issues raised at Cabinet about G4S, I need to make the following points clear. A significant amount of planning and preparation has been put into the arrangements for the International Music Festival including working with G4S on the security operation over a period of 6 months. At this late stage it would not be a responsible course of action, either from a public safety or public money perspective, to withdraw the services of this contractor and look to engage another security provider three weeks before the events take place. This would mean we would have to compensate the company for their loss and then look to engage another company, something we cannot afford to do. Equally, I do not propose to cancel the hugely popular festival, enjoyed by many thousands of residents and visitors. I have however noted the concerns and had regard to the wider points raised and have therefore asked the Chief Executive to implement a review of our procurement arrangements accordingly." What are your views on G4S providing services at the LIMF Festival? Email us your thoughts to our newsroom via:- news24@southportreporter.com.

New law now allows press and public to film, tweet and blog from Town Halls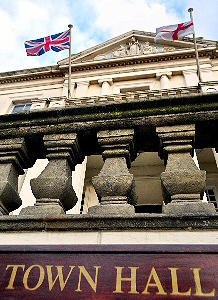 IN a boost for local democracy and the independent free press, Councils in England were brought into the 21st Century on 6 August 2014, after Local Government Secretary, Eric Pickles, signed a Parliamentary order allowing press and public to film and digitally report from all public meetings of Local Government bodies. This 'right to report' updates a law passed by Margaret Thatcher as a backbench MP. Following the passage of both primary and secondary legislation, the move opens Councils' digital doors, covering broadcasters, national press, local press, bloggers and hyper local journalists and the wider public. The new law aims to end active resistance amongst some Councils to greater openness. Councils have even called the Police to arrest people who tried to report, tweet or film Council meetings, or claimed spurious "health and safety" or "reputational risks" to digital reporting. This new law builds on Margaret Thatcher's successful Private Members' Bill from 1960 which allowed for the written reporting of Council meetings by the press. The new rules will apply to all public meetings, including Town and Parish Councils and fire and rescue authorities. Local Government Secretary, Eric Pickles, said:- "Half a century ago, Margaret Thatcher championed a new law to allow the press to make written reports of Council meetings. We have updated her analogue law for a digital age. Local democracy needs local journalists and bloggers to report and scrutinise the work of their Council, and increasingly, people read their news via digital media. The new 'right to report' goes hand in hand with our work to stop unfair state competition from municipal newspapers, together defending the independent free press. There is now no excuse for any Council not to allow these new rights. Parliament has changed the law, to allow a robust and healthy local democracy. This will change the way people see local government, and allow them to view close up the good work that Councillors do." Under the law, that the UK Government has published, is a plain English Guide of practical information on how the public can exercise their new rights, and what they should expect from their Local Government bodies. The Openness of Local Government Regulations, which apply to England, give rights to members of the press and public to use modern technology and communication methods such as filming, audio recording, blogging and tweeting to report the proceedings of the meetings of their Councils and other local government bodies; and see information relating to significant decisions made outside meetings by officers acting under a general or specific delegated power.

A study by the Department for Communities and Local Government (DCLG) found that:-

► A Councillor in Thanet was removed by the Police for trying to film a Council meeting discussing airport expansion.

► Wirral Council said filming a planning committee would compromise "health and safety".

► Tower Hamlets Council barred a 71 year old resident from filming due the risk of "reputational damage to the authority".

► Keighley Town Council blocked residents filming, as it would amount to a "breach of standing orders".

► Bexley Council said audio and visual filming would breach its "agreed protocol".

► Stamford Town Council placed a ban on journalists tweeting from meetings, due to the risk of them "not accurately portraying a debate".

► A blogger in Huntingdonshire was removed by Police for filming, and has advised fellow bloggers to "be prepared for the Police to be called and the possibility of arrest".

► Journalists in Sefton where told that filming or recording of Council meeting was against the law

Sadly some now feel that a new law that has been passed by the European Court of Justice (ECJ), called:- "right to be forgotten" might now be used to hide unwanted reports from the public, by Councils and Government alike... As Lila Tretikov is the Executive Director of the Wikimedia Foundation, has said about the new Law:- "the European Court of Justice has basically abandoned its responsibility to protect the right to freedom of expression and access to truthful information." So is all the hard work to get the right to cover going to be undermined by this? Only time will tell. Did you know that Margaret Thatcher's 1960 Law 'The Public Bodies (Admission to Meetings) Act 1960' was a successful Private Members' Bill, passed when she was a new backbencher. This Act allowed the written reporting of Council meetings by the media and public for the 1st time.