Liverpool Travel Disruption Warning - Scotland Road Roadworks
DRIVERS in Liverpool are being warned about 'essential roadworks' taking place, associated with 'Project Jennifer'. The work will start on Scotland Road on Monday, 11 August 2014 and last for up to 12 weeks. Liverpool City Council have said that:- "These works, to be carried out by utility companies, on a an inbound section of the road, to divert equipment for the development site or are needed for the new proposed traffic signal controlled Junction at Scotland Road / Stanley Road. They will involve a single lane closure on the section of Scotland Road between Great Homer Street and Penrhyn Street. 2 lanes will be kept running throughout the works, except for times when a further off peak lane restriction may be required for removal of spoil and/or servicing the site and surrounding area. The length of lane closure required will be reduced as the works are completed." The detailed work is as follows:-

► BT works in the vicinity of Boundary Street East and Bostock Street will start on Monday, 11 August 2014 and last 6 to 8 weeks.

► The Scottish Power work to put in electriCity cable will see diversions from Boundary Street East to Bostock Street running from Monday, 11 August for 4 to 6 weeks.

► Balfour Beatty Utility Solutions will be conducting gas main work, from Bostock Street to Penrhyn Street, and are starting on Monday, 11 August 2014 and lasting for up to 12 weeks.
Experience the egret empire at RSPB Burton Mere Wetlands
Photograph by Lynne Greenstreet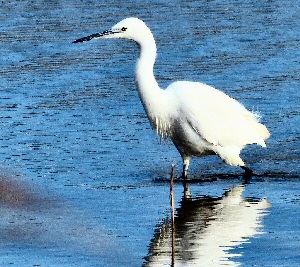 AS dusk falls over RSPB Burton Mere Wetlands, 1 of the region's greatest natural spectacles unfolds; the nature reserve is awash with birds settling down for the night, not least one of the country's most elegant and exotic-looking, the little egret.

This month, with the help of RSPB wardens, visitors are invited to enjoy 'An Evening with Egrets' to marvel at one of the UK's largest little egret colonies, which makes its home at Burton Mere Wetlands. As dusk approaches, hundreds of the birds gather from across the estuary, ready to fly into the treetops to roost overnight, a remarkable sight.

Dan Trotman, Visitor Development Officer at RSPB Dee Estuary reserve, said:- "Whilst these birds are seen regularly feeding across the estuary's saltmarsh during the day, nothing compares to the sight and sound of dozens flying together into the tree tops next to the nature reserve for the night. It's an amazing sight to watch. Plus the event is a great opportunity to learn about the birds' troubled past and their current success. There have been evenings when I've been here alone and seeing the little egret colony in all its glory makes all the hard work we've put into managing this wetland over the years seem all the more worthwhile. They've become a common sight on the estuary, but nothing quite prepares you for watching these large, graceful birds take to the treetops in the numbers we see here; last year, 380 were counted flying into the roost one night!"

The event will be held on Friday, 15 August 2014, starting at 6.30pm. The cost for the walk is £5 per adult (£3 for RSPB members) and includes a hot drink and snack in the Reception Hide.
For more information on the reserve and its activities, please call the reserve on:- 0151 353 8478, or check out the website.

The life sized War Horse puppet is heading to Southport Flower Show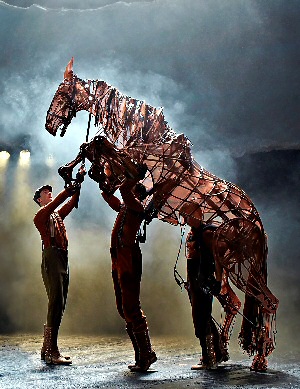 JOEY, the life sized breathing, galloping puppet star of War Horse, will be riding into Southport Flower Show for a breath of sea air before returning to Salford for his evening performance at The Lowry.

He will appear at Southport on Thursday, 14 August 2014 and is currently performing in War Horse at The Lowry, Salford until Saturday, 20 September 2014.

This is the last chance to see War Horse in the North West so visitors are advised to book while they can, and take advantage of no booking fees at the Lowry Stand (E49) as well as other exclusive offers for visitors to the Southport show.

The National Theatre's production of War Horse, based on the novel by Michael Morpurgo, tells the powerful and uplifting story of young Albert, his beloved horse Joey and the unimaginable obstacles they overcome.

At the heart of the show are life sized puppets which bring breathing, galloping, charging horses to thrilling life on stage, made by Handspring Puppet Company based in Cape Town, South Africa. Joey is made of cane, leather and tyvec with a torso reinforced with aluminium so he is able to carry a rider. He is operated by three puppeteers, the Head, the Heart and the Hind, who work together to create Joey's character, movement and sounds.

War Horse has now been seen by over 5 million people worldwide since its premiere at the National Theatre in 2007. Over the years Joey has appeared at many high profile events, from "saluting" HM The Queen at her 2012 Diamond Jubilee celebrations to starring in last year's Edinburgh Military Tattoo.

Ray Roukin, General Manager of Southport Flower Show said:- "We are delighted to welcome War Horse to the Southport Flower Show on our opening day and we're sure visitors will be amazed to see this stunning puppet in action. The line up for our 2014 show is fantastic with a host of famous faces joining us, new entertainment and more floral displays than ever before."

As well War Horse, the highlights at the 2014 Southport Flower Show include a host of celebrity guests including Anton Du Beke, Alison King, Lisa Riley, Carol Klein, Christine Walkden.

The showpiece Grand Floral Marquee features more than a million blooms with displays from some of Britain's top growers and the stunning show gardens, floral displays and amateur growers competitions which have attracted visitors to the Lancashire coastal resort for more than eight decades.

The line up also features the North West Food Festival with cookery demonstrations from Mich Turner and Andrew Nutter as well as entertainment for all the family.

Show patrons Professor David Bellamy OBE, Professor Stefan Buczacki, Sir Roddy Llewellyn, Matthew Wilson will also be passing on their gardening tips.

Southport Flower Show, which last year attracted over 70,000 visitors, runs from Thursday, 14 August 2014 to Sunday, 17 August 2014.
Advance tickets are available for just £17 per person.

For more up to date information on the show, celebrity announcements, details and ticket bookings visit:- southportflowershow.co.uk.
Nanny/Childminder required ASAP
1 to 1 support for 5 year old with learning difficulties after school. 2 hours daily 4 days a week. Plus several weeks full time during school holidays. We live close to Botanical Gardens/Southport. Pay is negotiable. Experience working with special needs children is desirable. For contact information click on here.