Thunderbirds are Go... for Ramshackle Rally Challenge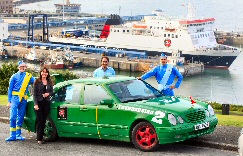 THE Isle of Man Steam Packet Company is supporting 4 charity fundraisers as they set out on an ambitious journey across Europe in a former taxi with almost 200,000 miles on the clock. Patrick Capelen, Daniel Bougourd, David Forrest and John Forrest have signed up to take part in Ramshackle Valencia Rally 2014, which will see them drive from Calais to Valencia. The main rule of the rally is that the car used must cost £250 or less. As if that isn't tough enough, the team has decided to start their challenge in the Isle of Man, meaning the full journey distance will be 2,000 miles. The team, Vannin2Valencia, hopes to raise £2,000 for the charity Balls to Cancer, £1 for every mile of the journey. The Steam Packet Company is helping out by assisting the team with the cost of getting the car to England. Patrick said:- "The basic premise of the whole event is doing something 'a bit different' for charity. One of the rules of the rally is that the car must be painted in a theme and we must wear accompanying fancy dress for the duration of the rally. The car we've purchased for £250 is a former private hire vehicle with nearly 200,000 miles on the clock and we're turning it into Thunderbird 2, and will be wearing International Rescue fancy dress costumes! The reason we have chosen Balls to Cancer is because we don't feel that there is currently enough awareness of 'male-type cancers' and men, being men, tend not to talk about it. The idea of doing something a bit absurd or ridiculous like this rally is to try and encourage men to have the confidence to go and get checked if they have a concern rather than leaving it until it could be too late. We think Balls to Cancer do a fantastic amount, not only raising awareness and educating, but also funding research and supporting those diagnosed. In addition, the organisation is staffed entirely by volunteers, meaning any money donated goes directly into awareness campaigns, support or research. We are extremely grateful to the Isle of Man Steam Packet Company for its support of our trip. It really is good to see a local company getting behind a good cause. We are extremely thankful for the help in facilitating this trip, as we are covering all expenses ourselves so all the money we raise goes directly to the charity." Steam Packet Company Chief Executive Mark Woodward said:- "Attempting to drive 2,000 miles across Europe in a "banger" is quite ambitious, and we wish the team the best of luck. It is certainly a different way of raising money for charity, and I hope they reach their target of raising £2,000 for this worthwhile cause. We're pleased to be doing our bit to support the challenge, and will be following their progress as 'Thunderbird 2' travels across the continent." You can support the team on JustGiving.com.
WITNESS APPEAL: DOG-WALKER SOUGHT AFTER JOGGER BITTEN IN SOUTHPORT PARK
MERSEYSIDE Police in Southport are appealing for the owner of a dog which bit a jogger in a local park to make herself known to them. The 53 year old local man was running through Newlands Park in the Kew area of the Town on Monday, 4 August 2014, at around 7.30pm ,when he was bitten on the arm. The man had just turned a bend in the gravel path a few hundred yards after the wooden bridge when he saw 2 women with 2 dogs coming the other way. 1 of the dogs was on a lead, but the other; a light tan-coloured bull terrier; was off its lead and ran towards him barking. The jogger stood still, but the dog jumped up at him and bit him twice; once on the left forearm and once on the left tricep. The woman whose dog it was apologised and the man ran off, only noticing the seriousness of his injuries a short time later. He suffered wounds to his arm which required hospital treatment, and deep bruising. He later called the Police. Southport neighbourhood sergeant Paul Riding said it was important for the woman whose dog was involved to contact the Police to explain her version of events. He said:- "This was a deeply unpleasant experience for this man who was simply enjoying a jog in a local park on a summer's evening. He has rounded a bend and been confronted by a dog that was off the lead and immediately came towards him. He did exactly the right thing in standing still and asking the owner to control it, however the dog has still reacted aggressively and bitten him twice before she could do this. Incidents like this are extremely serious and responsible dog ownership is crucial if our parks and beaches are to remain safe for everyone who wants to use them. Thankfully the man's injuries are relatively minor, although no doubt extremely painful, and there will be no permanent damage. However he is understandably shaken up by the incident and I would appeal for the woman involved, her friend, or anyone who witnessed this incident to do the responsible thing and contact the Police." The woman whose dog was off the lead is described as white, aged in her late 30s or early 40s, around 5ft 6ins tall with dyed blond shoulder length hair. Her friend, whose dog remained on the lead, is similar age and height, but had long dark, tied back hair. Anyone with information is asked to call Constable James Paulden on the non emergency:- 101 number or Crimestoppers on:- 0800 555 111.

BTP launches hunt for cycle thieves in Sefton
THE British Transport Police (BTP) Officers in Sefton have released CCTV images of four men they want to speak to in relation to cycle thefts in the area.

Cycle theft is a significant problem for the Rail Industry, with thieves targeting bikes at Stations as they are aware the owners will often be away for relatively long periods of time.

Chief Inspector Malcolm McKinnon said:- "Across the Merseyside network Merseyrail has looked to address the issue by installing cycle cages; secure storage facilities which allow subscribed commuters to leave their bikes away from prying hands and eyes. Sadly some thieves still target the railway in the area and are still managing to steal some cycles."

The men featured in the CCTV images are all sought by officers as BTP believes they have vital information in relation to thefts from Stations in Sefton.

The incidents officers are currently investigating are as follows:-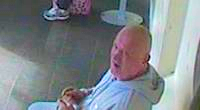 At about 2.30pm on Sunday, 22 June 2014, a yellow Barracuda cycle was stolen from the bike racks at Blundellsands and Crosby Station. The thief used bolt croppers to cut the lock before riding off on the bike.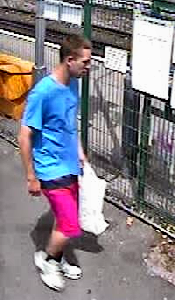 At 2.45pm on Tuesday, 1 July 2014, a B Twin Triban 5 racer road bike was stolen from the bike shed at Formby Station. Again the thieves used bolt croppers to cut through the lock before stealing the bike.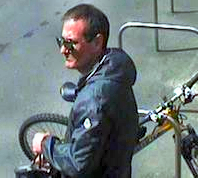 2 men were involved in the theft of cycles from Seaforth and Litherland and Blundellsands and Crosby Stations between 3.30pm and 5pm on Thursday, 5 June 2014. 1 man stole a Claud Butler silver and grey bike which had been secure to the fence near to the toilets at Seaforth and Litherland. An hour and a half later the man was then spotted at Blundellsands and Crosby with a 2nd man and the pair stole a black and red Cube hyrbrid cycle from the racks on the Liverpool bound platform.

Ch Insp McKinnon added:- "We are convinced the men captured on CCTV have key information about these thefts and I call on anyone who recognises them to come forward. Bikes are generally stolen to enable the thieves to make quick money by selling them on, so it is possible someone may have bought one of these bikes without knowing they were stolen. If the descriptions of the bike match something you have bought recently please get in touch. We are determined to trace the thieves responsible and to reunite the bikes with their rightful owners."

If you have any information about the thefts, or recognise any of the men, please call British Transport Police on:- 0800 40 50 40 or ring Crimestoppers, anonymously. In all calls please quote log:- PSUB/B11 of 6/8/14.