19 Year Old Rebecca Durkin sentenced after being found guilty of the Manslaughter
MERSEYSIDE Police can confirm a 19 year old woman Rebecca Durkin was sentenced to 4 years and 8 months, on Monday, 18 August 2014, following being found guilty of the manslaughter of her 55 year old mother Clancy Durkin in Southport in January. In court it was reported that at 10am on Tuesday, 7 January 2014, the Emergency Services were called to Guildford Road, Southport, to reports that a body of a woman had been found. Officers attended and found the body of 55 year old Clancy Durkin. A post mortem found that she died as a result of asphyxiation. Clancy's daughter, 19 year old Rebecca Durkin, was arrested and subsequently charged with her murder. On Thursday, 17 July 014, following a trial at Liverpool Crown Court, where Rebecca Durkin was found guilty of the manslaughter of her Mum. The officer who led the murder investigation, Detective Chief Inspector Dave Rooney said:- "We note the sentence issued to Rebecca Durkin today. On behalf of Merseyside Police I would like to offer my sincere condolences to Clancy's family. This is a wholly tragic case, aptly summarised during the trial, as a case with no winners. What was clear during the investigation, that despite all the difficulties in her life, Clancy was a caring individual who gave a great deal to those around her. I know from my dealings with them, she will be sadly missed by her siblings, friends and work colleagues. I would like take this opportunity to thank the investigation team for their commitment and tenaCity in preparing this case for Court and Crown Prosecution Service staff, who have provided support in this investigation."
Share your biking tales as part of national Cycle To Work Day
DO you bike to work on a journey that would make Sir Bradley Wiggins break into a sweat? Or maybe you've been cycling the same route for the last 40 years come rain or shine? Merseytravel wants to hear from you as part of its celebrations for national 'Cycle To Work Day'. Merseytravel is looking for people to share their interesting and unusual stories about cycling to work to mark the national awareness event, which this year takes place on Thursday, 4 September 2014. Whether you make an epic 20 mile journey each way, or you're a 65 year old still pedalling away each morning and evening, we want to hear your cycling tales. Cycle to Work Day, which is being championed by London 2012 Paralympic cycling champion Dame Sarah Storey, aims to encourage workers to take 2 wheels and cycle to work for 1 day. To mark the occasion, Merseytravel is hosting its own event to raise awareness of the benefits of this mode of travel and to increase the numbers of employees cycling to and from work.

The event on 4 September 2014, will be held outside George's Dock Plaza, Mann Island, between, 11am and 3pm, and will include free bike health checks, a chance to try out different bikes, advice on routes and the chance to take up a cycle challenge. Businesses can also find out about the benefits of signing up to Merseytravel's Employers Network, which offers bespoke consultancy support to enable smarter travel to work. Cllr. Liam Robinson, Chair of Merseytravel, said:- "Cycling to work not only helps to reduce congestion on the roads, but also provides a great way of staying fit and healthy and can reduce business travel costs. We would encourage employees to give two wheels a try on national Cycle To Work Day and consider the long term benefits of biking to work instead of getting a car."

Encouraging employees to swap petrol for pedal power on their daily commute can be beneficial to both staff and employers by:-

► Helping staff save money that would be spent on car running and maintenance costs.

► Increasing the health and well-being of employees, meaning they are less likely to be off work due to illness.

► Reducing congestion by decreasing the number of cars on busy City Centre streets.

For more information about the event or to sign up to the Employers Network, please visit the Travelwise website. To share your unusual cycling tales, please email Merseytravel's Communications team:- communications@merseytravel.gov.uk.

Join Stick 'n' Step at this year's Teddy Bears Picnic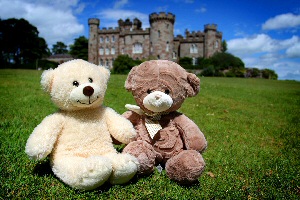 STICK 'n' Step is hoping families from across Merseyside will support this year's Teddy Bears Picnic, which will be raising funds for the charity and takes place on Sunday, 24 August 2014, within the grounds of Cholmondeley Castle in Malpas.

The Teddy Bears Picnic is a summer fete, organised by volunteers, that sees hundreds of local families come together in aid of a good cause. Families are encouraged to 'bring your own' picnic and teddy bears, making the most of the scenic location. Stalls and activities are arranged to keep everyone entertained all day long. Last year, the event raised £5,000 for its chosen charity and was attended by over 1,500 people. This year, organisers want to double that total to £10,000, which would be the most raised ever.

The picnic opens at 11am and runs until 5pm. Ticket prices include general admission into the grounds, meaning visitors can also take advantage of Cholmondeley Castle's facilities, which include a children's play area, farm animals, an aviary and the tea-room. In addition, on the day there will be favourites such as a tombola, raffle and hook a duck – and entertainment such as face painting, arts and crafts, Diddi Dance Classes, a teddy bear themed treasure hunt and a balloon performer.

Stick 'n' Step is a nationally recognised charity based in Wirral. It provides conductive education (CE) and support services to 70 children with cerebral palsy and their families. CE provides a platform for developing coping mechanisms to manage the difficulties caused by the disability, but it is not currently offered by the NHS. Stick 'n' Step is the only CE centre in the North West and North Wales to offer its service for free. It costs £3,000 a year to fund one child's place at Stick 'n' Step and because the charity receives no government funding, it relies entirely on grants and community fundraising to remain a free service.

Commented Victoria Kinch, one of the organising volunteers:- "The Teddy Bears Picnic is now in its fourth year and even though it takes months of planning around our full time jobs, the satisfaction of raising funds for worthy charities is what drives us to keep doing it. We also have a massive following of children and adults alike who look forward to this event every year! I just hope we will be able to smash our previous targets this time around for Stick 'n' Step"

Commented Kerry Roe-Ely, Community and Events Fundraiser at Stick 'n' Step:- "As this year's chosen charity for the Teddy Bears Picnic, we are very excited about the upcoming fundraiser. There's something special and unique about the idea of families coming together to fundraise for a charity that helps change the lives of other children. The children who come to Stick 'n' Step work hard to develop skills that will enable them to do many of the everyday activities on offer at this fun day, making this a very fitting event to promote our cause and the work that we do."

As beneficiaries of the funds, Stick 'n' Step's involvement in the event is to arrange volunteers to staff the stalls; which contribute heavily towards the money raised on the day. Anyone interested in helping on the day can contact Kerry Roe-Ely on:- 0151 638 0888 or send an email.

Ticket prices are £6 per adult, £3 per child, or £18 for a family ticket (family of 4). For more information visit:- teddybears-picnic.co.uk or to find out more about Stick 'n' Step visit:- sticknstep.org.uk.