A unique Merseyside celebration of Mondrian's colourful life.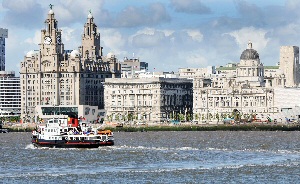 THE BBC, Tate Liverpool, Culture Liverpool and Open Culture are joining forces to create a spectacular artwork on the Pier Head in Liverpool made up entirely of people from across Merseyside On Saturday, 6 September 2014, community groups, artists and individuals across the City will come together to form a living and breathing Merseyside Mondrian made entirely from people. Inspired by the work of Dutch artist Piet Mondrian; whose most recognised works are abstract paintings of coloured squares, rectangles, and thick black lines and currently on display at Tate Liverpool; the installation will be a reflection of the people and passions of Merseyside with communities and groups coming together to help create an abstract masterpiece. Each of the squares will be made up of different community groups with some performing, some wearing their designated colour and others creating their own work of art, each of which will create a block of colour (blue, red, yellow or white) inspired by a Mondrian masterpiece. An aerial view of the artwork will be photographed and filmed from the top of the Liver Building with the final art installation featuring on The One Show on Wednesday,10 September 2014, as part of the BBC4 Abstract Art Season.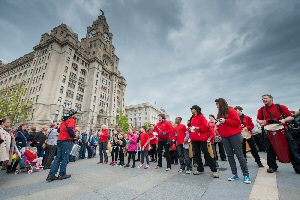 Rachael Treacher, Open Culture Project Manager of Merseyside Mondrian expresses:- "The Merseyside Mondrian project is a fantastic opportunity for communities and individuals across Merseyside to come together and be a part of a unique event that will reflect the vibrancy and energy of communities throughout our fantastic city. If you enjoy meeting new people, creating opportunities and being part of a shared experience the Merseyside Mondrian is definitely for you!"
Open Culture are currently seeking community groups and individuals to be a part of the Merseyside Mondrian on the 6 September 2014. If you or your community group would like to be part of this exciting and unique opportunity please complete a short online form before Sunday, 24 August 2014, which you can find here. Or call:- 0151 478 4026 to find out more. Open Culture will be in touch shortly after to confirm details. You can also follow them on Facebook and on Twitter. All participants will receive a free ticket to the Tate Liverpool exhibition: Mondrian and his Studios.
Pals memorial to be unveiled in Liverpool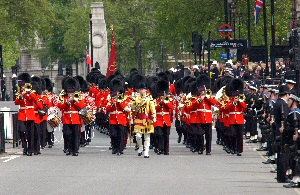 A Memorial to the Liverpool Pals who served during World War One is to be unveiled by HRH The Earl of Wessex on Sunday, 31 August 2014. It follows a 3 year campaign by The Liverpool Pals Memorial Fund to create a permanent tribute to remember the men and boys who volunteered during the Great War. The £85,000 frieze, designed by Liverpool sculptor Tom Murphy and funded through donations, will be revealed by Prince Edward at 11am in front of an invited audience on the main concourse at Lime Street Railway Station. Following the unveiling, the focus will shift to St George's Plateau from 11:30am, where a re-enactment of the Liverpool Pals signing up will take place; exactly 100 years to the day since it happened, in answer to Lord Derby's call for recruits. More than 1,000 men were recruited on 31 August 1914 alone. Over 6,000 men were initially signed up in 1914; enough soldiers to serve in four battalions and for 2 reserve battalions. Many were killed in action and never returned home. During the re-enactment, part of the plateau will be transformed into an attestation centre, a trench and a field hospital to symbolize the different elements of the conflict. The Liverpool Pals Memorial Fund are asking people to come along to the re-enactment and find out more about those who sacrificed so much. Lt Col (retd) Anthony Hollingsworth MBE, Chair of The Liverpool Pals Memorial Fund, said:- "We are delighted and proud that through people's kind donations we are able to provide a fitting memorial to those brave men and boys, albeit 100 years on. It will allow everybody to share the proud history of the Liverpool Pals, who were the first of all the famous Pals battalions and the last to be stood down." Lord Mayor of Liverpool, Councillor Erica Kemp, said:- "In 1914, many of our young men wished to serve alongside their friends, family and work colleagues, and sadly many paid the ultimate sacrifice. The Liverpool Pals will always be remembered as friends, colleagues and relations who joined up together, served together and, for so many of them, died together. A century on, we are rightly paying tribute to their bravery with a fitting memorial which will be a constant reminder to all those entering and leaving the City at Lime Street." The memorial tells the story of the Liverpool Pals through a series of dramatic images; from their formation through to their emotional farewells when they left the city, onward to scenes from the battlefield, their return from war and the commemoration this year. Sculptor Tom Murphy said:- "It has been a privilege to be chosen to sculpt the Liverpool Pals Memorial and I have ensured that the theme of remembrance permeates the entire work. Each figure depicted is lost in their own memories of someone or somewhere dear to them; friends, loved ones or simply home. It is fitting to have this artwork of remembrance at this major gateway to honour those brave men and boys that did not make it back home." Ian Joslin, area director for Network Rail, said:- "The railway played a vital role to help mobilise troops during WWI and it is fitting that Liverpool Lime Street will be home to this memorial to the Liverpool Pals. It is a reminder of the sacrifices the soldiers made and is an honour for the station to be its permanent home." For more information about The Liverpool Pals Memorial Fund, visit online.

MENTAL HEALTH AND ME WRITING COMPETITION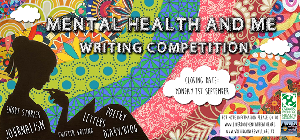 LITERATURE'S love affair with the mind is an age old tradition where creativity has always been closely entwined with mental distress, yet the subject of mental health is still widely considered a taboo subject. We hope that this competition will challenge the stigma around mental distress and promote social inclusion by giving entrants the opportunity to explore this topic using traditional and/or alternative forms of writing.

Has mental distress affected you or someone close to you? Are you particularly interested in the subject of mental health? Are you a carer or have you worked with people suffering from mental distress and want to share your experience? If the answer's yes, we'd love to hear from you!

Liverpool's Mental Health Consortium, in partnership with Writing on the Wall, is launching a writing competition to mark World Mental Health Day on Friday, 10 October 2014. We are calling on members of the public to submit an original writing piece under the theme of 'Mental Health and Me.' You can send us a poem, a short story, a diary piece or a blog post, a letter, a piece of journalism or even a tweet, yes – a tweet!

The competition will be judged in 6 different categories by an exciting judging panel comprising of very talented, professional writers, Journalists, Social Media Experts and people with personal experience of mental distress. The winners of each category will form the shortlist from which the overall winner will be selected and will win the crown trophy! All entries which are shortlisted including the winner will have their work published in an anthology and will be awarded a free copy and more will be available to buy online and in shops.

Sarah Butler Boycott, Involvement Worker at The Liverpool Mental Health Consortium says:- "We are thrilled to be organising 'Mental Health and Me with Writing on the Wall, we hope that by exploring the mind through creativity and writing, we will be able to challenge the stigma around mental health issues, create a positive effect and allow people to explore and discuss mental distress more openly."
THE JUDGING PANEL
Introducing
1. Short Stories Category
Helen Walsh – Award winning novelist and author of The Lemon Grove, Go to Sleep and Brass will be among the judging panel for the short story category.

Colin Watts - writer, poet, playwright and teacher. (Getting the Hang of it; Singing the City; Human Geography)

2. Journalism Category
Catherine Jones – Liverpool Echo's Arts Editor and WW1 commemorations coverage coordinator.

Brian Reade - Award Winning Journalist and best-selling author who has two weekly opinion columns, one on sports, for the Daily Mirror.

Richard Adamson – Participant of What's Your Story? group with the Liverpool Mental Health Consortium and Rainbow writer.

3. Tweets Category
Jo Austin, Engagement and Digital Marketing Coordinator at The Women's Organisation Liverpool - Social Media Expert. Jo Austin will be judging the Tweet category.

Wendy Brown - Social Media Editor at Canter Levin & Berg and committed social media enthusiast. Nominated for 'Business Development Manager of the Year' at the 10th Annual 'Livercool' Awards.

Rosa Murdoch, Writing on the Wall's own Social Media Coordinator.

4. Letters
Tony Wailey – Published Author of Edgy Cities, Migrant Women and American Women, with a particular interest in historical research including Liverpool Seamen in 1985. He was also a tutor for The George Garrett Archive project founded by Writing on the Wall.

Maria NG - Bookseller and Joint Director at News From Nowhere, Liverpool's independent radical bookshop. Maria is involved with all aspects of the business with running the book store and selecting books which inspire, inform and empower people.

5. Poetry
Curtis Watt - performance poet, rapper, beatboxer, actor, presenter, musician, workshop leader and author of Children's History of Liverpool. He has worked internationally on both stage and screen, and is recognised as one of Liverpool's most versatile artists, voted 43 in Diverse Magazine's Top 50 Black Merseysiders.

Sal Woodward – Bookseller and Joint Director at News From Nowhere, Liverpool's independent radical bookshop. Sal is involved with all aspects of the business with running the book store and selecting books which inspire, inform and empower people.

Sarah Maclennan - Coordinator of Liverpool's Dead Good Poets Society and teaches creative writing at Liverpool John Moores University and for the Open University.

6. Blog/Diary Entries
Seaneen Molloy – Mental Health Blogger and mental health activist. She is also a columnist for BBC Ouch!, a regular contributor to 1 in 4 magazine and has written for The Guardian and The Observer. Her blog 'The Secret Life of a Manic Depressive' was adapted for BBC Radio 4 under the title, Do's and Don'ts for the Mentally Interesting which won the award for Best Radio Drama at 2009 Mind Mental Health Media Awards.

Mike Morris, Project Manager of Writing on the Wall, playwright of Waiting for Brando and was part of the writing team for Dockers (Channel 4 1999), and a director and producer of the ground breaking documentary, Liverpool's Cunard Yanks (Granada TV, 2008) He also regularly blogs for WoW.

To enter, please see the full guidelines and terms and conditions click on here.