World War 1 Victoria Cross hero honoured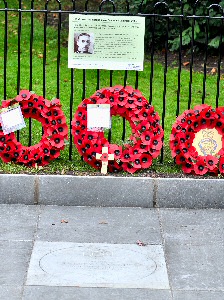 ON Sunday, 24 August 2014, a Commemorative Paving Stone was unveilled in memory of a Liverpool man who was awarded one of the 1st Victoria Cross medals during World War 1, a century to the day. Ernest Alexander was from Princes Park, Liverpool, and a Lieutenant Colonel in the 119th battery of the Royal Field Artillery. He was 1 of 8 men from Liverpool to be awarded the Victoria Cross during World War 1, and the others will be honoured in the same way between now and 2018. The memorial is part of a national scheme run by the Department for Communities and Local Government which will see every World War 1 Victoria Cross recipient remembered. The 8 from Liverpool make up part of the staggering 627 individuals who received the Victoria during the 1st World War, although in total 628 VCs were awarded because Noel Chavasse, was awarded twice. The new Commemorative Paving Stone is made from of York stone Scoutmoor and like the other 626, carries the individuals, the rank and regiment of the individual (at the time the VC was awarded) and the date of the action for which the VC was awarded.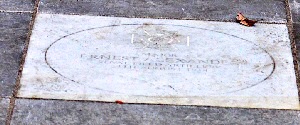 Ernest Alexander gained the award in 1914, after he defended his World battery at Elouges in Belgium from German soldiers, against overwhelming odds, enabling them to withdraw without serious loss. The citation for the medal in the London Gazette also highlighted his bravery in rescuing a wounded man under heavy fire "with the greatest gallantry and devotion to duty." His Commemorative Paving Stone is located at the Sunburst Gates, of Princes Park, in Liverpool. The unveiling was attended by Lord Mayor, Councillor Erica Kemp, veterans and serving soldiers from the Royal Artillery and members of the Friends of Princes Park.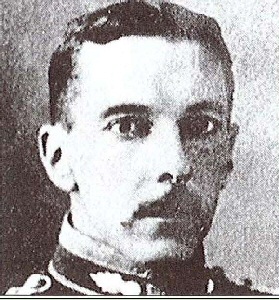 The Lord Mayor said:- "Ernest Alexander was a brave and fearless soldier whose selfless actions saved many lives. It is important that his contribution to World War 1 is remembered and I am privileged to be able to attend the unveiling of the stone. It will be a permanent reminder of the incredible contribution that he made to the war effort and his role in making sure that more soldiers weren't lost."

Ernest was also awarded the Companion of the Order of the Bath, the Companion of St. Michael and St. George, and the Belgian Croix de Guerre. He is also remembered with a memorial at Putney Vale Cemetery in London. He retired in 1920 to live in Kingsbridge, Devon, where he died on 25 August 1934, aged 63. Efforts to trace his relatives, including by a local historian, have proved unsuccessful.

Ernest Alexander biography

Ernest was born on 2 October 1870, the son of Robert and Annie Alexander, who lived at 38 Devonshire Road, Princes Park. Some records also show the family had a property in Everton and the family also later lived at Woolton Heyes. His father was a prominent shipowner, originally from Belfast and 'Alexander and Co' later became the famous 'Hall Line' which eventually became part of the Ellerman shipping company. Educated at Malvern and later Harrow, he went to the Royal Military Academy. He served in the Royal Field Artillery in India rising to the rank of Major in 1906. He married Rose in 1903, and their family grew to include two daughters and 2 sons. Following the outbreak of War, the British Expeditionary Force attempted to stem the enemy advance and the Battle of Mons commenced on 23 August 1914. Ernest was also awarded the Companion of the Order of the Bath, the Companion of St. Michael and St. George, and the Belgian Croix de Guerre. He retired in 1920 to live in Kingsbridge, Devon, where he died on 25 August 1934. He is also remembered with a memorial at Putney Vale Cemetery, London.

Did you know... that the very 1st VC of World War 1 was awarded posthumously, on 23 August 1914, just 24hrs before Alexander's actions? His medal was sold privately to a collector in 1999.

Did you know... that the Victoria Cross Commemorative Paving Stones' design was chosen through a competition open to the public? All the competition entries were judged by a panel of 7 judges:- Sebastian Faulks, Michael Burleigh, Major General Patrick Cordingley, Dame Helen Ghosh, Diane Lees, Lord Ashcroft and L/Sgt. Johnson Beharry VC. The overall competition was won by Charlie MacKeith, an architect and the director of Research Design Architecture.

Major campaign launched to raise awareness and action amongst local MPs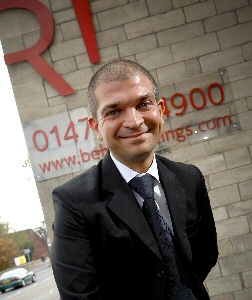 THE Labour Party proposals designed to protect tenants from unscrupulous landlords and agents are "set to backfire; resulting in higher rents and a dramatic drop in quality rented housing", according to a press release issued by Powell PR for Belvoir.

The press release also said that:- "That's the stark warning from Belvoir, one of the UK's largest lettings agencies, that is rapidly gathering support in a campaign to inform MPs and tenants about the flawed policies being put forward by the current Opposition party."

Belvoir, which has over 150 offices nationwide, including 6 on Merseyside, manages a portfolio of over 30,000 properties. It says that:- "Labour's controversial proposals, which include the banning of tenancy fees, introduction of rental caps and statutory long term rental agreements, will only help rogue landlords and agents to introduce higher rents 'by the back door'."

Dorian Gonsalves, Commercial Director at Belvoir, in the realese says:- "The truth is that each and every day professional, responsible and reputable agents, who charge a reasonable and proportionate fee for the services they provide, actually SAVE tenants money. Those agents who don't follow the rules; and there are still a lot of them out there; may appear to be cheaper by offering a 'cut price' service, but in many cases this service could be inadequate and fail in meeting certain legal requirements that could prove costly for both landlords and tenants in the longer term. Self regulating agencies, such as Belvoir, provide high levels of service, expertise and objectivity when managing landlord/client relationships and we ensure that tenants' interests are always safeguarded and protected; particularly when dealing with issues such as maintenance or breakage costs and end of tenancy agreements."
Major campaign launched to raise awareness and action amongst local MPs
LABOUR is also proposing the introduction of capped rental increases and yet the majority of landlords have not increased rent levels at all since 2008. This according to the release this is "supported by Belvoir's nationwide Rental Index Survey, which tracks and monitors property rental prices throughout the UK. However, if interest rates rise, as they are widely predicted to do, a cap on rents could have a real negative impact on many landlords, who could be forced to sell off their property portfolios, thereby reducing even further much need stock of private rented properties." added Dorian.

Also in the release, Paul Rice, who owns the Belvoir Office, located on Cheapside in Liverpool, says:- "As a company that is consistently recognised and awarded top honours by the UK's property industry for our professional and ethical approach, we have taken a lead in contacting MPs throughout each region to make them fully aware of the benefits and high levels of protection that professional, self regulating agents provide to tenant clients. We intend to fight Labour's proposals in order to protect tenants from falling prey to many of the rogue landlords and agents which, sadly, still exist. We believe these proposed policies are unworkable, not properly thought through and ultimately will only harm the interests of housing tenants. It's a message that we want all existing or prospective tenants to hear and many of our offices are already receiving a very positive response from their local MPs, keen to understand more in depth about these important issues."

Dorian Gonsalves also adds that:- "Belvoir, along with all other reputable agents, wants to see Government bring in regulation for the entire sector, but it is essential that we, along with other professional bodies, are given the opportunity to help shape the future of such regulation so that both tenants and landlords can be assured of a high quality and transparent service in the future."

Do you agree with this? Email your views to us via:- news24@southportreporter.com and let us know what you really think...
The latest update from the Formby Photo Group
THE Formby Photographic Club is holding it's 1st meeting of the new 2014 to 2015 season, at Formby Fellowship Church Hall, 93 Church Road, Formby, from 8.00pm to 10.00pm, on 4 September 2014. The club says that:- "All would be new members are welcome to come as a guest, 3 times at £2 per visit, which will include refreshments. If after the 3 visits you would like to join then the £3 will be deducted from the Membership fee of £25 for the season." The 1st Speaker at a club meeting, of the new Season, will be conducted by Barry Aldous, on Thursday, 18 September 2014, at the same time and venue as that of the 1st meeting. Barry's presentation will be entitled:- "Introducing The Third Dimension" It will comprise image sequences and audio visual shows by stereo photographers, past and present, and will demonstrate the range of photographic styles and techniques used by stereoscopic photographers since the early days of the Society. This should be a fantastic night as he is the Folio Group Co-ordinator of The Stereoscopic Society. The Society (founded in 1893), has a long tradition of capturing the world stereoscopically in 3D using ready made cameras and self build equipment. Also the 2014 Annual Photo Exhibition, on 6 September 2014, will be held by the club at Formby's Holy Trinity Parish Hall, on Rosemary, from 10am to 4pm. The club will be charging just £1 admission £1, that will include refreshments and catalogue of the 200+ exhibition prints on display. The event will also showcase the winners of the club's Annual Competition - 2014. Further details about the club and it's activities can be found online at:- formbyphoto.com also on Facebook.