St Helens Town AFC secures national sponsor in record breaking time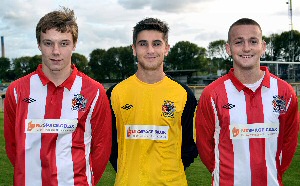 FOOTBALL fans take note... St Helens Town Association Football Club's (AFC) under 18's and under 21's teams have secured their first ever national shirt sponsor with flexible workspace provider, Bizspace.
The club, nick named 'The Town', is the local team to Bizspace's Bold Business Centre on Bold Lane. Club Chairman, John McKiernan said:- "We are delighted with Bizspace as shirt sponsors. It's a huge boost to have a national name associated with our under 18s and under 21s teams. Manufacturing the kits, laundering kits, hiring the ground, paying for match officials and refreshments for opponents; all these costs add up. We have been using social media to spread the message cost effectively that we need support."

After calling for shirt sponsors on Twitter, John received a message from Bizspace's sales and marketing director, Emma Long, agreeing to help. "The sponsorship deal was sealed in less than 40 minutes – without doubt the fastest we have ever done! We are keen to give something back to the communities we work in so it was an easy, quick decision to make. We are proud to be shirt sponsor for St Helens Town AFC and look forward to supporting each other through this new partnership. We wish all the best of luck to the 'The Town' for the season ahead."

St Helens Town AFC's under 18's team will be operating in the North West Youth Alliance League starting in August. The under 21's is a brand new team for the club this year and they will play in the Cheshire FA's League U21's from September until May 2015. John is confident about the season ahead and Bizspace will be watching the teams' progress in the year to come.

Summer comes to an end, but the need for blood is constant
IN September 2014, as the summer holidays end, children head back to school and people return to work. NHS Blood and Transplant is urging people in Merseyside to make sure giving blood is part of their routine.

NHS Blood and Transplant is asking blood donors in Merseyside to make an appointment to donate blood to help keep stocks healthy throughout the autumn months.

Although overall blood use within the NHS has reduced, thanks to improvements in clinical and surgical practices, hospitals and patients still rely on more than 7,000 people attending a donation session every day across England and North Wales.

It is important that vital blood stocks are maintained at all times, as red blood cells have a shelf life of just 35 days and platelets a shelf life of only seven days. NHS Blood and Transplant needs to collect enough blood in the right quantities to meet patient needs and regular donors are crucial in enabling us to do so.

Barbara Blanche, Lead Donor Relations Manager for NHS Blood and Transplant, said:- "We need to maintain healthy blood stocks all year round to make sure patients get the blood they need whenever they need it. Some of our donors might have recently been abroad to somewhere that means they need to take a short break from donating. So whether you've donated before or are thinking about giving blood for the first time, check out if your foreign holiday has affected whether you can donate now. If you can donate, please book an appointment to give blood and save lives. You never know when you or your loved one may need a life saving transfusion."

To find out whether where you've been on your summer holiday affected whether you can donate now, visit:- blood.co.uk.

Blood is always required to treat patients for a range of reasons. It is used in accidents and emergencies, but also during surgery and treatment for cancer and blood disorders, like sickle cell anaemia.

You can register as a donor, find out whether we've got a session coming up in your area and book an appointment to donate whenever and wherever you are through:- blood.co.uk or by using our app on your Android, Windows or Apple device. To download an app for your device, search 'NHSGiveBlood' in the app store.

Did you know that anyone aged between 17 to 65, weighing more than 50 kg (7 stone 12lbs) and in general good health could potentially start saving lives by becoming a blood donor? Also did you know that there is no upper age limit for donors who have donated in the last 2 years.