West Coast main line reopens after August closures help to build a better railway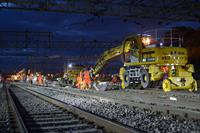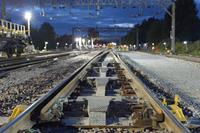 THE West Coast main line reopened on time on, 26 August 2014, after Network Rail completed the 3rd successive weekend of upgrade work at Watford. Over the bank holiday weekend, including bank holiday Monday, more than 300 track workers and engineers continued to replace and install new sections of railway and parts of the new modern signalling system in the area.
Planning is already underway ahead of the next West Coast Main Line closure at Watford which will take place between Christmas Eve and Monday, 29 December 2014.

Jim Syddall, acting route managing director for Network Rail, said:- "The past 3 weekends have seen a significant amount of work completed which will help to provide a better and more reliable railway on the West Coast main line through Watford. I would like to thank passengers for their patience while the work was carried out as it meant longer journeys and alternative routes for many travelling in and out of London. The section of track at Watford is one of the most intensively used, high speed pieces of railway in Britain and has seen tremendous growth in traffic and passengers over the last 5 years. There are still a further 4 weekends of work to come, starting with the next closure over the Christmas period. There is never a good time to close the railway, but this work is essential to provide a reliable railway for the millions of passengers who use this section of railway every year."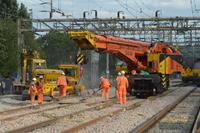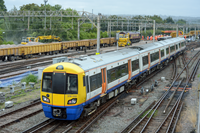 The August closures were part of 8 weekend and bank holiday closures which will take place until April 2015. Significant upgrade work is being carried out to improve reliability and punctuality along this section of the railway.

To complete the work more than 21,000 tonnes of stone ballast will be used, more than 28,000 tonnes of waste will be removed from the site and 11,000 new railway sleepers will be installed as part of 9 miles of track renewals.

Terry Oliver, London Midland's head of West Coast Services, said:- "We are really pleased with the number of passengers that followed our advice and chose to travel with other operators during the closures. We'd like to thank them once again for their patience and cooperation. We will continue to work with Network Rail, industry partners and key stakeholders when planning the strategy for the December closure, ensuring that inconvenience is minimised and that passengers are kept up to date with the latest information."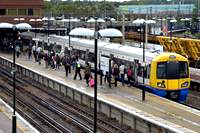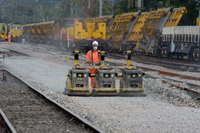 Phil Bearpark, Virgin Trains' executive director for operations and projects, said:- "There is never a good time to close the West Coast Main Line; that is in fact Europe's busiest mixed use rail route and we'd like to thank our customers for bearing with us during the disruption this caused. Our staff have worked really hard to ensure that those travelling with us or on alternative services have been well looked after and given the correct support to help them make their journeys. This is always a learning experience and we'll ensure that any lessons from the August line closures are built into our plans for the next round of closures planned this Christmas."

Information will be made available well in advance of the Christmas closure and Network Rail will continue to work with affected train companies to raise awareness. Passengers can plan any journey and get the latest travel information at:- nationalrail.co.uk.

New Liver Bird for the City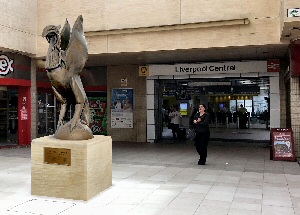 LIVERPOOL'S 807th birthday is being celebrated with the announcement that a new Liver Bird, "The Spirit of Liverpool" is to appear in the City.
Work has started on a 6ft modern version of the historic bird which will welcome millions of commuters and tourists at the entrance to Merseyrail's Liverpool Central Station.
Liver Birds Inc have been planning the project for a number of years and are delighted to have received initial funding from the Liverpool Commercial District Partnership.
The Liverpool Central Station bird will be dedicated to the memory of the late Paul Rice, former Chief Executive of Liverpool's Commercial District Partnership.

Bill Addy, Chief Executive of the Commercial District BID, said:- "It is fantastic to see that Paul, who did so much to improve and promote Liverpool, is to be remembered at a high profile City Centre location in such a striking fashion. The fact that it's the emblem of the City and his beloved football club; his 2 great passions; is a fitting tribute."

Local businesses are to be invited to sponsor the new bird which will carry their names for all time.
It will be located just outside the entrance to the busiest underground station outside London, used by 16 million passengers each year.

Hundreds of smaller Spirit of Liverpool Birds have already been sold throughout the UK and around the world.
Rick Myers, the bird's sculptor and a director of Liver Birds Inc, said:- "The bird celebrates the new Liverpool and recognises the massive number of 'firsts' that have been achieved here over the years, arguably more than any other City in the world."

Former ECHO journalist, Arthur Johnson, who is also a director of Liver Birds Inc, said:- "The Spirit of Liverpool has proved a huge hit particularly with ex-pat Scousers. We expect the 6ft bird to be a popular photo spot for tourists, football fans and shoppers. A children's book about the history of the bird, written and illustrated by Rick Myers, has been published along with a DVD of the story. A special Liver Bird song has even been recorded. I know how much the Liver Bird means to the people of Liverpool because when I was features editor of the Echo there was a suggestion that the bird should be taken off the City Council's logo. I started a SOB (Save Our Bird) campaign which received the backing of thousands of Scousers from all over the world, and the bird is still part of the Council logo."

Liver Birds Inc have teamed up with Claire House with support from Liverpool BID Company to create a special Spirit of Liverpool trail of birds about 2ft high.
In 2015 they will be available for businesses or individuals to buy and display with a donation from every sale going to Claire House. The 3rd director of the company, Paul Andrew, said:- "These will be ideal for businesses to demonstrate their pride in the City by displaying them in their windows or reception areas."

Work has now started on the Liverpool Central Station Bird and it is hoped it will be in place early 2015. City Centre Councillor Nick Small, who has backed the project, said:- "This project will create a fantastic piece of artwork that will be seen by up to 50,000 people a day. It is a fantastic way of celebrating the City's proud history and showcasing the uniqueness of the Liver Bird."

For further details of the project, how local businesses can get involved, how birds, books and DVDs can be purchased go to:- liverbirdsinc.com.

The Spirit of Liverpool Liver Bird already has a high profile. One was presented to the Queen as part of the Royal Liver Building's centenary celebrations and support has been received from many Liverpool celebrities ranging from John Bishop to Peter Sissons. The Captains of cruise liners making their inaugural visits to Mersey are presented with a bird, and the City's Town Crier has 1 on top of his staff.