Entries are now OPEN for the for the 2014 Liverpool Santa Dash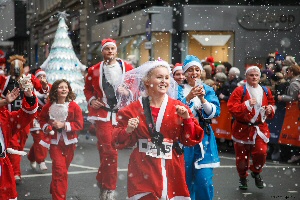 THE race is on to enter the spectacle that is the BTR Liverpool Santa Dash. The 10th Anniversary fun run takes place on Sunday, 7 December 2014, starting at 9.30am from the City's Pier Head waterfront; and entries are now officially open. The BTR Liverpool Santa Dash grows in popularity each year, with people using the event to kick start their festivities. In recent years, Liverpool and Las Vegas have enjoyed friendly Santa banter as to who attracts the most participants to take an unofficial title. Last year, Liverpool's event attracted 10,299 participants, but was narrowly beaten by the Las Vegas Great Santa Run who had an extra 902 Santas to win the 2013 battle. Liverpool last took the honours in 2010, but organisers BTR Liverpool are determined to win it back during the event's milestone 10th Anniversary year.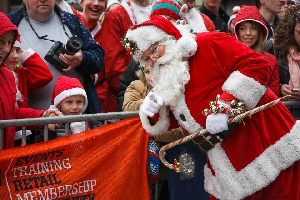 BTR Race Director Alan Rothwell commented:- "The Santa Dash is not just a fun run, it's a huge festive spectacle; especially when you see over 10,000 Santas gathered at the start line on the UNESCO World Heritage Site of the Pier Head. They then embark on a 5K run round the City and finish outside Liverpool Town Hall. It would be fitting for Liverpool to win back the unofficial title from Las Vegas during our 10th Anniversary; so the race is on for entries. The sight of thousands of Santas arriving in the City centre by train; sightseeing after the run; and generally moving round the City after the event is a complete joy to watch. People walk round with a big smile as soon as they put that Santa suit on. The Santa Dash most definitely has the feel good factor."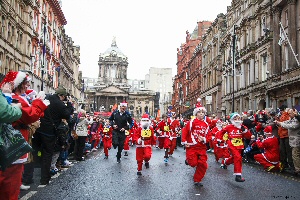 BTR staged the very first Liverpool Santa Dash in 2004 with 2,000 entries. It has since grown in size year on year. In 2007, the event was expanded to also include a 1K Mini Dash for youngsters, followed by the introduction of blue Santa suits in 2010. Earlier this year, the BTR Liverpool Santa Dash was recognised nationally when it was named as Best Fun Run runner up in The Running Awards 2014, in a category of 12 finalists. Entries are now open the 2014 event. Participants are provided with a full Santa suit, and blue Santa suits are limited to just 500 so early registration is recommended. All finishers receive a commemorative medal. Early bird entry is £22 up to 8 November 2014, and then £27. The 1K Mini Dash for under 12s, starts in Castle Street at 11am, shortly after the main Santa Dash finishes. Mini Dash places are £11. Alan added:- "The Liverpool Santa Dash is inclusive for all, young and old, walkers and runners. It's a special day and the perfect opportunity to encourage families, friends and colleagues to get together and take part in a fun, active event; you could even raise money for charity while enjoying yourselves. Come and join us in the running spectacle of the year." BTR Liverpool is the leading independent organisation for race events and delivery in Liverpool City Region. Its portfolio of annual events includes the:- Liverpool Half Marathon; Wirral Half Marathon/10K; Mersey Tunnel 10K; and Tour Of Merseyside. Full details can be found at:- BTRLiverpool.com.

BBC ONE'S ANTIQUES ROADSHOW IS COMING TO LIVERPOOL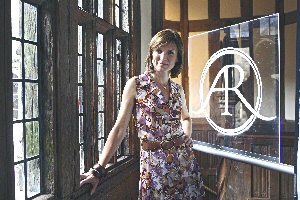 A chandelier found in Adolf Hitler's bunker, a tie-pin with a possible connection to Lord Nelson, and a Staffordshire creamware pot that had sat on top of a wardrobe for 25 years, yet was worth £14,300… These are just some of the Antiques Roadshow discoveries from past visits to Liverpool. Now, the show is back; and asking you to take a peek in your attic, look in the garage or think again about that piece on the sideboard you inherited from Granny; it could be worth something!

The show will be in the Lutyens Crypt at Liverpool Metropolitan Cathedral on 11 September, 2014 at 09:30. Doors close 16:30. Entrance, as always, is free. Presenter Fiona Bruce, now in her 7th year with the Roadshow, says:- "Every episode is different; a new location and thousands of new visitors. The only constant is the pleasure of the unexpected; we never know what will turn up, from a dazzling Russian Fabergé egg to an ancient Maori feather holder!"
Many of Britain's leading antiques and fine arts specialists will be on hand to offer free advice and valuations to visitors. Thinking fast; there is no rehearsal on this show; they can never second guess what might appear at their tables next; be it memorabilia from the last survivor of the Titanic, to a junk shop pot, such as the one brought in by artist Harry Bloom at a show last summer. Purchased for 50p, it was found to have a value of over £5,000.

Series Editor Simon Shaw reveals:- "Antiques Roadshow makes a fantastic day out, not least because it's a unique opportunity to be a part of the making of a national treasure of a television programme. Now in its 37th year, the magic formula of surprising some lucky visitors with truly exciting news about their item still comes true. So join us…it might just be your day."
Anyone keen to attend, but wondering how they might get an item too big or too heavy for their car or public transport to the show, need not worry: the team invites you to send details and photographs of such objects on email or you can write in to:- Antiques Roadshow, BBC, Whiteladies Road, Bristol, BS8 2LR. It may then be possible to arrange for a visit from one of the team in advance and to have transportation organised to the venue for you, at no charge. Get in touch!

Fascinating facts:-
► The first Antiques Roadshow was filmed on 17 May, 1977 at the Town Hall in Hereford. Among its presenters have been Arthur Negus, Angela Rippon, Hugh Scully, Michael Aspel and now Fiona Bruce.
► There have been 702 programmes made at 534 venues, including eleven overseas sites.
► Some 9 million objects have been valued.
► The team of specialists is 70 strong.
► 20 conversations about an object appear in each episode.
► Some 2,000 to 3,000 (sometimes more) people attend each show; each 1 is guaranteed a free expert opinion on their item.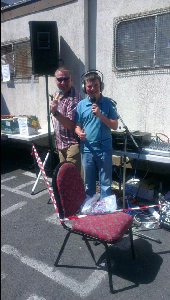 Formby British legion Monthly Arts & craft fair
SUNDAY 7 September 2014 is Formby British legions Arts and Craft fair. It starts at 10am and finishes at 4pm. Rain or shine. It's a fair with local people selling handmade things eg:- pillows, Bird boxes, wooden ornaments, Plates, honey, drinks and food. Music all day supplied by Scott Harrison and Formby books Owner, Tony Higginson. Scott and Tony will be raising money for Byng house in Southport, A local charity for ex-servicemen and women. The event will be held at Formby British Legion, on Whitehouse Lane, in Formby. To see an example of this event, taken a few months ago, please go to:- Youtube.