Social care consultation gets underway in Liverpool
MOST of Liverpool City Council's day centres are set to remain open under proposals which are now being consulted on. They have been developed following informal consultation with service users, staff and carers since March; are designed to preserve the Council's skills and expertise in looking after some of the most vulnerable clients, and make better use of some of the Council's buildings. The discussions have involved older people and those who receive mental health and learning disability assistance in day services and supported accommodation. The aim is to ensure the City Council can continue to support the most vulnerable in the face of £156 million of Central Government funding cuts over the next 3 years. In mental health, we propose continuing with 2 'hubs' in the City, with more of an emphasis placed on recovery and re-ablement as well as offering longer term support. The options being consulted on would see the Council continuing to run the following centres, which provide specialist services for the most vulnerable:-

► The Lime (physical disability and sensory impairment)

► Middleton (older people/day services)

► Crown Street (mental health)

► Amethyst House (mental health crisis support)

► Aigburth (alcohol)

The Council also proposes to continue to run the following centres, which mainly deal with older people, offering 24 hour re-ablement care as well as some day services:-

► Sedgemoor (dementia and day care)

► Granby (reablement only)

► Venmore (stroke and day care)

The consultation is also proposing the following centres remain open but are transferred to external organisations:-

► Lancaster (learning disabilities)

► Alderwood (learning disabilities)

► Parthenon House (mental health)

► Geneva Road (homeless)

► Supported accommodation (learning disability and mental health)

Under the proposals, Norris Green Older Persons day service would be relocated to Venmore and Speke Day Centre would close, with service users offered care support at another centre.

In addition, the Council is looking to develop better quality accommodation to replace Besford House in Belle Vale, which is used for respite and long term care for people with learning disabilities. Service users andcarers would be involved in designing the new facility. It is being proposed that Besford House would then become a specialist residential service for those with complex needs such as autism or acquired brain injuries, to reduce the need to send people out of the City for care.

The proposals will deliver savings of almost £3 million per year for the Council. Deputy Mayor and Cabinet member for adult social care, Councillor Roz Gladden, said:- "We have been working hard over the past few months to find the best possible way of continuing to support people who receive care, despite the huge cuts that have been imposed on us by the Government. The proposals we are consulting on would see the City Council continue to run some care services for the most vulnerable, although for some this may be delivered by a different organisation. We will be listening to feedback from service users, carers and our own staff during the consultation period over the next 6 weeks, and there will be a series of meetings which they can attend. We absolutely understand that any proposed change is always difficult, and whatever proposals are approved we will work with those affected to make sure that they are fully supported through any transition period. We are committed to assessing everybody's individual circumstances and providing services that meet their needs."

The consultation will run until 12 October 2014, and all of the documentation can be found online, together with a survey.
Following the complete of the consultation, a report with a final set of proposals will be considered by the Cabinet.

200,000 more children to benefit from free school meals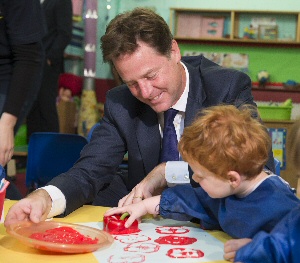 AN extra 200,000 children in the North West will be able to benefit from free schools meals from this week, according to the latest government figures.

Every pupil in Reception, Year 1 and Year 2 (aged between 4 and 7) is now eligible for free school meals, with improved food standards; designed to make it easier for school cooks to create imaginative, flexible and healthy menus; giving children the nutrition they need at lunch and break times.

This means items like low fat milk will be available every day, along with fresh fruit and veg for healthy snacking. Cooking is also back on the curriculum, so children will understand more about the food they eat and how to prepare it.

Evidence from areas already providing universal free school meals show that children eating more healthily actually perform better in the classroom. Schools have reported better behaviour and a nicer atmosphere as a result of pupils eating together every day.

The Deputy Prime Minister, Nick Clegg, said:- "This week there'll be an army of mums, dads, grandparents and carers up and down the country trying to juggle their busy lives. They will be arranging school-runs and childcare to working around school activities and getting uniforms and sports kits ready. And many of these families will be feeling the squeeze. One of my biggest priorities in Government is to ensure that when you and your children set out to achieve your ambitions, the choices available to you are greater and the sums add up a little easier. At every step on this road, we're working hard to build a stronger economy and fairer society in Britain. A Britain fit for modern families. So I'm delighted to be able to say that from this month we're not only extending free childcare for 2 year olds to help families that need it the most but we're also rolling out free school meals for every single child in the first 3 years of school (aged 4 to 7). That's 201,503 more children in the North West. Free School Meals will not only save mums and dads in the North West around £400 per year, per child but the benefits for children speak for themselves. In areas where we've been piloting free school meals, early research shows that pupils are up to two months ahead of their peers in other places and have a better chance of improving in all subjects from maths and science to writing and reading. Plus they're more likely to eat vegetables at lunchtime rather than less healthy options like crisps. This is also crucial for making sure every child gets the best start; regardless of their background and how much money their parents have. Too often in Britain's schools we still see poorer children falling behind their better-off classmates, and it starts to happen very early on. By making sure all little boys and girls are getting a healthy meal we can help level the playing field and close this gap; and for me nothing is more important than that. That's why we've invested £760 million to double the offer of free childcare for 2 year olds so that from this month it will now cover up to 40 per cent of families who need it the most. That means around 40,000 two year olds in the North West will now qualify for 15 hours a week of free childcare. You're eligible if your household income is less than £16,190 and you receive Working Tax Credit. If that's you, or you think it might be, your local authority is there to help you take up a place for your child. Too often, where a child is born or where they go to school determines how successful they are in life. Social mobility cannot be fixed overnight, but I'm committed to doing all I can to help young people from deprived backgrounds overcome the barriers to success that they face. That's why I've pushed hard to make free school meals and free childcare for 2 year olds a reality and help ease the pressure for millions of families across the country. I'm proud of what we're doing and the difference we are making to children's lives; whether it's through the introduction of the pupil premium, raising the personal allowance on income tax or supporting more flexible parental leave. We're well on our way to building a fairer society which helps parents make the best choices for their children while balancing the demands of their family lives."